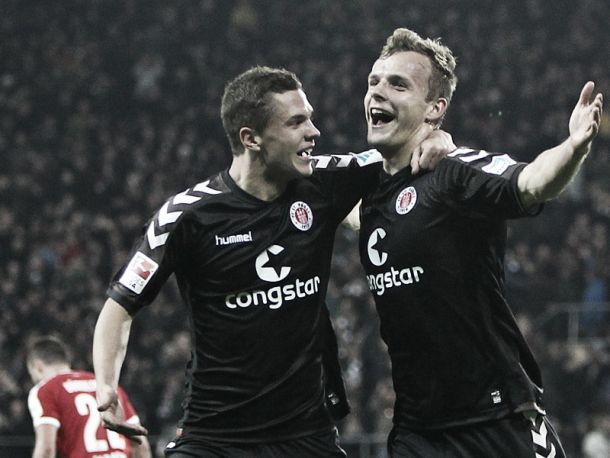 Monday night's clash was comfortably won by St. Pauli, but a four-goal haul saw Lennart Thy steal all the plaudits and destory Fortuna Düsseldorf in the process.
Thy strikes twice in the first half
Early chances fell to both sides, with Julian Schauerte almost heading into his own net and both Mathis Bolly and Marcel Sobottka having sighters at goal. Despite a promising start, the visitors fell behind. A misplaced pass in midfield allowed Daniel Buballa to play Thy through on goal, and the forward kept his cool to curl the ball in off the post.
One became two soon after, and Thy had his second of the game. After a quick free-kick, Waldemar Sobota crossed towards the back post where Philipp Zereis, who had just signed a new contract, was waiting. He couldn't mark the occasion with a goal as his header hit the woodwork, though Thy was on hand to slam the ball home.
Lasse Sobiech headed just over the bar, while Thy, Kyoung-Ryok Choi, Marc Rzatkowski and Sebastian Maier all had further opportunities to put the game beyond doubt before the break. They couldn't take any of those, although it was already looking like Fortuna were down and out.
The in-form forward completes a perfect hat-trick
That outlook was reflected in the second half play, with very few chances falling to either side. Choi shot into the side netting but the goals were only going to one man on Monday. Sobota once again produced an excellent ball, and Thy headed home to notch up his third and a deserved hat-trick.
There was still time for the forward to score a fourth goal and, in the process, complete a perfect hat-trick. His first two had been with his right foot, and the third with his head. That left him needing a strike with his weaker foot, and an open goal presented him with an easy chance to tuck the ball away and seal an incredible win and individual performance.