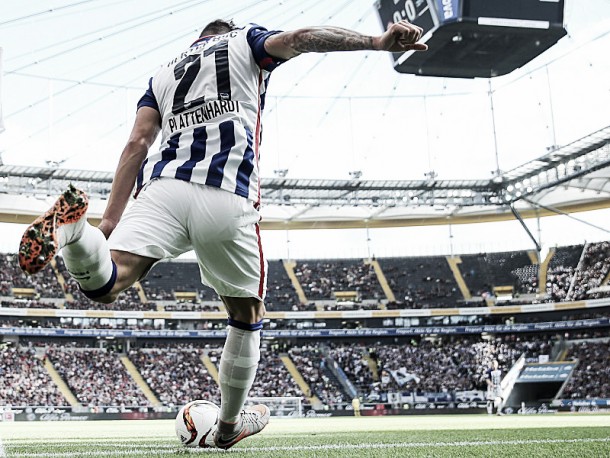 Coming off an expected 2-0 loss to Bayern Munich last weekend, Pál Dádai will hope his men can pick up the three points at home where they have been so good in the first half of the season. Their opposition, though, have found it hard to get wins as of late and find themselves all the way down in the seventh spot in the Bundesliga table, two points behind the hosts.
Form
Winners of three of their last five league matches, Hertha BSC's two defeats came against team's that are either at the top of the league, or one who is fighting for a spot in the Champions League next season.This has been Hertha's downfull this campaign -- facing clubs who have their eyes on a spot in a European competition. Bayer Leverkusen though have not lived up to their own expectations thus far and a win against them could prove to be extremely vital.
Before the match started everyone knew what the outcome was going to be against the defending Bundesliga champions. Dádai changed their normal formation, switching to five at the back and four in the midfield, relying on the counter but that never came. Bayern Munich were able to find the smallest of open space and exploit it, with first half goals coming from Thomas Müller and Kingsly Coman.
Things have not gone according to plan for Leverkusen as they sit below the final Europa League spot close to the end of the first half of the season; that could change though if they focus enough to get all the win away from their comfort zone. Inconsistency is killing Roger Schmidt's squad. In the opening 14 games, they have six wins, three draws and five losses which is well below their normal standard.
Key Players
The Leverkusen's offense goes only as far as Javier Hernandez allows it to go. After finally getting settled in the Bundesliga, the Mexican international went on a great goal scoring streaking as Hernandez scored in six consecutive matches and has scored 12 in all competitions for club and four for his country this calendar year. If he is active and lurking around the back shoulder of Hertha's central defenders, Leverkusen could be comfortable going into the attacking third of the pitch.
Salomon Kalou is in the form of his life with the blue and white striped shirts. He is the leading goal scorer on his team, with seven in 13 appearances. 16 goals is his career-high for the league and he achieved that with Lille back in the 2013/15 campaign. If Kalou continues his fantastic form, he will certainly break his personal record.
Prediction
This match is most likely going to wind up being a draw. The two sides do not have a lot of grea options going forward in attack but are sound in their defensive responsibilities -- Hertha has given up 17 goals while 18 has gone into the back of Leverkusen's net. It is still going to be a great match with quite a few goalscoring opportunities, the final touch though will be off and do not expect more than three goals scored in the entire 90 minutes.