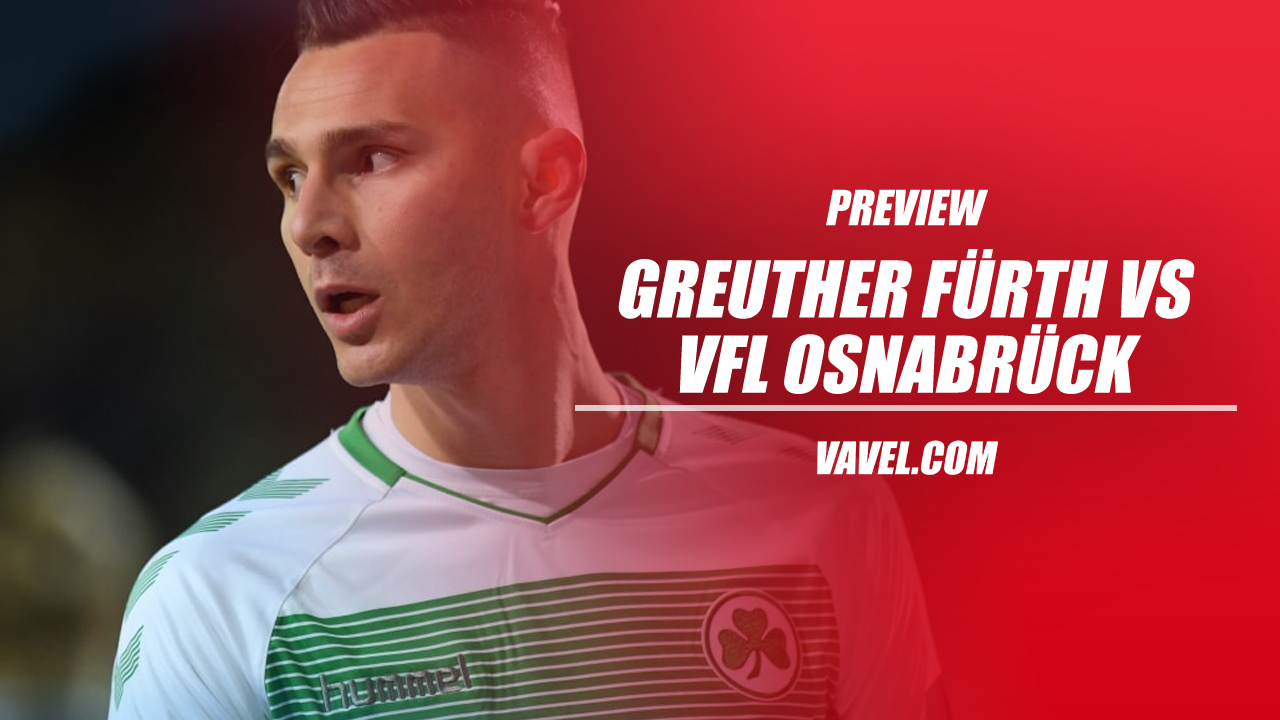 Tuesday's game between Greuther Fürth and VfL Osnabrück will be a big game for both sides, although much more important for the visitors.
The hosts currently sit eighth in the league with 37 points, comfortably above the relegation places but nine behind for the promotion playoff position. With second and third playing each other when Hamburg face Stuttgart on Wednesday, Fürth are still within a chance of a push for Bundesliga football next season.
Osnabrück, on the other hand, are very close to the drop to playing in relegation with a number of games left to play. The only saving grace for Lilac-Whites is that there are many times in a similar position to them in terms of proximity to relegation, with the 2. Bundesliga set up for a very exciting end of the season.
Team news
Daniel Keita-Ruel and Mergim Mavraj should both be unavailable for Greuther Fürth through muscle and foot injuries respectively.
Thomas Konrad has a groin injury and will likely not play for VfL Osnabrück in Tuesday evening's match.
Form guide
Greuther Fürth: DDWDLL
VfL Osnabrück: LDLLDD
Predicted lineups
Greuther Fürth: Burchert; Meyerhofer, Jaeckel, Caligiuri, Wittek; Green, Seguin, Tillmann; Hrgota, Nielsen, Leweling
VfL Osnabrück: Kuhn; Heyer, van Aken, Trapp; Ajdini, Taffertshofer, Blacha, Agu; Schmidt; Amenyido, Ceesay
Ones to watch
For Greuther Furth, Branimir Hrgota, who joined the club from Eintracht Frankfurt in 2019, will be the main man to watch. The centre-forward has scored nine this year as well as assisting four, making him top for goals scored and second for assists at the club.
Center-forward Marco Alvarez has been Osnabrück's main goalscoring threat this season, having already scored eleven. He was also the man scored in the fourth minute of extra-time against Arminia Bielefeld, earning them a point against the league's best team. He did not start against Hannover, coming on from the bench, but may feature on Tuesday.
Match prediction
Greuther Fürth 2-1 VfL Osnabrück
With either side sitting at very different ends of the table and in different runs of form, it looks very likely that Greuther Fürth will be the victorious side when the two meet on Tuesday evening.
In their first game after the league returned from the break due to the COVID-19 pandemic, Osnabrück had last-minute glory when a Marcos Alvarez goal secured them a point against table-toppers Arminia Bielefeld. However, on Sunday, Hannover 96 crushed Osnabrück 4-2 and they will be coming into the game on weak form.
Fürth, although the better side than their opposition, have not performed too well in recent games. They did not play last weekend due to Dynamo Dresden's team being put into quarantine, although they drew 2-2 with second-place Hamburg on Matchday 27. Fürth's better-rested team could see them be victorious in Tuesday's game.