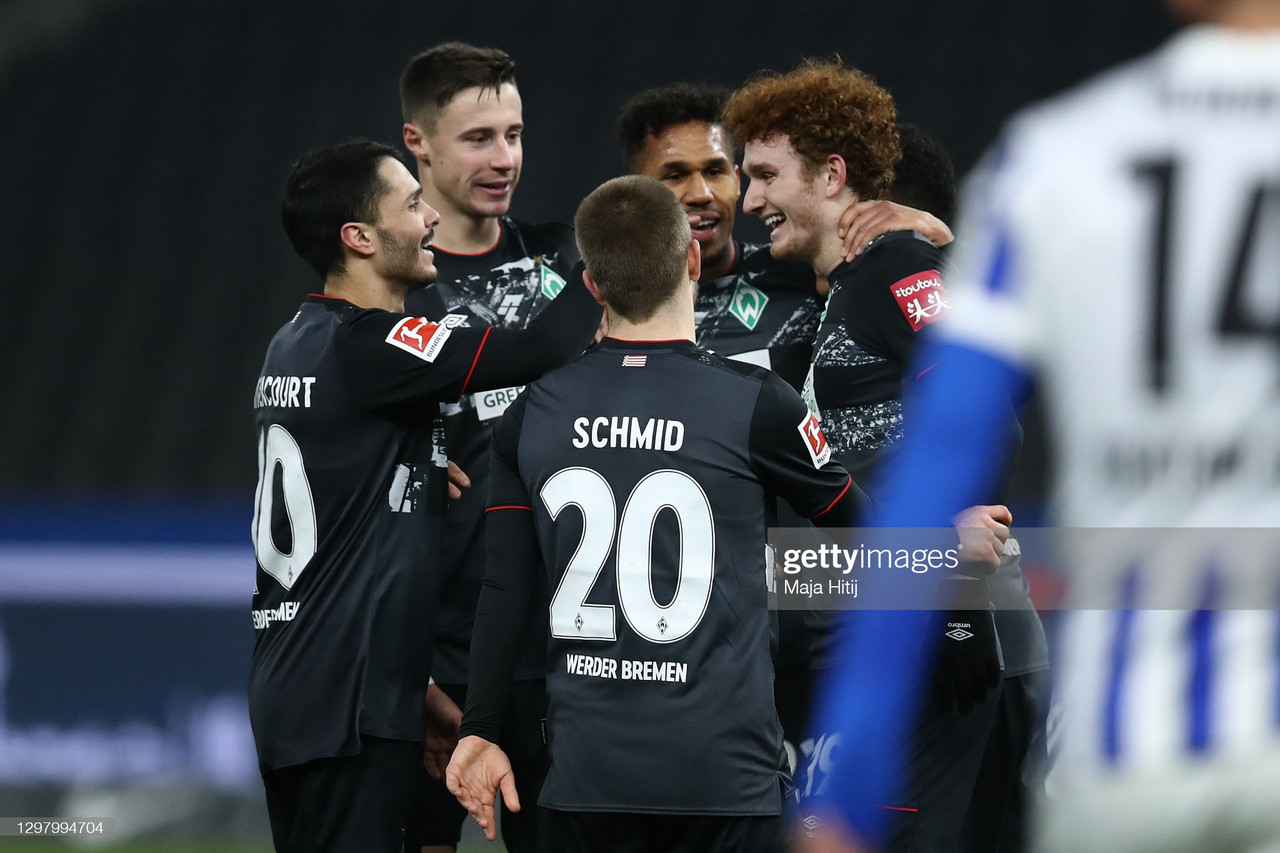 Saturday night showed just how far Werder Bremen have come this season.
Beating Hertha Berlin 4-1 at the Olympiastadion, it was a complete team performance from the Green-Whites. They were solid at the back, winning headers and loose balls in the area to limit chances for the opposition. Even when Hertha got close, goalkeeper Jiri Pavelnka was ready to stop them, with the highlight being a penalty save early on.
It wasn't the most beautiful attacking showcase, but Bremen were incredibly efficient and clinical in the final third. They grabbed a few goals from set pieces and then made the most of their few opportunities going forward, ultimately scoring four goals by the end of the game.
The result was an especially meaningful one for the team considering what had happened on the opening day of the season, as the Green-Whites were defeated at their home of the Wohninvest Weserstadion by Hertha Berlin by the same 4-1 scoreline. It was arguably the team's worst performance of the season, with many seeing it as the beginning of a long year that would be spent just trying to avoid relegation.
Saturday's win was proof of Bremen's remarkable turnaround, and now supporters will hope that this is just the start of a push up the Bundesliga standings.
Defensive solidity
A big reason why the Green-Whites were so close to relegation last year was because of their defense.
Absolutely woeful the entire campaign, they were joint-worst in the league when it came to goals against as they conceded a remarkable 69 goals in 34 games, or just over two goals a game.
That's why manager Florian Kohfeldt has put an emphasis on the defensive side of the ball this time around. He started by trying to find the right formation. When a back four failed, he shifted the lineup to incorporate three centerbacks and two wingbacks.
Then came trying to figure out the best personnel. Bremen weren't at full strength to start the season, so Kohfeldt got to see what others had to offer. It wasn't much, as captain Niklas Moisander couldn't keep up while it became clear that Christian Groß was better off playing in the midfield.
Two key returns helped turn things around. Omer Toprak and Milos Veljkovic have both been quality since coming back into the team following their respective injuries, slotting in alongside Marco Friedl to complete a well rounded back three. Friedl is the one who gets on the ball the most, using his passing and dribbling ability to help the Green-Whites build out from the back. Veljkovic may not be as technical, but he makes up for it with speed, strength, and plenty of aggression.
Toprak is the leader, organizing the backline while dealing with set pieces on both ends of the pitch. He goes from clearing crosses in his own third to heading home into the back of the opposition net. The Bundesliga veteran had been plagued by injuries during his time with the club, but he's finally back to his best, and the Green-Whites are thriving as a result.
The wingbacks also deserve praise. It may be Theodor Gebre Selassie's last season with Bremen, but he's playing like he's back in his prime. Getting up and down the pitch with incredible ease for someone of his age, he's been everywhere for the team. Ludwig Augustinsson was doing a similar job out on the left hand side, but youngster Felix Agu has stepped up in his absence, and he might even retain his spot in the lineup when the Swede returns.
It seems like it's all coming together as the Green-Whites have only given up three goals in their last four games. If this current backline can all stay healthy, then they might just be what gets the club back to where they need to be.
Attacking efficiency
With Bremen's focus on defense, it was always going to be tough for them to score goals.
They've just got less bodies going forward than most teams, which means a lack of true attacking support at times. The Green-Whites play two up top, but one of the strikers tends to drop deep and support the midfield, so the other frontman sometimes gets isolated.
Then came the injuries. Niclas Fullkrug started the campaign well, grabbing four goals in his first four games, but he's not featured much since. A calf issue took him out for months, and just as he had recovered from that, he hurt his ankle. It's been a similar story for Milot Rashica, who just hasn't been able to get going due to a series of minor injuries.
However, despite all this, Bremen are managing to score goals at a pretty reliable rate. They're not breaking any records, of course, but the team knows how to get onto the scoresheet.
The main reason for this has been their clinical finishing in front of goal. The Green-Whites don't create many chances, but they do make the most of the ones they get. That was on show versus Berlin, as most opportunities were converted with a certain ruthlessness that you wouldn't expect from a team fighting to avoid a relegation scrap.
Set pieces have also played a big part. As mentioned earlier, Omer Toprak has become quite the threat from dead balls, as he knows how to get open and how to finish from a few yards out. He's been helped out by some superb delivery, though, as Bremen have a few players who can whip in crosses very well. This combination helps the team steal goals against the run of play when they aren't at their best, which is always invaluable.
Now, with Rashica finally back in the team, the Green-Whites have a gamechanger once again. One of the most exciting players in all of Europe last season, the Kosovo international can create something out of nothing in the blink of an eye. He's absolutely rapid, and he can score from almost any distance. Rashica brings an air of unpredictability to the field whenever he steps onto it, which is something the team has lacked in his absence.
It may not be pretty, but this Bremen attack tends to get the job done, and it should only get better with a fully fit Rashica.
An ode to Kohfeldt
Last but not least, plenty of credit needs to go to manager Florian Kohfeldt.
In the hot seat for most of last season, many thought he still should have been sacked even though Bremen ultimately stayed up via the Bundesliga relegation playoff. However, the board decided to stick with Kohfeldt, and that decision has seemingly paid off.
He's done well this season despite all the injuries to key players and the fact that he lost Davy Klaassen in the summer transfer window. Kohfeldt has turned things around, and the Green-Whites have gone from relegation candidates to a team who is pushing for a midtable finish.
Kohfeldt might not get every call correct, but the really good thing about him is that he's willing and able to learn from his mistakes. Sure, he might mess things up every once in a while, but don't expect him to make the same error many more times.
That's why the Green-Whites have shifted from a back four to a back five of sorts. That's why certain players have stopped getting minutes on the field. Kohfeldt is constantly learning and improving, and at 38 years of age, he's still got plenty of time to perfect his craft.
He can't lose focus now, though, as any slip up in form could see Bremen back in a fight for survival. Luckily for the club, Kohfeldt knows this, and he'll find ways to keep his team motivated during the second half of the season.
It's taken longer than many would have wanted, but there's a chance the Green-Whites have finally figured things out.