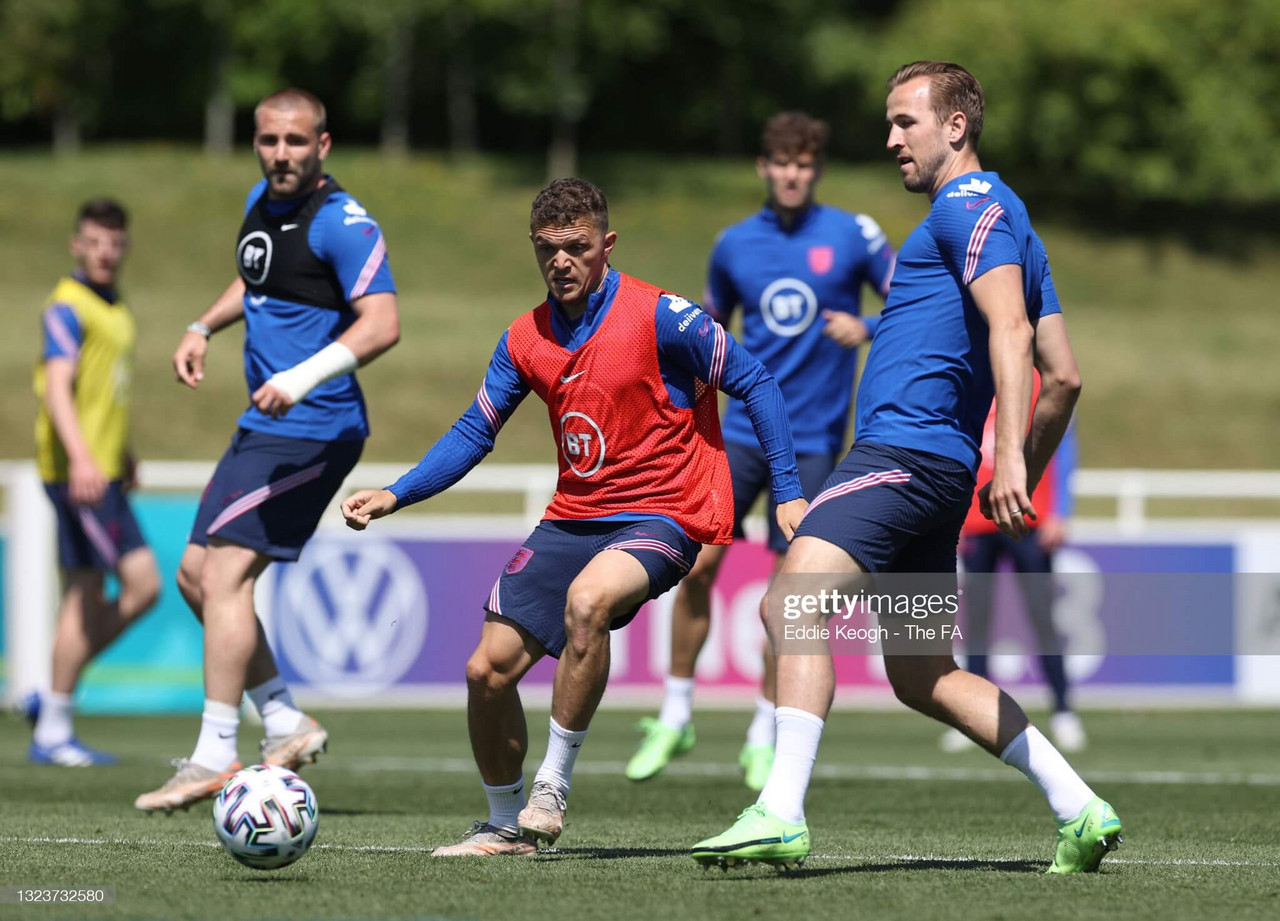 "We should enjoy tonight because I think you have to enjoy your wins, especially in tournaments, but then focus," said Gareth Southgate in the immediate aftermath of England's group D opening win against Croatia. Three crucial points were collected at Wembley on Sunday but the England manager reminded everyone that focus is now needed as games come thick and fast in tournament football.
"We've got to make sure that we're ready for what is going to be an incredible game against Scotland and a huge challenge," Southgate continued, and he is right. Friday evening's match beneath the Wembley arch will be special. This has been the game that both England and Scotland fans have had circled in their calendar for some time.
Not only is Scotland's appearance at Euro 2020 their first in a major tournament since the World Cup in 1998 but it is also the first time that the two old rivals have faced each other in a major tournament since Euro '96 when England triumphed 2-0 in the group-stage.
The atmosphere at Wembley, which will consist of 22,500 spectators, 2,600 of them being Scots, will be raucous. Given the sterile and sanguine nature of games played behind closed doors in recent times, this will be the antidote. On one level, this is the big one, a must-win for both teams and, at the very least, a dare not lose. Yet, from an England perspective, all of the noise has to be managed with the utmost care.
This, after all is the oldest international football fixture of them all, dating back to 1872 at Hamilton Crescent in Partick in front of a 4,000-strong crowd. There was no doubt energy surrounding the game back then and that will be the case in the 114th meeting of the two nations on a football pitch. For those wondering, England edge Scotland in terms of wins (48 - 41).
History must be put aside
England's players have spoken about how they were driven by the thrill of having supporters inside Wembley for the game against Croatia, but the key against Scotland will be to channel the passions correctly and not become embroiled in battles that could see the focus slip. Clearheadedness is required if England are to avoid a slip up.
And a slip up it would be should Scotland claim a win at Wembley. They fell to a 2-0 defeat against Czech Republic in their opening game on Monday and have a tough task in trying to progress out of the group given they face Croatia after England. Czech manager Jaroslav Silhavy went as far as saying that Steve Clarke's team played in a "simple" way and were not afraid of using long balls.
Scotland have waited so long for this opportunity to come around again and it would be a disappointment if they weren't to claim something positive from the group-stage. Full back Kieran Tierney, who many Scots see as their most important player, missed Monday's game with a calf injury and faces an anxious wait as to whether he will be available come Friday.
However, even if Tierney doesn't start, there will be battles all over the pitch, with Andy Robertson against Phil Foden being a highly anticipated prospective one. The heat of the duel must be tempered, however, and the fixture's history must be put aside for 90 minutes.
"For me, it is going to be another game," Raheem Sterling says. "Of course, there is history but, at the same time, in football you can't get too drawn into the history. You have got to be focused on the task ahead. We can't be going in there fighting old battles."
Southgate's side are in a good place after their opening win; relaxed and confident. Their preparations had not been ideal - complicated by injuries to Harry Maguire and Jordan Henderson, the absence of a host of players at the start of the training camp due to European final commitments, and even on Tuesday deputy goalkeeper Dean Henderson had to pull out of the squad due to injury with Sheffield United shot-stopper Aaron Ramsdale drafted in as replacement. But getting off to a winning start provided the tonic.
Even the way in which England showed composure against Croatia, all the way down to the detail of applying pressure to the end in the suffocating north London heat rather than dropping back to protect a 1-0 lead, showed that this is a team with strong minds as well as ability. The England players have even said the right things in the build-up to the Scotland match; pointing out how Clarke's team did create chances against the Czechs and that the breaks went against them somewhat.
Despite the platitudes, England will know deep down that this is a winnable game and such a result will take them into the knockout stages with a game to spare. Scotland lack quality at both ends and are beatable if England bring the right attitude. "When you try to ignore something then usually I want to think about it more," said Tyrone Mings about the emotion and history of the fixture.
"If I walk into this press conference and someone says: 'Don't look over in that corner,' I would be really interested to look over there. It is more about embracing the fixture and understanding the importance of what it means to the fans but not letting that cloud any judgment or emotion that we may have or are feeling going into the game. The best way to win a game is to stay composed and be in control of our thoughts and actions."