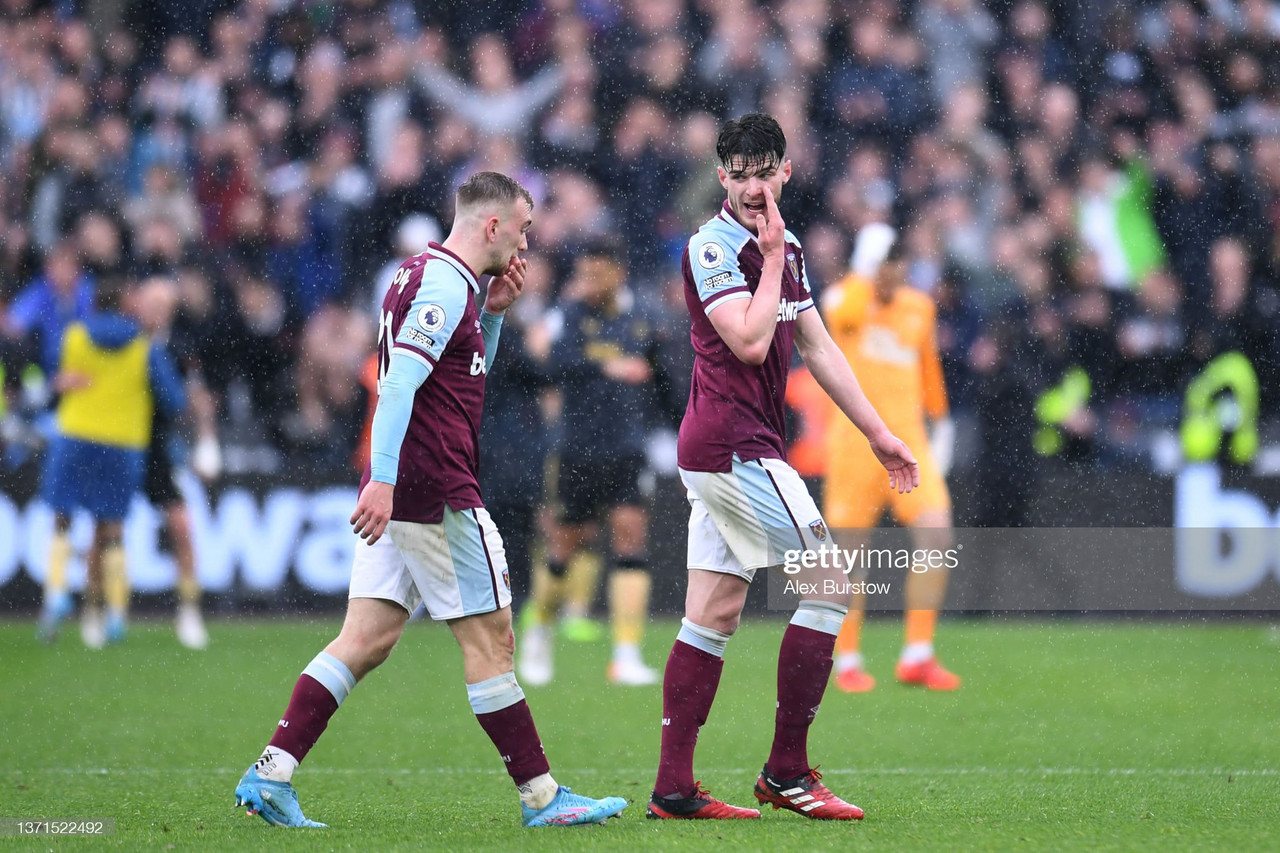 David Moyes' West Ham United drew 1-1 against Eddie Howe's Newcastle United in the Premier League on Saturday afternoon at the London Stadium after a mediocre performance from the East London side.
The visitors may have had a considerable number of injuries going into this one - including the likes of Kieran Trippier, Callum Wilson and Allan Saint-Maximin - but that didn't deter them right from the off.
Joelinton, who has been playing some of his best football since Howe's arrival, came close to opening the scoring at the back post, but he was unable to convert the chance which came near the start of the game.
BIG DAWS AGAIN!!!#WHUNEW pic.twitter.com/BzQDhRWVbw

— West Ham United (@WestHam) February 19, 2022
However, although the Magpies looked the brighter in the opening stages, it was the hosts that took the lead 32 minutes in when Aaron Cresswell delivered a perfect ball into the box which Craig Dawson headed home with aplomb.
Determined not to go into the half time interval behind though, Newcastle pushed forwards and got their rewards in added time of the first half, when a poor header from Declan Rice gave Joe Willock an opportunity.
The Englishman didn't waste the chance, as he poked the ball past Lukasz Fabianski, despite the goalkeeper's best efforts to prevent it crossing the line, and the two teams went in level at the break.
#WHUNEW // #NUFC pic.twitter.com/P7kMA42wbl

— Newcastle United FC (@NUFC) February 19, 2022
That equaliser did temporarily kick West Ham into action when they came back out, as Moyes' team pushed up the field more, searching for a goal which might give them a hugely important three points in the context of the top four race.
Unfortunately for them, such a goal never came, and in truth it wasn't the most high quality half of top flight football, with neither side carving out a clear-cut opportunity of any sorts.
Willock came closest to finding a winner when his curled effort went just wide of the post from long range, but in the end it was a point each - though a far more crucial one for Newcastle, given their circumstances.
Fatigue is setting in among West Ham players
For a squad that is competing on various fronts, including that of an intrepid European journey set to restart in just a few weeks' time, West Ham's squad is remarkably small, especially in comparison to their rivals.
Up until this point, squad depth hasn't been a huge concern, although it has become apparent at various points when, following a Thursday night trip to a far-flung European destination, the Hammers have looked a little tired.
Back then, perhaps it was fair to say that any team would be fatigued after such fixture congestion, but seeing as Moyes' side had a week's break between games, that no longer appears to be tenable.
"We knew today that it was a really important day to try and get three points but unfortunately we couldn't."

The Boss' reaction to today's draw:

— West Ham United (@WestHam) February 19, 2022
Surprisingly, unlike what many other Premier League manager's might do in such a situation, David Moyes isn't looking to blame tiredness, or even use it as a partial excuse for the recent drop in form that has been seen.
That said, there couldn't be many who would begrudge him for pointing, at least in part, to a lack of options when it comes to selecting a strong starting eleven for each game, though he is yet to do so in any of his press conferences.
Either way, the sluggishness with which many players were obviously performing isn't good for either them, or the fans watching who are, rightfully, expecting 100% effort from each and every member of the squad.
Without wanting to scapegoat one player in particular, Michail Antonio has looked increasingly tired over recent weeks, not least in part due to the fact there is no obvious replacement for him in the rest of the team.
Plus, with the games only set to become more often as the Europa League returns in March, David Moyes will find it harder than ever to balance playing a strong eleven, with ensuring that those who do start are fit enough in the first place.
This isn't a catastrophic result
For all the despondent attitudes in that previous point, what is important to remember is that, while it may be a disappointing one given the position of each team in the table, it isn't a catastrophe either.
Heading into this one, Newcastle had won three games on the bounce and were in a jubilant mood after said matches, so to be able to prevent that winning run from continuing should be seen as a positive thing.
Granted, the Magpies didn't have a completely fit squad to choose from owing to a multitude of injuries, but with the number of signings in the January transfer window, the squad is very different to the one the Hammers beat 4-2 earlier in the season.
Two goals in two games for Craig Dawson 👏 pic.twitter.com/Qu84S9GHz9

— West Ham United (@WestHam) February 19, 2022
Plus, it's important to continually contextualise the fact West Ham were never expected to genuinely push for a top four finish at the start of the season, so the very fact this is even being talked about as a disappointment speaks volumes about how much the club has come on.
Even then, they remain fifth in the table, only a point off of Manchester United in fourth, and while other teams do have games in hand still to be played, almost all fans will tell you they'd rather have genuine points on the board than potential ones.
That's not to say Hammers' fans can't expect more from their team against a Newcastle side that are still very much in a relegation battle despite a huge takeover last October - they certainly can, and should.
But, simply due to the fact West Ham have had such a meteoric rise, the expectations have gone up similarly, despite the squad itself not improving vastly in terms of individual players for some time now.
Fundamentally, this was a performance reminiscent of the weather - damp and dreary, with nothing, seemingly, to be positive about. But it's important to remember that, however corny the metaphor, the sun is never shining too far away either.