Romelu Lukaku believes anything short of the semi-finals for Belgium at Euro 2016 would be a failure as they prepare to take on Hungary in the Round of 16 in Toulouse on Sunday.
Marc Wilmots' men were suggested as one of the favourites for the title heading into this summer, but they have only demonstrated their quality in brief glimpses thus far.
However, they ended their group stage campaign with back-to-back victories for the first time in their history at the European Championships, as well as keeping successive clean sheets for the first time since March 2015.
Andwith that momentum, Everton striker Lukaku, who has already scored twice at the tournament, says the Belgians must at least reach the final four in order to live up to their 'Golden Generation' potential.
Lukaku: Belgium have players to change a game in an instant
The 23-year-old insisted that the Belgium squad "still have to make steps forward as a team" but said that they "are on the right track" after bouncing back from a crushing opening defeat to Italy.
"Every game is like a final from here on in, it's all over if we lose a game," Lukaku warned, adding that he agrees with "those who say anything less than making the semi-finals would be a major disappointment."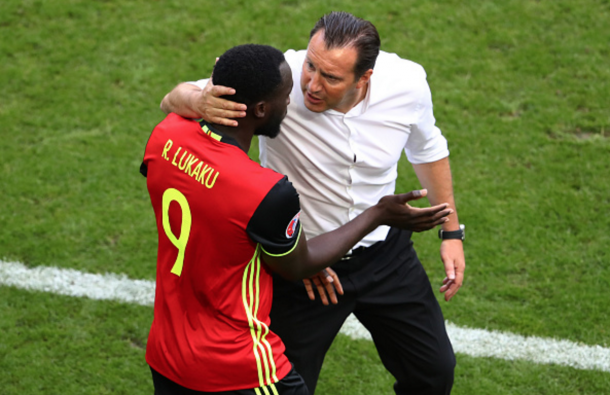 This is the first major tournament meeting between the two teams since 1982, with Belgium having won four of the last five encounters since then. Hungary haven't overcome the Red Devils since way back to November 1958, when they won a friendly 3-1.
Speaking to UEFA.com, the Belgian No.9 explained that Wilmots' current crop have "been playing together for more than six years now" and said that they "have always understood each other."
But added that they now know they have ability to "change the game at any moment" because of their immense attacking quality.
He declared that "as long as everyone sticks to their defensive task" then they are always aware they can "create a chance or score a goal out of nothing" which is "the great thing about this team", according to the frontman.
We cannot afford to be complacent, says Nainggolan
Radja Nainggolan, who scored the matchwinner in their final Group E game against Sweden, added: "Honestly, I don't know a lot about them. The most important thing is that, if we play to our own strengths and play the way we like to play, then we can defeat them."
The Roma midfielder insisted that playing to the best of their ability as a team is "the most important thing" for them, before dismissing any suggestions that it will be an easy game for Belgium.
"We are playing against the winner of a group that included Portugal, so we'd better watch it," Nainggolan continued, insisting that though he and his compatriots "might be favourites in theory", so were Portugal in the groups.