On Thursday, Werder Bremen announced that their talented striker, Johannes Eggestein to a new deal.
The forward will now remain with Werder until 2019, having rejected "several lucrative offers" to stay where he is.
Eggestein has a superb record
Despite being just 18, the young German forward has scored goals in whichever team he has turned out for; club or country.
In his 78 games for Werder, he has 78 goals and 14 assists. That is largely due to an incredible season that has just passed, as Eggestein scored 33 in 26 games.
That form has continued onto the international stage and culminated in winning the silver boot at the 2015 FIFA under-17 World Cup in Chile.
With Claudio Pizarro having signed an extension at the Weserstadion, Eggestein couldn't ask for a better mentor to help him become a Bundesliga success.
Johannes will now link up with his brother, Maximillian, in the first-team squad after the latter earned his chance with the professionals last season.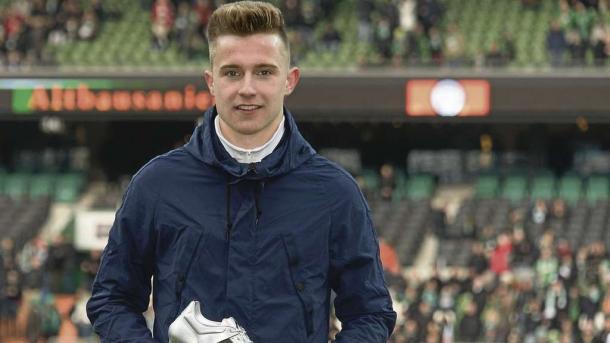 Baumann has his say
Sporting director Frank Baumann said, "We are very happy that Johannes has decided stay on at Werder. He has proven that he's got enormous talent in the past few years."
He continued praising his form as he "impress[ed] in [Werder's] performance centre and in the Germany youth set-up".
This was one of Baumann's first main actions in his new role, and he couldn't have started in any better fashion: "SV Werder has worked long and hard with Johannes."
He added, "The discussions got off to a good start under Thomas Eichin and Tim Steidten and could now be finalised."
Baumann rounded off the interview with the club website by confirming that Eggesetin "will train with the first team in the future and step up to the Bundesliga".