 Kim Clijsters and Andy Roddick both received arguably the highest accolade in tennis today, with both announced as being inaugurated into the International Tennis Hall of Fame.
The Hall of Fame, based in Newport, Rhode Island, announced the news on their Twitter account, with Clijsters and Roddick set to be officially inducted at a ceremony in Newport later this year.
The two are not the only people to be inducted into the Hall of Fame on July 22nd. Wheelchair Tennis star Monique Kalkman-Van Den Bosch, a former world number one and three-time Paralympic Champion, will also be inducted, as will tennis historian Steve Fink, who will be inducted into the contributory category. Meanwhile, groundbreaking coach Vic Braden will be nominated posthumously for his work on the science of the sport.
Clijsters and Roddick's career highlights
Both the Belgian and American retired after the US Open in 2012 and the fact that both have been inducted in their first year of eligibility is testament to the impressive careers both had.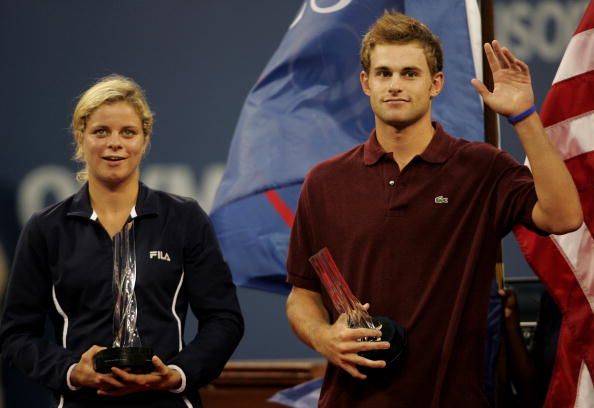 Clijsters won 41 WTA titles in singles and a further 11 in doubles and also spent 20 weeks as the world number one. Early on in her career, the Belgian lost in two French Open finals, as well as one US Open and one Australian Open final, before winning her first Grand Slam title at the US Open in 2005. Following her retirement and the birth of her daughter, she returned and won a further two US Open titles, as well as an Australian Open title. She was twice a semifinalist at Wimbledon and won the French Open and Wimbledon doubles titles with Ai Sugiyama in 2003. She won the Fed Cup with Belgium in 2001 and was also a runner-up in 2006.
Roddick won his first, and only, Grand Slam title at the US Open in 2003, defeating Juan Carlos Ferrero, though lost in a further US Open final and three Wimbledon finals to Roger Federer in the following years. In his career, he won 32 singles titles, including five Masters Series title and titles at Eastbourne and Atlanta in his final season, as well as four doubles titles. He was also part of the US team that won the Davis Cup in 2007 and were runners-up in 2004.
Special event in Melbourne tomorrow
Though the official induction will not be held until July, a special event will take place at the Australian Open tomorrow, where Roddick, Fink, and Kalman-Van Den Bosch will celebrate their induction, whilst Kim Clijsters, who cannot attend due to the recent birth of her child, has sent a video message.
The Class of 2017 will be welcomed onto the Rod Laver Arena by 20 Hall of Famers, including the likes Rod Laver, Margaret Court and Lindsay Davenport.