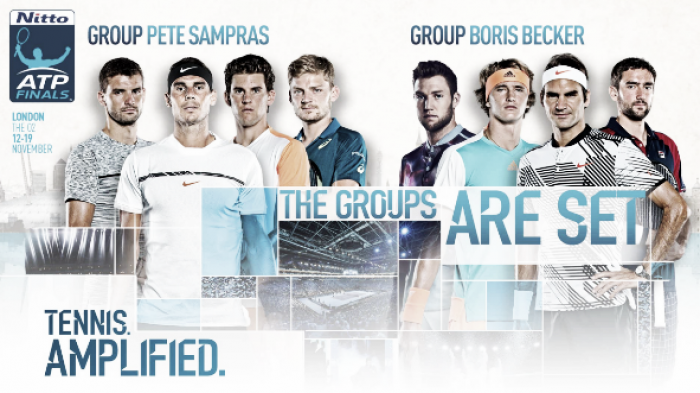 The Nitto ATP World Tour Finals closes out the thrilling 2017 season which has seen a resurgence for Rafael Nadal and Roger Federer, breakout seasons for Alexander Zverev and Jack Sock, as well as a number of top players, shut down their season. Federer is the only returning champion, having won the event a record six times, but the seven other men are looking to add a trophy to their haul that they have never won, and to some, it would be the biggest of their career.
The draw was officially done this morning with groups being named after five-time champion Pete Sampras and three-time champion Boris Becker, who was the man who helped with the draw with the BBC.
Group Pete Sampras
The first group is comprised of top seed Nadal, Dominic Thiem, Grigor Dimitrov, and David Goffin. If you take recent tournament form into account, Nadal is the clear favorite to get through this group as the top seed, however, his knee injury from Shanghai, which was reaggravated in Paris, is something to keep an eye out on.
Nadal's round-robin opponents are not in the best of form lately bar Dimitrov. The Bulgarian made the final in Stockholm, losing out to Juan Martin del Potro, but lost earlier than he would have liked in Paris. Thiem has struggled to put together back-to-back wins since the US Open but has shown last year that he is capable of pushing the best in London.
Goffin is one of the feel good stories of this World Tour Finals. The Belgian missed part of the season after getting injured at the French Open from when he slipped on a tarp in the back of the court. Despite that and dealing with injuries over the US Open Series, his two titles in Asia and decent indoor form was more than enough to see him in London.
From this group, Dimitrov and Goffin are debutants (Goffin is a direct entry debutant). The Bulgarian most likely is the second favorite to get out of the group due to his aggressive playstyle and strong record on hard courts, but look for the group to be an open one should Nadal's knee continue to give him problems.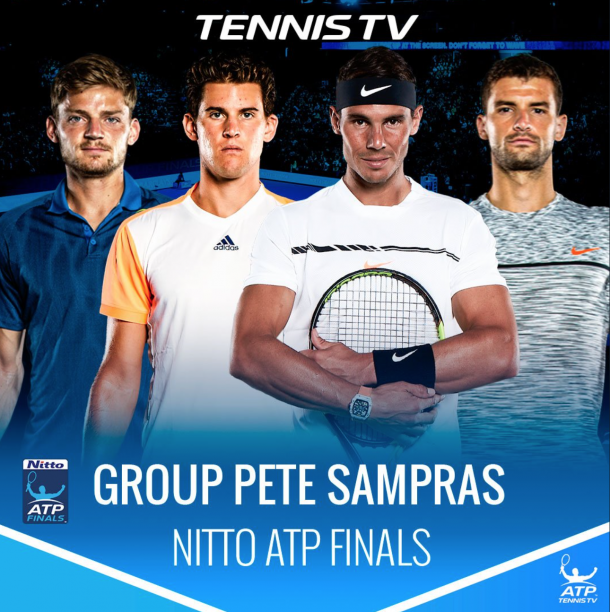 Group Boris Becker
Federer is by far the clear favorite to get out of his group which includes Zverev, Marin Cilic, and Sock. The six-time champion is looking to cap off a magical season which has seen him capture two major titles and three Masters titles. Another title would surely all but seal the Player of the Year award for the Swiss.
Unlike the other group, every member of this group looks to be aggressive from the baseline which will make for some very entertaining tennis. Zverev, who is the second seed in this group has beaten everyone in this group before. His two Masters titles has shown that he can win big trophies, but his failure to make a deep run in a major questions us a bit. However, this tournament is in a best-of-three set format which will suit the German much better.
Cilic is looking for a much better showing in his third-career World Tour Finals appearance. The Croat has only notched one win in two previous appearances, and in a group where any of the four men could potentially advance, he is looking to make some noise.
Finally, the last qualifier Jack Sock. Sock is in the best of form of any man heading into the event. The American captured the biggest title of his career at the Rolex Paris Masters this past weekend to vault him from 24th in the race to 9th, which was the last direct entry spot. The title was Sock's biggest title and his first Masters title of his career. With nothing to lose, Sock will definitely be going for broke in these matches.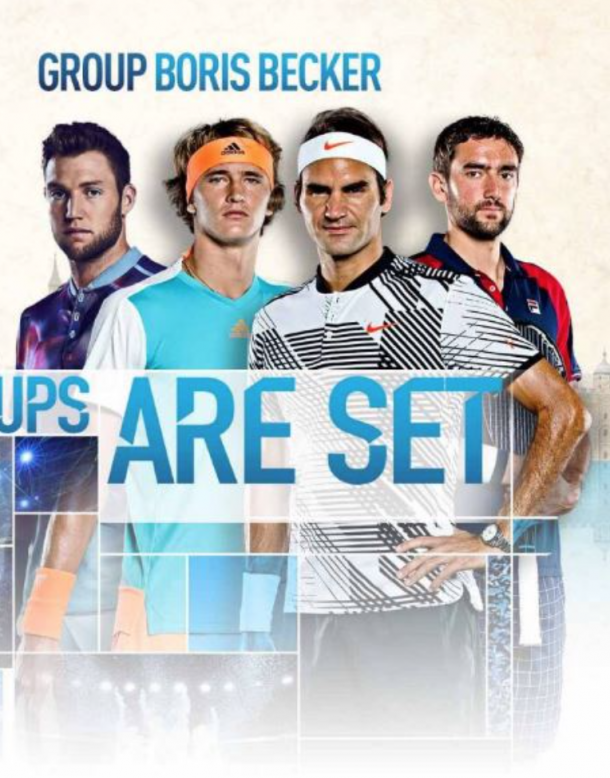 Predictions
Group Pete Sampras
1st: Rafael Nadal
2nd: Grigor Dimitrov
Group Boris Becker
1st: Roger Federer
2nd: Alexander Zverev
Semifinals
Alexander Zverev def. Rafael Nadal
Roger Federer def. Grigor Dimitrov
Finals
Roger Federer def. Alexander Zverev