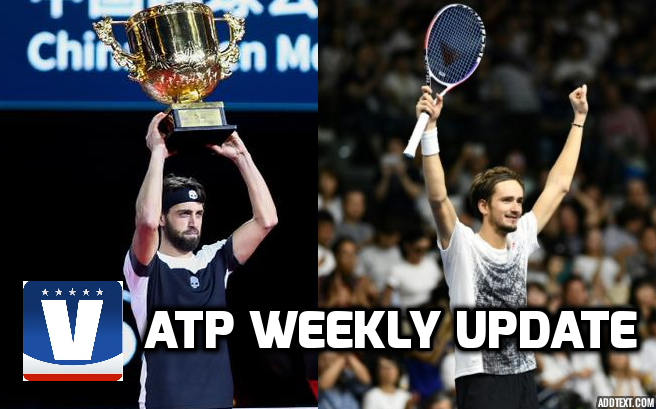 Here is your VAVEL USA ATP Weekly Update. Every Monday, we will be posting results and analysis from the previous week's singles action on the ATP World Tour, along with a preview to the upcoming week. Keep coming back to VAVEL USA every Monday for your ATP Weekly Update.
Some late wrenches were thrown into what looked like two very straightforward tournaments for two of tennis' big names as the Asian swing approaches its climax. Another London spot was claimed while two of 2018's most improved players brought home the hardware.
Here's your ATP Weekly Update for week 40 of the 2018 season
Last Week's Results
Beijing
What looked to be a coronation for Juan Martin del Potro fell apart suddenly at the China Open. The world number four was primed to cap off a brilliant week in Beijing that saw him qualify for London by winning his second round match. He didn't drop a set on his way to the final, including a semifinal walkover, only to be stunned in straight sets by world number 34 Nikoloz Basilashvili.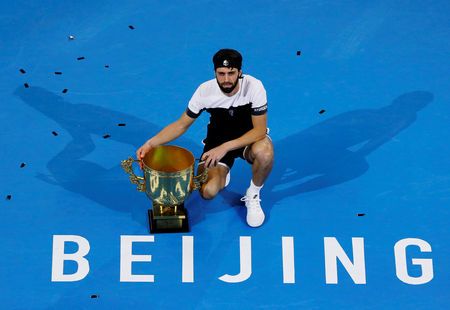 The Georgian claimed his second 500-level title of the season in Beijing. He narrowly survived a tight three-setter in the first round against sixth seed Jack Sock, but used the comeback win as a springboard to the title, not dropping a set in his last four matches. That included straight-set wins over fifth seed Kyle Edmund and del Potro, the top seed, in the semis and final.
With the exception of del Potro, the London hopefuls struggled mightily. Alexander Zverev, who stands in a strong spot to qualify, failed to make any strides towards qualification, dropping his second round match to Malek Jaziri. Grigor Dimitrov's hopes of a title defense took a massive hit when he lost in the second round to Dusan Lajovic. Borna Coric's outside hope also dwindled with a first-round loss to Felciano Lopez in three 7-5 sets.
Tokyo
Similarly to Beijing, the player seemingly destined to claim the title fell short in the final. This time, it was home favourite Kei Nishikori who was one match away from claiming a third Japan Open title on home soil, on to fall victim to another rock solid week from Daniil Medvedev.
The 22-year-old Russian came into 2018 with no titles. In October, he now owns three, with the biggest coming at the 500-level this past week in Tokyo.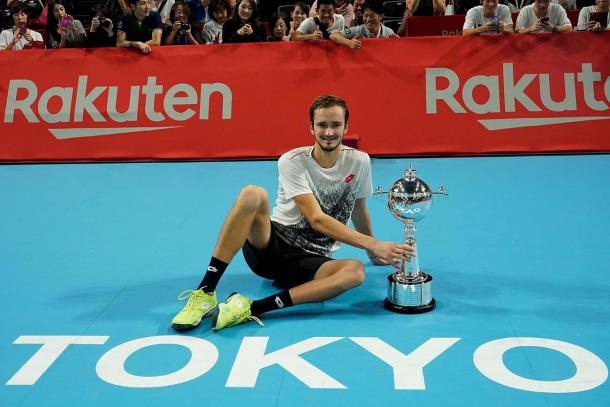 After coming through qualifying, Medvedev did not drop a set in the main draw on his way to the title, knocking off fourth seed Diego Schwartzman in the first round, the Canadians Milos Raonic and Denis Shapovalov back-to-back in the quarters and semis before disappointing the home crowd with solid win over Nishikori to claim the biggest title of his career to date.
Nishikori looked primed for another title at home when he tore through the draw without dropping a set, taking out fifth seed Stefanos Tsitsipas in the quarters and eighth seed Richard Gasquet in the semis. However, he was overmatched in the final against Medvedev.
London hopefuls Marin Cilic and Kevin Anderson, who were the top two seeds in Tokyo, failed to consolidate their qualifying positions with early losses. Anderson didn't fare too badly, reaching the quarters where he lost to Gasquet, but Cilic was stunned in his first round match by Jan-Lennard Struff.
Rankings Update
Mover of the Week: Nikoloz Basilashvili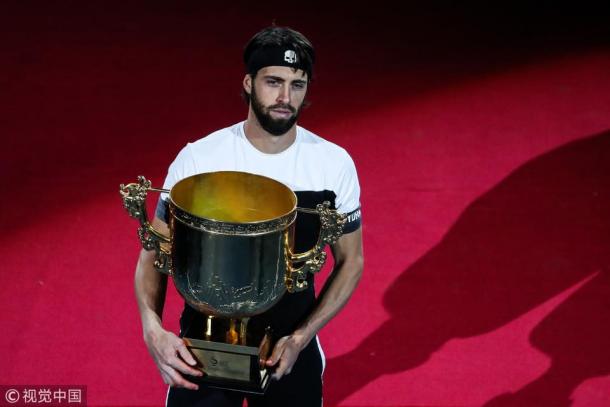 The Beijing champion continued his march up the ATP rankings, climbing 11 spots into the top 30 for the first time in his career and landing at a new career-high of number 23 in the world.
Tokyo champion Daniil Medvedev stayed one step ahead of his fellow week 40 champion, climbing ten spots to a new career-high of number 22 in the world. Kyle Edmund, who reached the semifinals in Beijing, moved up two spots to a new career-high of number 14. On the NextGen front, Denis Shapovalov returned to the top 30 after reaching the semis in Tokyo.
Race to London
| | | | | |
| --- | --- | --- | --- | --- |
| Place | Name | Points | Change | Points Back |
| 1 | x-Rafael Nadal | 7480 | - | - |
| 2 | x-Novak Djokovic | 6445 | - | -(1035) |
| 3 | x-Juan Martin del Potro | 5210 | - | -(2270 |
| 4 | x-Roger Federer | 4800 | - | -(2680) |
| 5 | Alexander Zverev | 4410 | - | - |
| 6 | Marin Cilic | 3815 | - | - |
| 7 | Kevin Anderson | 3540 | +1 | |
| 8 | Dominic Thiem | 3525 | -1 | - |
| Top | Eight Qualify For | London | | Points Back |
| 9 | John Isner | 2930 | - | 520 |
| 10 | Kei Nishikori | 2820 | - | 705 |
| 11 | Fabio Fognini | 2135 | - | 1390 |
| 12 | Stefanos Tsitsipas | 1815 | +1 | 1710 |
| 13 | Milos Raonic | 1800 | +2 | 1725 |
| 14 | Grigor Dimitrov | 1745 | +2 | 1780 |
| 15 | Pablo Carreno Busta | 1730 | -2 | 1795 |
| 16 | Marco Cecchinato | 1719 | +1 | 1806 |
After failing to clinch his spot in New York, Juan Martin del Potro became the fourth person to qualify for London, claiming his spot after beating Karen Khachanov in the second round in Beijing. It will be the Argentine's fifth trip to the ATP Finals and first since 2013.
Last year's runner-up, David Goffin, will officially not be returning to London looking for a better result. The Belgian called an early end to his season this week due to a shoulder injury. The defending champion, Grigor Dimitrov, is also in a precarious position around 1800 points back following his second-round loss.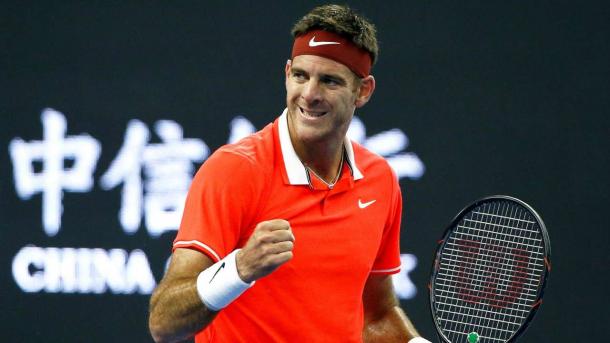 Should Dimitrov fail to qualify, it would be the first time in the Open Era that the previous year's finalists failed to qualify for the Tour Finals two years in a row (Andy Murray and Novak Djokovic contested the 2016 final before both failed to qualify in 2016).
By reaching the quarterfinals, Kevin Anderson managed to climb out of the dangerous eighth and final qualifying spot, leapfrogging Dominic Thiem. While not moving up in the ranking, Nishikori's finals run allowed him to gain some important points and move within striking distance of the final spot.
While del Potro managed to wrap up his spot, Alexander Zverev and Marin Cilic both stumbled with early losses in their respective events. They will have to wait to clinch their spots in London, although both remain in strong position to qualify at numbers five and six respectively, with Cilic still leading John Isner by nearly 900 points.
This Week's Action
The Asian swing culminates this week with one big event.
Shanghai
The first big post-US Open event will bring seven of the world's top-ten back together as the crown jewel of the Asian swing, the Shanghai Rolex Masters, will take place. Defending champion Roger Federer is back looking to defend his title, while the hottest player on the men's tour, Novak Djokovic, will look to ramp up his assault on the number one ranking.
Shanghai has been dominated by the big four since the tournament began in 2009. After Nikolay Davydenko won the inaugural title, Federer, Djokovic, and Andy Murray have combined to win every title.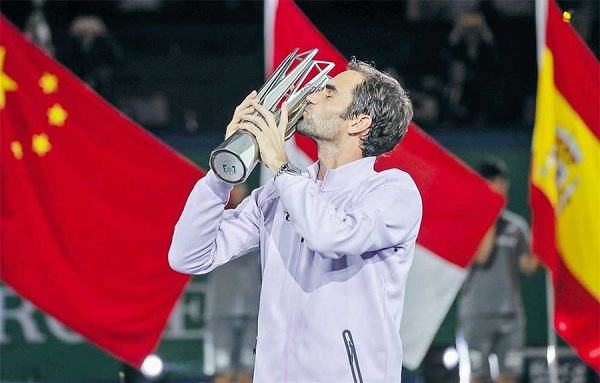 Shanghai could prove critical for those trying to qualify for London with four spots still up for grabs. A thousand points are available for the titlist, which would go along way for all those in the chase pack, many of whom are still more than 1000 points outside a qualifying spot. 15 of the top 20 will be in action in Shanghai, including most of the key London chasers.
World number one Rafael Nadal, who reached the final last year, will be letting his 600 points drop as he has withdrawn due to the knee injury that ended his US Open campaign. Also taking a pass on Shanghai are two big London chasers, John Isner (who is staying home with his newborn daughter) and Grigor Dimitrov, who are putting their London hopes at risk by taking a pass.
Check back next Monday for a wrap up of week 41 and a look ahead to week 42 on the ATP World Tour. Come to www.vavel.com/en-us/tennis-usa/ every Monday or follow us on twitter @VAVELUSATennis for your #ATPWeeklyUpdate