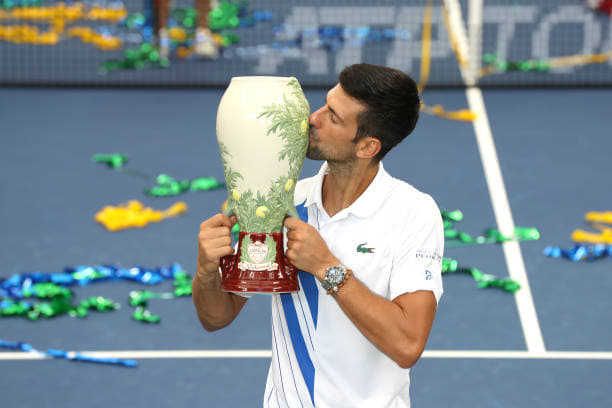 Milos Raonic had the daunting task of facing Novak Djokovic in the final at the Western and Southern Open final being held of course in the New York bubble. Raonic had yet to beat the Serb in his career and was sporting a record of 0-10, he also has never beaten a world number one in his career.
Djokovic didn't have an amazing week health-wise, he pulled out of his doubles match with a neck injury and played his semi-final vs Roberto Bautista Agut with stomach pains throughout the match. He even wasn't available to the media after his win yesterday due to the fact he went to go get checked.
There was even doubt this morning he would play but he decided to forge ahead. You could tell right from the start Djokovic wasn't 100 percent. He was down 0-30 in his first service game before responding by winning the next two points. At 30-30 Raonic unloaded a forehand winner that went cross-court to set up the first breakpoint of the match.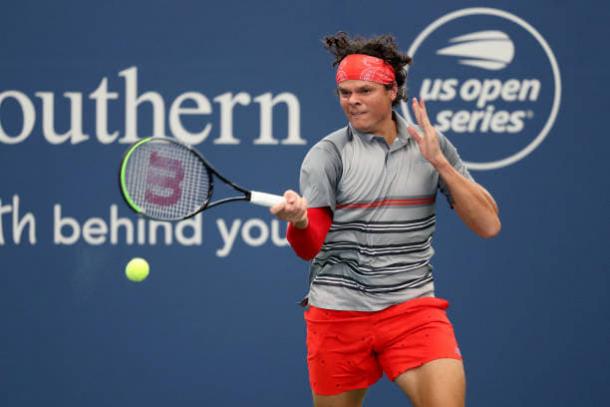 Djokovic would end up saving that breakpoint and manage to hold his first service game of the match. We jump to Djokovic serving at 1-2 and we saw a poor service game where he double-faulted multiple times to gift Raonic a 3-1 lead.
Raonic would hold to take a commanding 4-1 lead in the first set, remember that Djokovic was on a 25 match win streak and he was trying to stay undefeated.
Djokovic once again faltered in his next service game and with more double faults Raonic found himself up 5-1 serving for the first set. He would manage to take it 6-1. We wondered if Djokovic was just out of it or if we would see a response in the second set.
The second set both players were doing a good job holding serves and we saw a bit of an improvement from Djokovic from the first set. On the returns, Djokovic took a different approach and was standing five feet behind the baseline to return the Milos Raonic serve.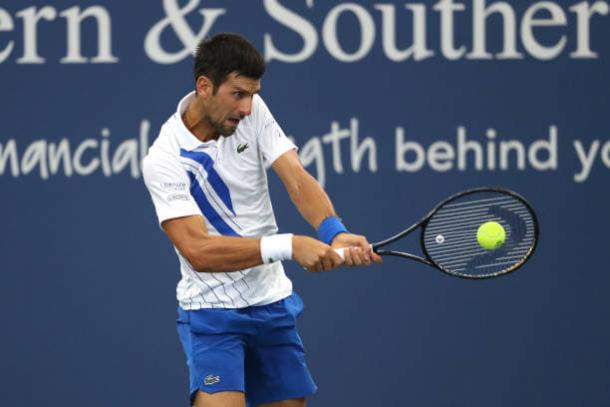 Djokovic got his first break point of the match at 3-2 when he won a deuce point and was able to finally break to take a 4-2 lead. We were seeing a much different player than we had seen and you sensed he had woken up.
Raonic also went from hitting clean forehands to having a lot of miss-hits and hitting a lot of unforced errors. That seemed to turn the match on its head. Djokovic would hold serve to take a 5-2 lead before Raonic would do the same to make it 5-3 and the Serb had a chance to level the match at one set apiece.
He did just that and we were off to a third and final set to decide the winner of the match. Raonic once again did a good job holding serve and actually got another breakpoint in the next service game. He would manage to get the early break for a 2-0 lead. It didn't take long for Djokovic to respond as he broke back in the next game to love to put the set back on serve at 1-2.
Djokovic would hold and once again got three more breakpoints and did it again breaking the Milos Raonic serve at love to go up 4-2. This was the Novak Djokovic we all knew and one of the many reasons why he is the world number one. They would both hold their next service games to make it 5-4 giving Djokovic a chance to serve for the match.
Raonic had a chance to break back to go back on serve at 30-40 but Djokovic would easily save it and at advantage point, he sealed the win with a final score of 1-6, 6-3, 6-4.