 In the build-up to the start of the season, much of the talk on Liverpool centered around their attack. One of the most glittering forward lines in the Premier League, how would they perform as a unit?
At half-time of the Reds' opening league game, though the scoreline was 1-1, the answer seemed to be erratically. Flashes and glimpses of promising combinations, but flashes and glimpses were all that they were.
The best they could muster ended in a tame Georginio Wijnaldum shot that sailed comfortably into the hands of Petr Cech. Aside from that, little else was created and very few saves had to be made by the Arsenal goalkeeper.
Although Philippe Coutinho's 30-yard free-kick ensured Liverpool were on level terms at the interval, it was clear a lot of improvement was needed at half-time.
Jürgen Klopp knew that, and so seemingly, did the players.
Their immediate reaction was the perfect one. Debutant Wijnaldum found Adam Lallana with a terrific cross and the midfielder's chest control and lofted finish over Cech gave Liverpool an ideal second-half starting point.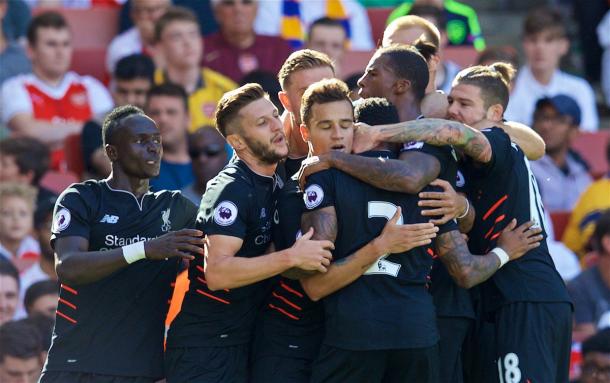 That, and what followed, was everything that was initially expected of the Reds' eye-catching forward line. Hunger, drive, determination. Searing pace, cute link-up, flicks, tricks and turns. Most importantly, goals.
The third was of superlative quality. Liverpool kept the ball for longer than they seemed to in all of their first-half spells combined, managing to rack up over 30 passes before Nathaniel Clyne cannoned a cross into the perfect position for Coutinho to force beyond Cech and extend the advantage.
Mane magic proves he can play key role for the Reds
No sooner was it 3-1 than it was 4-1, but whereas the Reds' third came through a stunning team move that pulled Arsenal's back-line apart - the fourth came from sheer individual brilliance from another debutant, Sadio Mane.
In an unstoppable show of pace and power, the Senegalese international stormed his way past Calum Chambers and Nacho Monreal on the right-hand side, continued by blitzing his way back into the box before bending one off his left foot and into the far top corner.
As debut goals go, they don't come much better than Mane's. No wonder supporters even took to chanting his name in the Emirates' sun-soaked away end.
They were loud and proud for much of the afternoon and unsurprisingly so.
Liverpool were rampant. Ruthless. Greedy for more. Threatening to run away with it. But they allowed their control to creep into their play and they complacently allowed Arsenal to produce a quick reply.
That stopped what could have been a massacre. For a time it was eerily reminiscent of the manner in which Liverpool so rapidly put four past the Gunners back in January 2014, in that renowned 5-1 victory at Anfield.
That afternoon, the insatiable hosts plundered four goals in 20 opening minutes. No-one will forget that afternoon for what followed in the months after and Klopp and co. will hope this performance is the same further down the line.
The start to this second-half, three goals inside 18 minutes, showed similar desire, and it was that spell that Klopp will take most away from the game. This is what Liverpool are capable of, and yet, this wasn't even Liverpool at their peak.
Liverpool have more to give at both ends of the pitch
There is much more improvement to be made. This was Liverpool without Daniel Sturridge, arguably their most talented player but quite clearly their most talented finisher.
Emre Can wasn't deemed fit enough to start, while James Milner didn't feature, having deputised well at left-back at times in pre-season. Joel Matip was only fit enough for the bench and Mamadou Sakho remains out with an Achilles injury.
For all the positives of the second-half, the first-half was decidedly turgid before Coutinho's divine intervention. Klopp will be thankful he boasts a squad complete with the Brazilian with magic in his boots, for it could all have been very, very different.
The hope is that, at full strength, the Reds' performance - particularly defensively - improves further. Couple that with their explosive attack and the tenaciousness, and things could get exciting.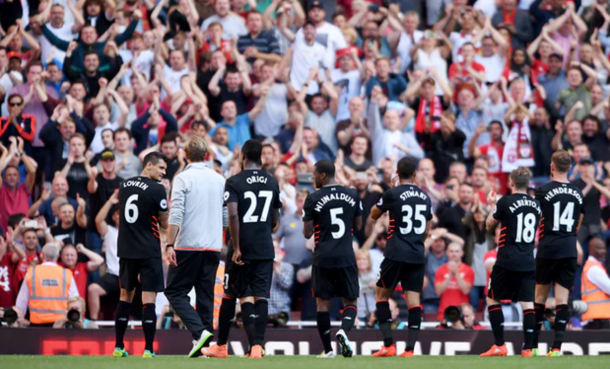 This Liverpool side could become an unforgiving, free-goalscoring unit, though Klopp knows there is work yet to be done. Without European football, there is more time on the training pitches to ensure lessons are learned while his players should also be closer to full-throttle on a regular basis.
That time at Melwood must be used well, too. Liverpool's defence here was horribly inconsistent and despite Arsenal posing very little threat for long periods, they scored three.
All of them were avoidable, the first from a poor challenge, the second poor positional sense and miscommunication and the third sluggish set-piece marking.
Yet, Liverpool out-scored Arsenal and came away with the deserved plaudits having won away against Wenger's side for just the second time in 14 attempts. They were worthy winners, for all of their errors and weaknesses at times in the capital.
This was the most a team have ever run in a Premier League game since camera tracking statistics have been recorded, racking up a collective 117.6km ran. In a weekend-opening match, that's more than impressive.
It wasn't running for the sake of it. It was harrying, pressing, intelligent movement and combination play. That followed an arduous nine-game pre-season programme in which Klopp had his players doing triple sessions at one stage.
This was Liverpool at their 100 miles-per-hour best, and yet they had the handbrake on for the first-half and slowed down again after the hour mark.
Liverpool have more to give and you can be sure that they'll give it. There will be worse days than this but there will also be better, for the defence can be shored up, the midfield can (and will) be more composed and controlled in possession and the attack can yet be even more potent and lethal. Yes, really.
The 2016-17 season will be nothing short of tumultuous, as it always is with Liverpool, and you sense that with this squad - and Klopp at the helm - absolutely anything could happen over the next nine months.