 Germany have handed Silvia Neid the chance to win Gold in her final match in charge, after a 2-0 win over Canada.
Goals from Melanie Behringer and Sara Däbritz proved the difference, and will see the Germans take on Sweden in the showpiece on Friday.
Behringer blasts Germany ahead
It was as expected in terms of the teams selected for the game, and that followed through into the game itself. The beginning was tense with both keeping their distance in the early stages. An injection of pace was needed and Ashley Lawrence provided it and a telling cross for Janine Beckie, but her header caught the side netting.
After that, Germany came into the contest more and were handed the perfect chance to open the scoring after 21 minutes. Kadiesha Buchanan went through the back of Alexandra Popp when the attacker was going nowhere, leaving Ri Hyang Ok no other choice than to award a spot-kick; Behringer duly slammed down the middle.
It could have been two in two minutes for Neid's side, only for Popp's fierce 25-yard drive to fly just inches away from the top corner. Canada began to issue a response towards the end of the half with Lawrence's shot being easy pickings for Almuth Schult. She had to be bailed out just before the break, as Buchanan's header was cleared off the line.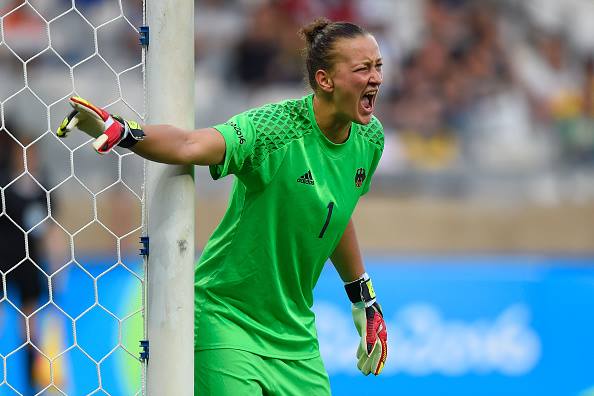 Däbritz seals the deal
Germany made one change at the break, as the largely infectual Dzsenifer Maroszan made way for Lena Goessling. The change didn't have an immediate impact but the lead was almost doubled when Däbritz worked her way inside and shot low, only to see Stephanie Labbé make a crucial save with her legs.
Chances then fell for both sides as the half wore on, with Melanie Leupolz's flick on at the front post almost finding the head of Popp at the far corner. Canada then had their bihhest moment of the match when Sophie Schmidt and Melissa Tancredi teamed up to play in Beckie, but she fired well off target from the edge of the area.
Then came the crucial moment of the half, right on the hour. Labbé goal kick was met by a German head and they drove forward from there. Leupolz fed Anja Mittag and she slid the ball into Däbritz's path, who went on to cut in on her deadly right foot and rifle past the helpless Canadian stopper; the lead was now two.
Canada fought her in the latter stages of the game and were well with a goal of their own, but came up against an imperious Schult. She commanded her area well, but the highlights were a solid stop from Christine Sinclair and a superb save from Diane Matheson. The final whistle came not long after the second save, meaning Germany had secured their spot in the Gold medal match and leaving Canada to fight with Brazil for Bronze.