 Liverpool's Adam Lallana insists he's enjoying having to adopt a deeper midfield role and says his performances will improve the longer he plays there.
The England international dropped back with Sadio Mane, Roberto Firmino and Philippe Coutinho forming Jürgen Klopp's front three of choice away at Arsenal on Sunday.
That system paid dividends, Coutinho and Mane excelling in a dramatic 4-3 win at the Emirates Stadium, while Lallana also got himself on the scoresheet in the second-half.
Though subdued in the first-half, Lallana was excellent after the restart - producing a typically energetic display paired with Jordan Henderson and Georginio Wijnaldum, also asked to play deeper.
Lallana could now be asked to play in central midfield in the Reds' coming games, starting away at newly-promoted Burnley this weekend, and says he's be pleased to do so for the team.
Lallana relishing challenges of new role
Speaking to the club's official website, he says he has "enjoyed" playing further back than usual although admitted he is "still learning the role" and will "probably still be learning the role throughout the season."
Lallana acknowledged that players "can always get better" and revealed that he has been "watching different players that play in that position."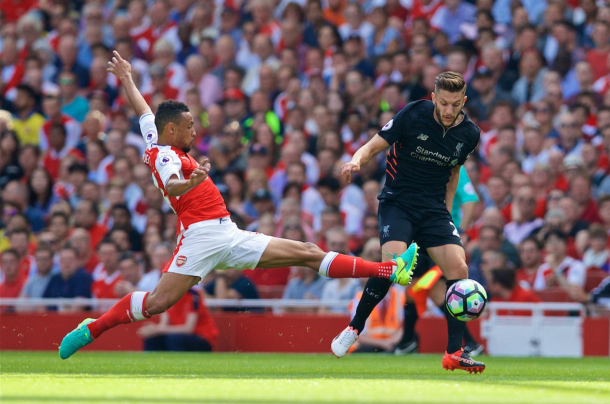 He also admitted that it was "great" to come up "against Barcelona and some top teams in pre-season" and get "good run-outs against them" which have helped him get more accustomed to his new role.
"I'm enjoying it and [this is] a squad full of great players," the No.20 continued, saying that there are "a lot of players that can play in two or positions" which he believes "definitely helps" the team.
He acknowledged that his positional change is a "different role" but declared it's one he will "embrace" because he's happy to play "wherever the manager wants me to play as long as it benefits the team."
"Why not attack more if we've got the defensive protection?"
Earlier in the week, Klopp suggested that Lallana's goal at Arsenal was the perfect example of what he wants from his players.
The attacking midfielder was one of six red shirts in the box as he collected Wijnaldum's cross on his chest before lifting a cute finish over Petr Cech.
Expanding on Klopp's point, Lallana told Liverpoolfc.com that the manager "says a sign of a good game is having a lot of men in the box."
"I think if you look at my goal, there are six players in the box, and he highlighted that," the No.20 continued, explaining that's how Klopp "wants us to play."
Lallana acknowledged that it's "attacking football" but said that, as long as the Reds' forwards have "protection right behind that" then "why not" because he believes they have "got more chance of scoring goals" with such an approach.
Reds' current camp smells like team spirit to Lallana
The former Southampton man also spoke highly about the unity and togetherness Klopp has helped to harness within the squad, insisting that it will bode them well for throughout the campaign.
He declared that the team spirit is "very strong" but warned that it's still "early days" and that it's "easy to show a good spirit when you're 4-1 up at the Emirates and you win there."
Lallana cited the "bigger tests" that Liverpool will face throughout the season when they are "down 1-0, 2-0" when they will "really need to stick together" and "show how strong our team spirit is."
He explained that there are "different tests" whether "playing home or away" with the "different atmospheres to play in front of" but added: "Team spirit is a massive factor in being successful and I feel we've got that. We need to build on that and never take it for granted."