 This Liverpool squad are in a better position to produce a more consistent level of high-quality performances, according to Jürgen Klopp.
One of the Reds' major pitfalls in the manager's first nine months at the club was there failure to string together a run of results, with only their incredible run to the Europa League final their evidence of being able to do so.
But having opened the new Premier League season with an unforgettable 4-3 win away at Arsenal, they travel to newly-promoted Burnley looking to set an early pace.
Having fell to disappointing defeats to such opponents last term, with chastening losses to Newcastle United, West Ham United and Watford among those strong in the memory, Klopp will be keen to ensure his side maintain better consistency in his first full season.
Indeed, he believes the team is much better equipped to do just that as they look to improve on their eighth-placed finish from the last campaign.
Klopp explained that they have "invested a lot of time" into their "ball possession" and declared himself "really pleased" with the goals his side scored against Arsenal at the Emirates Stadium.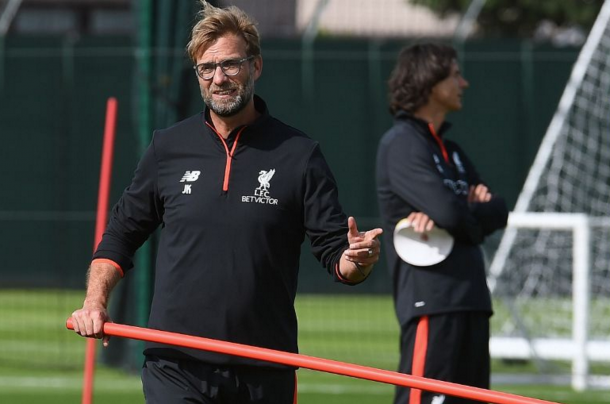 "The free-kick was genius," he hailed, "But all the other goals, it was like 36, 40 passes in a row. We never lost direction."
The German revealed that it's "always clear" that they "only pass" in order to "create offensive spaces" and "move them to have different situations" and said as such that he was "really pleased" with the manner of Liverpool's display in the final third but warned they "need it in each game."
Without European football, Klopp has more time on the training pitches to work on the side's shortcomings - with a question mark left over their defending after conceding three against the Gunners in their curtain-raising clash.
And the manager has been keen to ensure every day at Melwood is used, having afforded his players just the one day off before returning to training on Tuesday prior to their trip to Turf Moor this weekend.
Klopp: We must be more consistent this time around
Klopp admitted that "maybe further into the season" his players "would have been of on the Tuesday" but said that they weren't because they "tried again to learn."
"Low intensity, playing together, passing movements," he said, on what his players exercised in training, and their general fluidity and cohesion as a team.
He admitted that they "talked about consistency last season" but suggested that it was difficult with the "number of games" they were playing each week and the lack of time in training that meant.
Klopp told reporters that Liverpool have "tried to improve" upon their "physical ability" and that they are "still in an intense moment" which they "have to show" against Burnley and how they "should have done it in other games."
Reds boss hopeful Reds can improve defensively
Against the Gunners, Klopp named an attack-heavy line-up with Emre Can sat on the bench and Jordan Henderson - normally a box-to-box midfielder - taking up the role of defensive midfielder.
But the manager insists his approach was not to simply outscore opponents, having previously stated that he was disappointed to concede three goals, and says they must work on being tighter defensively regardless of who plays.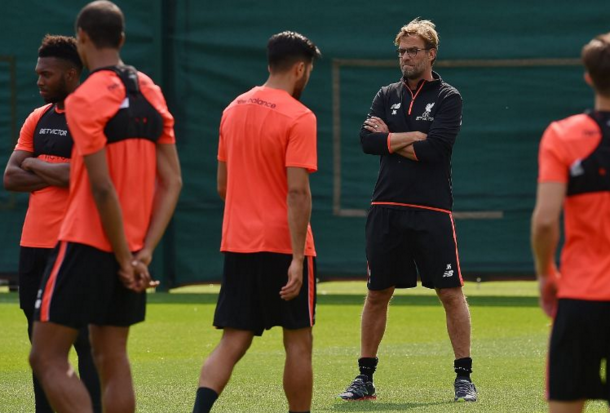 "I've never made a line-up where I feel we need to score five because these guys will score four. I never think this," said Klopp, who added that he loves clean sheets.
He declared that Henderson "can 100% play [as] a holding six" because it's "not a fixed position" and it would "make no sense" not allowing him "to be part of the game offensively."
Klopp insisted that in this "very important position in the centre of the pitch", Henderson has to be "involved in all passing things" and insisted: "It's not important who is in this position, but that someone is. That's flexibility."
Klopp added that there are "different kinds of protecting" in that it can come from "the left or right full-back, together with one centre-half plus another centre-half up in midfield" which he believes "should be possible" with his team.
He revealed that before the match, they didn't view it as "a very offensive line-up" because they also had "a job to do in defence" and the players "know about how we want to play" and must "show we are prepared.
Hinting at their approach for their clash with Sean Dyche's Clarets, who won the Championship title last term, he suggested they "go again" although it will be "a different opponent with different questions."
I love Coutinho, declares Klopp
Crucial to Liverpool's hopes of maintaining a winning start to the campaign will be Philippe Coutinho, who scored an excellent brace last weekend.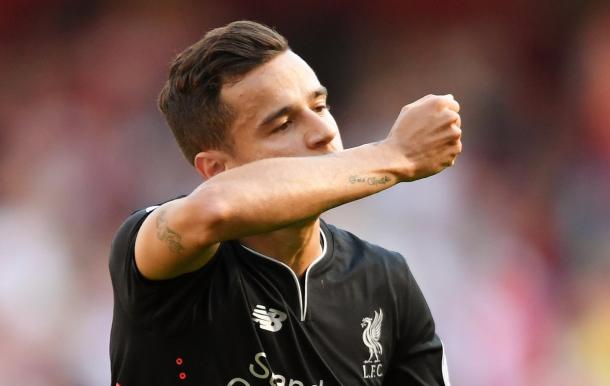 The Brazilian has been tipped to become one of the world's elite footballers by teammate and captain Henderson, with Klopp acknowledging that his start at Arsenal potentially promises a fine campaign ahead.
"I love this guy," insisted Klopp, adding: "We are all different so why should we compare one good player with another? Ask Luis Suarez if he ever scored a free-kick like Phil's. He has scored many great goals, but not a lot like this."
The German added that Coutinho is "in an unbelievably good way" despite going off with cramp and said that he is "hopefully" as fit "as he has ever been" since being at the club.
Klopp reassured supporters that the No.10 "only had cramp" and has "trained absolutely normal", explaining that his start is "a very good sign for a good season."
He said that they "have to make sure it stays like this" and then "see where it leads us" because "consistency is the base for being successful."