Notts County have today confirmed that striker, Ellen White is set to miss the rest of the season after fracturing her collar, but the bad news doesn't end there.
Cracked clavicle
During County's clash with Arsenal on Sunday White was whipped out by a challenge for former teammate Emma Byrne, crashing to the ground, falling full-force on the top half of her body. Following a lengthy delay being attended to on the pitch, White was duly substituted and Notts have today confirmed that the striker has sustained a fracture to her clavicle and is set for surgery.
With ten weeks of the season left, County aren't hopeful of seeing the England international back in black and white before the 2016 campaign wraps up. The injury also leaves a spot in Mark Sampson's squad for the upcoming Euro qualifiers.
Physio's working overtime
White isn't the only one that has come away from Sunday's game bruised as fellow attacker, Aileen Whelan was forced off at half-time, unable to continue after picking up a knock to her calf early in the half. The injury is being monitored but with the Notts squad perilously thin, manager Rick Passmoor will have everything crossed that she's able to start against Chelsea.
Unused substitute, Jade Moore is another Passmoor will hope is back up and running for the mid-week trip to Staines. The former Birmingham midfielder was forced to withdraw from the starting line-up just before kick-off as she was taken unwell and deemed unfit to play.
Lady Pie fans would have also noted the absences of both Amy Turner and Leanne Crichton from recent games too. Turner has been out in a knee injury after suffering a fracture and cartilage damage before the Reading game last month. With the defender yet to start back in the gym, fans will have to keep their eyes peeled for news of her return.
Egos weren't the only things left bruised after Manchester City's drubbing at Meadow Lane as Scottish international, Crichton has been out nursing some bone bruising sustained during the defeat. Crichton's prognosis is one of the better ones for Notts with the midfielder due back in time for the home clash against Sunderland.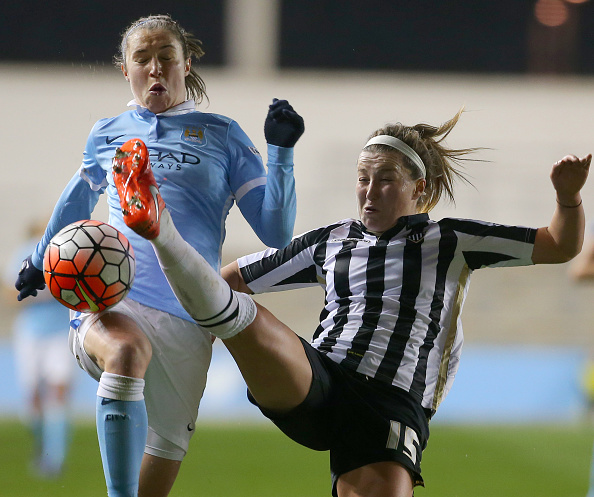 As mentioned in a previous article, Sophie Bradley-Auckland is once again out of action. The defender has undergone yet another operation on her troublesome right knee which ruined her 2015 season. The defender is set to be out not just for the rest of the season but is likely to miss most of the upcoming Spring Series as she endures another long spell of rehab.
Another player whose career has been blighted by serious injury is Chelsea Weston, the former Blue Girl another currently on the treatment table. Having suffered an ACL injury in July, Weston is set for surgery in mid-September and will provide good company for Bradley-Auckland during her six-nine month rehab.
First choice keeper, Carly Telford is back on her feet, cast-free and due back in the gym for strength work. The shot-stopper, who damaged her ankle ligaments against Doncaster is still set to miss the remainder of the season as she continues her path back to fitness.
Better news
Another long-term absentee is defender Laura-Jayne O'Neill. The young full-back has been out of action for four months and has just returned to the gym, in an attempt to slowly begin to build her fitness back up. Another player who'll be under the watchful eye of the Notts physios, her progress set to be monitored with no timeframe set for her return.
With Notts fast running out of players they've been boosted by the return of England U23 Taomë Oliver, the former Gunner getting her first taste of league action this year as she came on during the Arsenal game to replace White.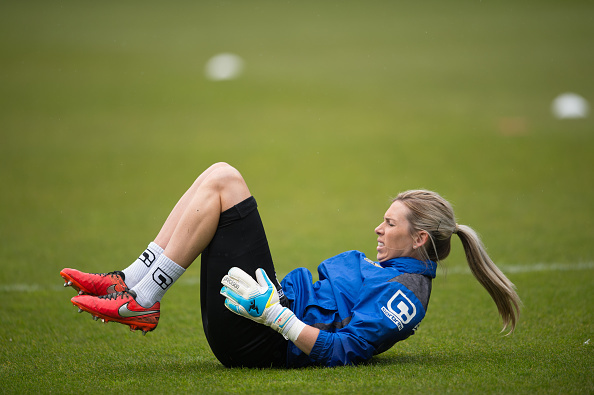 Eight, nine, ten, eleven
Oliver's return is a timely one and leaves Notts with just enough first-team players to make up a full starting eleven, though a good handful are set to play out of position as County attempt to just make it to the end of the season without completely falling apart.
Currently, the following are Notts' only fully fit players;
Megan Walsh, Maja Krantz*, Laura Bassett, Fern Whelan, Alice Hassall, Jo Potter, Dani Buet, Angharad James, Aivi Luik, Taomë Oliver, Jess Clarke, Rachel Williams.
*Notts have agreed to release Krantz from her contract after the Chelsea game as their make-shift back-line takes yet another hit.
As stated Aileen Whelan and Jade Moore should only be out for a short period of time and will hopefully be in contention for County's away trip on Thursday, but could easily miss the deadline.