Chelsea FC manager, Antonio Conte, spoke at his press conference ahead of Sunday's match when former Blues manager Jose Mourinho brings his Manchester United squad to Stamford Bridge.
Tactical match
One of the subjects that Conte talked about the most on Friday afternoon was the tactical aspect of Sunday afternoon's clash with the Red Devils. He said: "On Sunday it will be a tactical game." And goes on to add, "When two great teams like Chelsea and Manchester United face each other that is normal."
Usually, that means that both sides will be trying to not make mistakes when in possession. And also, in tems of formations, Chelsea will more than likely be in Conte's prefered 3-4-3, while Mourinho will throw out a 4-2-3-1. This will be like a chess match for the two managers because they will have to find ways to break down each other's midfield and back line.
Conte also has great respect for Mourniho stating, "When you win three championships you remain in the hearts of the fans, it's normal." But then goes on to say, "Then, after the whistle, he becomes like the players of Manchester United, an enemy."
Player updates
Antonio Conte also gave updates on several key Chelsea footballers.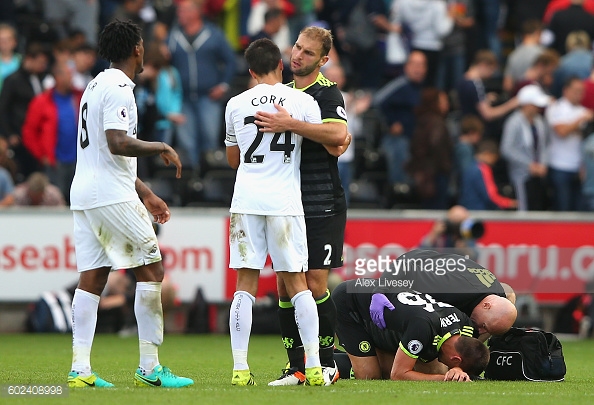 Blues' captain, John Terry, suffered an ankle injury some weeks ago, but "is in good shape." Conte also noted that Terry trained with the club all week long and is said to "have solved his ankle injuy."
Two of the Brazilian's, Willian and Oscar, on the club have had to deal with personal matters in the last couple of weeks. Conte said that he, "spoke also with the player and, for me and the club we are sorry for him for this situation, also for Oscar."
Finally, Kurt Zouma is back in training with the U-21 squad while Cesc Fabregas and Branislav Ivanovic continue to be sidelined with minor injuries.
Match info
The big English Premier League on Sunday between Chelsea FC and Manchester United kicks off at 16:00 BST at the Stamford Bridge.