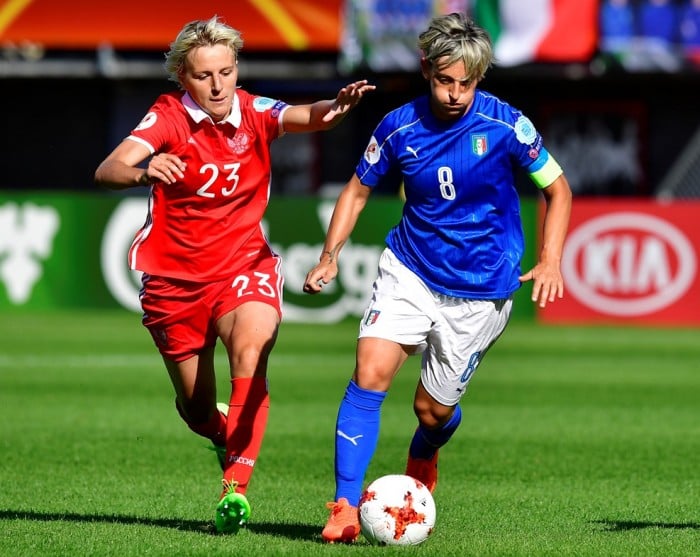 If Netherlands' victory over Norway is not considered to be a surprise, this afternoon's victory of Russia over Italy has surely caught the eyes of the followers as both teams opened their Group B fixtures.
This was Russia's first victory in a European championship and despite there still being two matches left, it already dents Italy's hopes of reaching the last eight, which would be another first in this tournament.
Both teams had faced each other six months ago in Brazil for a friendly, with Antonio Cabrini's side defeating the Russians 3-0.
Aware of the importance of the victory, Italy opted for an offensive 4-3-3 formation while the Russians applied a more containing approach with their 4-5-1 tactical system.
Early goals
Yet, it was the Russians who forged ahead with Elena Danilova who fired a long-range shot which deceived Chiara Marchitelli.
Danilova was proving to be the biggest threat to the Italians as she continued to push upfront and putting pressure on the Italy's defensive department.
Italy were struggling to implement their game, as the Russians crowded the midfield with numbers and their structure aided them to win all long balls projected from Italy's defenders to the their offensive counterparts.
Cabrini's side were dealt a huge blow on minute 26, when Elena Moroza headed home from a corner to make it 2-0.
Italy were clearly finding it difficult to breakthrough their emotions as they struggled throughout the first half.
Nonetheless, they replied moments later through Marta Carissimi but her volley was wonderfully saved by young Tatyana Shcerback.
It was really surprising to see Russia's backline organised and disciplined, considering they suffered heavy defeats in their preparations including in the Algarve Cup where they lost 6-1 to Denmark.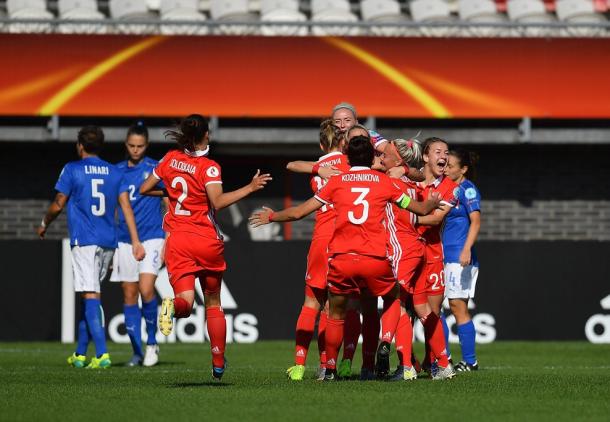 After the change of ends, Italy tried to put their foot on the ball a little more but continued to struggle.
Their first opportunity arrived on minute 57 when skipper Melania Gabbiadni attempted a lob over Russia's no.1, but the latter forced herself to a fantastic finger-tip save.
With new faces deployed on the field, the match started to lose its tempo and Italy their patience, becoming nervous.
Ilaria Mauro had a glorious chance to pull one back in the last 10 minutes, but instead of slotting the ball behind the goalkeeper, she opted for an unsuccessful dribbling.
Yet, Mauro found her 10th goal for Italy with two minutes left, when Cristiana Girelli notched a fantastic ball towards here, Mauro tipped the ball with her left foot and put the ball round Russia's goalkeeper.
In added time, Italy almost levelled terms when from a Manuela Giugliano's set-piece, Elena Linari headed the ball into the box, Russia's goalkeeper managed to deflect the ball into the woodwork and with the ball rolling on the line, Gabbiadini failed to connect with it, as Russia headed towards an historic victory.
What is next for both teams?
If Italy want to remain in this competition, they have a very tough opponent against whom they have to win as in match day two they take on holders Germany.

Meanwhile, Russia will face Sweden with the aim of securing another shock result and continue to surprise in this competition.