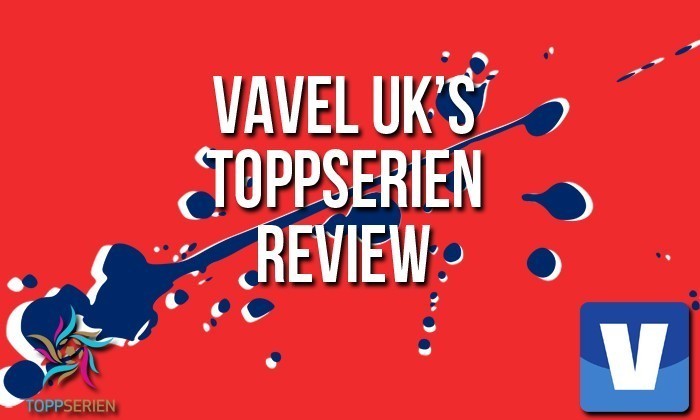 Five games were played in Toppserien this weekend. Avaldsnes and Røa were not in action, as their game was played back in April (it ended 0-0) due to Avaldsnes participating in the qualification round of the UEFA Women's Champions League this week.
This meant LSK, at the top of the table, could create more distance between themselves and second-placed Avaldsnes if they won their game against Grand Bodø.
Elsewhere there was an interesting battle between Stabæk and Klepp in a direct battle for third, while there was also an interesting battle between Kolbotn and Sandviken at the other end of the table.
LSK too strong for Grand Bodø
LSK had no issue overcoming Grand Bodø and extended their lead over Avaldsnes in the table to five points. Guro Reiten scored the opening goal with a penalty after 29 minutes, before Marte Berget extended that lead to 2-0 after 50 minutes.
In the following four minutes, LSK scored twice through Berget and Reiten. Reiten now has 13 goals in 15 matches and tops the top goalscorer's charts.
Berget got her hat-trick when she made it 5-0 in the 68th minute. LSK would score one more, as substitute Ingrid Kvernvolden joined in on the fun and made it 6-0 two minutes before the final whistle.
Grand Bodø have just five points after 15 games and are second to last in the table, just three points above last place. LSK on the other hand are steering towards their fourth title in a row, as they are now five points ahead of Avaldsnes in the league.
Historic win for Klepp
Klepp and Stabæk were up against each other in a game that could have a huge impact on who gets to take home a medal at the end of the season.
With a win, Stabæk would take a big step towards eliminating a direct competitor for bronze in Klepp, but it was Klepp who ended up the happier side of the two.
Stabæk had a number of good chances, but Klepp stepped up in the second-half and eventually got their goal when a cross from Hanne Kogstad found Gry Tofte ims who headed the ball into the net. This goal ensured Klepp all three points.
This was Klepp's first ever Toppserien win over Stabæk at Nadderud Stadion. Stabæk are still third in the league, with two points separating them and Klepp in fourth. Further, they are just four points away from Avaldsnes in second. Stabæk have a game in hand.
Arna-Bjørnar with a late equaliser against Trondheims-Ørn
Arna Bjørnar is another team that are in with a shot of medals this season. However, they would have to wait a while before ensuring points in their game against Trondheims-Ørn.
Trondheims-Ørn came into the match in good form, and it only took them 14 minutes to find their first goal here, when Elen Sagmo Melhus scored to make it 1-0.
That score-line stood all the way to the 90th minute, when Josée Nahi scored the late equaliser. With a point for each team, Arna-Bjørnar are now sixth in the table five points behind Stabæk in third. Trondheims-Ørn are eighth, two points behind today's opponents from Arna-Bjørnar.
Kolbotn and Sandviken shares the points
Sandviken and Kolboth have disappointed thus far this season, and find themselves in ninth and tenth place respectively, with more than ten points up to eight placed Trondheims-Ørn. This was not what either team expected going into this season.
The spectators at Sofiemyr had to wait until the 75th minute before they got the first goal. Kolbotn's captain Ina Gausdal gave the hosts a 1-0 lead, but with a few minutes remaining Sandviken found an equaliser through Sofie Skjelstad Jensen. With a point each, the two teams put a little bit of distance between themselves and the two teams behind them, Grand Bodø and Medkila.
Vålerenga gets third win in a row
In Vålerenga's last ever game at Valhalla - because they are moving to a new stadium - they got a resounding 3-1 win over last-placed Medkila for their third win in a row. Anne Lise Olsen got Vålerenga's first goal when she made it 1-0 after 33 minutes.
Six minutes into the second-half, Medkila made it interesting when Jacqueline Sadie Altschuld equalised. However, this only lasted two minutes before Maren Hauge restored Vålerenga's lead. Six minutes later, in the 59th minute, Elise Krieghoff scored the last goal of the game and ensured Vålerenga took all three points.
Vålerenga are seventh in the league, but have a game in hand and if they win that, they are very much involved in the fight for third place. Medkila on the other hand remain in last place, but are just three points behind Grand Bodø above them.
It is only the last-placed team who are guaranteed to get relegated, while the second-to-last placed team have a chance to ensure another year in the highest division through a play-off game.