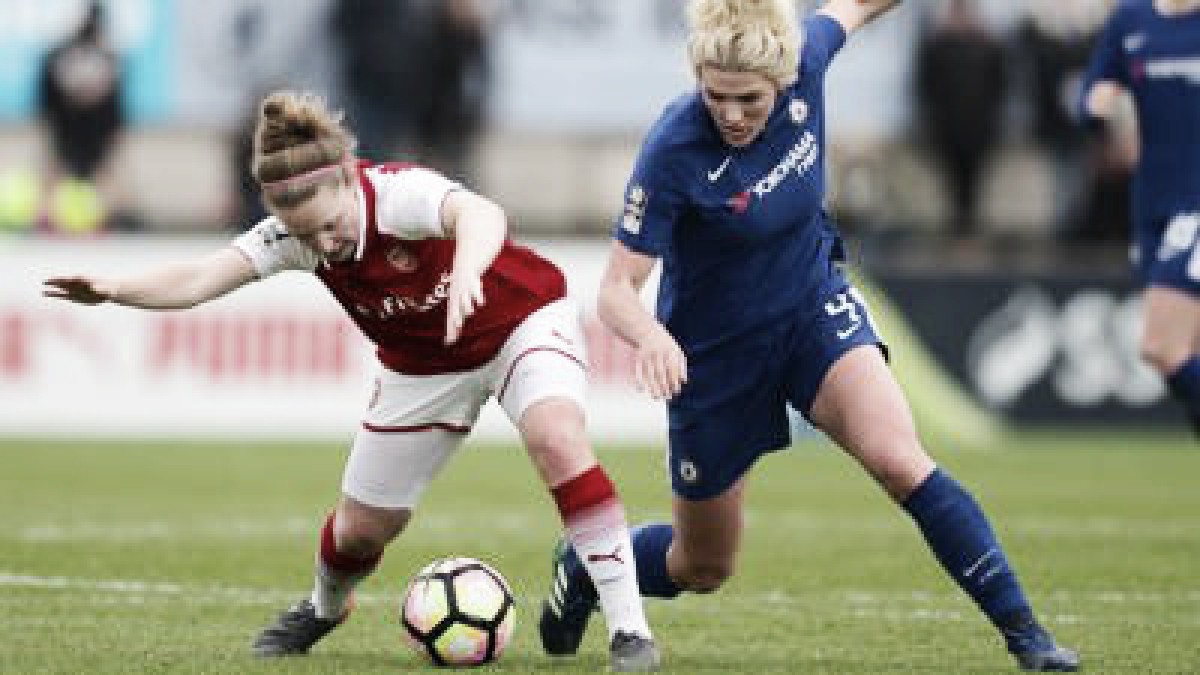 Thank you for joining us today at VAVEL UK for the SSE Women's FA Cup final. Congratulations to this year's winners, Chelsea! This is Kudzi Musarurwa once again, wishing you all a great weekend.
Arsenal W.F.C. 1 - 3 Chelsea L.F.C.
Full-time: Chelsea prove their quality and put away Arsenal with some ease today thanks to second-half goals from Ramona Bachmann and Fran Kirby.
90+3' Kirby wins a corner in the dying minutes for Chelsea. What a performance she, and Bachmann, have put in today for their club.
90+2' Cuthbert is almost on her way through but Mead gets in a strong tackle. Mead has probably been the best player on the pitch for Arsenal today.
90+1' Aluko gets forward and goes for goal from a tight angle. Van Veenendaal has to parry it out for a corner. Nothing comes from it and Arsenal get a goal kick.
90' Cuthbert wins a free-kick as time is running out for Arsenal here. Only five minutes of stoppage time have been added.
85' Cuthbert has a go from a long way out but it goes just wide of the goal.
85' SUBSTITUTION: Eni Aluko come sin for Bachmann who probably will be named the player of the match.
84' SUBSTITUTION: Mitchell and Lisa Evans come off for Katie McCabe and Danielle Carter.
83' Lindahl and Mjelde almost gift Miedema a goal as the goalkeeper passes to her defender. Her pass is just long enough though to reach Mjelde before Miedema can get to it.
82' Lindahl has to come out quickly as Blundell's header back is a little short. The goalkeeper gets there ahead of Mead.
80' A little bit of controversy here as Eriksson seems to bring down O'Reilly but after a replay, it looks like the Chelsea defender got the ball and the referee has called that correctly by waving away the claims of a foul.
78' What a game this has been for Kirby, who deserves that goal for her previous play. It's also probably won the final for Chelsea too unless Arsenal pull off a stunning last 12 minutes here.
Arsenal W.F.C 1 - 3 Chelsea L.F.C.
Chelsea keep possession and Kirby gets a little bit of space. She runs at the backline before firing off a curling shot into the far side of the goal!
76' GOAL! Kirby gets her first of the day and Chelsea's third!
74' SUBSTITUTION: Erin Cuthbert comes in for hard-working Spence.
Arsenal W.F.C. 1 - 2 Chelsea L.F.C.
Beth Mead gets by Blundell easily and finds Miedema who makes up for her previous hesitancy with a one-time finish from close range. That was all Mead who when given the chance, has had the beating of the Chelsea defenders.
73' GOAL! Miedema brings Arsenal back within one!
73' Mjelde, who has been excellent all game, beats Miedema in a foot race to the ball and clears the danger.
70' SUBSTITUTION: Jonna Andersson?'s day is done as she is replaced by Maria Thorisdottir.
69' Spence is through but she's called back by the offside flag.
66' After responding so well to being a goal down, Arsenal are now chasing shadows. Had Miedema taken her chance before Chelsea's second, this may have been a different game altogether.
63' SUBSTITUTION: Janssen goes off for Heather O'Reilly as Arsenal look to go for goal now.
63' Bachmann finds Mjelde with the set piece but her header goes right to van Veenendaal.
62' Williamson brings down Spence and Chelsea have another great opportunity here.
Arsenal W.F.C. 0 - 2 Chelsea L.F.C.
One of the best players in the first half takes it up another gear and gets herself a brace! Bachmann gets the ball out wide, cuts inside and goes for goal. Her effort gets a deflection off of Quinn and nestles into the far corner.
60' GOAL! Bachmann does it again!
59' Janssen steps in a vital moment to stop Spence from being able to go for goal after Chelsea had worked their way into the Arsenal area once again.
56' CHANCE! Little brings the ball forward and finds Miedema unmarked but the Dutch international takes to many touches and Chapman is able to get back and put in a great block.
53' Chelsea win a free-kick as Daniëlle van de Donk brings down Katie Chapman which comes off Quinn for a corner kick.
50' Arsenal have responded well from going down a goal and have a corner here. The opportunity goes away after Nobbs miscontrols a pass from Little as Arsenal were looking to reset after the corner had been headed away.
Arsenal W.F.C. 0 - 1 Chelsea L.F.C.
Bachmann gets the ball from the throw-in and finds Kirby. The two link up again and Bachmann smacks the ball into the top of the goal! Van Veenendaal got a hand to it but there was too much power to stop Bachmann's effort.
48' GOAL! Bachmann puts Chelsea ahead!
47' Chelsea steal the ball as Arsenal were mounting an attack but Bachmann's ball out towards Kirby is cut out by Mitchell for a Chelsea throw-in.
46' Miedema starts off in the second half!
The second half is just about get started here. We'll see which team has made the right adjustments during the break.
Arsenal W.F.C. 0 - 0 Chelsea L.F.C.
Half-time: Arsenal started off the stronger of the two sides but after 25 or so minutes, Chelsea asserted their dominance. Neither side has found the back of the net yet.
44' CHANCE! Kirby and Bachmann combine very well before sending Ji through but the South Korean sends her shot well over the crossbar.
43' Ji goes for goal but it hits the wall and she puts the rebound right into van Veenedaal's hands.
42' YELLOW CARD: Dominique Janssen loses the ball in midfield and Chelsea try to find a way through before Janssen brings down Ji near the top of the area.
40' The pace of the game has slowed down a little here as both team shave adjusted to each other's tactics.
32' Hannah Blundell elects to slide a pass to Kirby instead of going for goal inside the penalty area but her pass is just too long and van Veenendaal gathers the ball.
30' Both teams have had glimpses at goal but so far, no breakthrough yet.
26' Ji So-Yun wins the ball off of Little and Chelsea string a few passes together that allow Kirby to spring free. Kirby hits her shot straight at van Veenendaal though.
25' Magdalena Eriksson aims the set piece towards Bright but it goes just over her head.
24' Emma Mitchell? gets her final warning after pulling back Bachmann who had gotten the better of the Arsenal left-back. Chelsea earn a free-kick in a good position.
23' After a few scares, Chelsea finally get possession again as Arsenal misplace a pass towards Nobbs.
21' CHANCE! After the corner, Vivianne Miedema jinxes her way past her marker and goes for goal but her shot takes a big deflection and goes out for another corner. Chelsea are reeling a little here.
20' Kim Little cuts inside and tries to find the far post but it's headed out for a corner. First time Little has gotten into the box and she almost found the opener.
18' Sari van Veenendaal gets her first catch of the game when she easily gathers Spence's cross.
17' The cross from Drew Spence bypasses a few players before falling to Kirby in the box. For a split second, Kirby has the space to go for goal but she takes a touch and Arsenal close her down before the ball can go towards goal.
15' Arsenal win a free-kick which Nobbs takes and she finds Louise Quinn but the defender can't keep her header down.
14' Mead is through on goal after Bright lets the ball bounce over her and Mjelde has to come back quickly to stop Mea in her tracks. Close call for Chelsea there.
12' Leah Williamson tries to hold off Kirby but the Chelsea forward nicks the ball from her before spinning away and trying to find a teammate. Unfortunately for Chelsea, no one else had followed Kirby and Arsenal can move up the field again.
9' CHANCE! What a move by Ramona Bachmann! She spins and nutmegs her marker to get inside the area but fires wide of the goal. The Swiss international really should have hit the target from there.
8' Arsenal attack again through Jordan Nobbs but she can't find a teammate with her final pass. Fran Kirby picks up the ball and runs at the Arsenal backline before her final shot is deflected out for a corner. Alarm bells were ringing there for Arsenal.
7' Arsenal are finding plenty of space in these early exchanges but so far, the final pass hasn't quite happened for them.
4' Arsenal get the ball out wide again where they are finding plenty of space early on but Maren Mjelde cuts it out and removes the danger.
3' Beth Mead gets the ball out wide and in space. She takes on Milly Bright and has the pace to get by her but her low cross is cut out and cleared away by the Cheslea backline.
1' Here we go!
The Wembley music director is currently playing some Dua Lipa as we edge ever closer to the start of this FA Cup final. Not a bad choice.
Not too long now from kick-off. Let us know over at WOSO_VAVEL who you think will win today.
Starting XI for Chelsea (3-5-1-1): Lindahl; Bright, Mjelde, Eriksson; Blundell, Ji, Chapman, Andersson, Spence; Kirby; Bachmann.
Starting XI for Arsenal (4-5-1): Van Veenendaal; Evans, Williamson, Quinn, Mitchell; Janssen, Van de Donk, Little, Nobbs, Mead;, Miedema.
In the meantime, we at VAVEL UK have put together previews for the two teams playing today. Matt Dawson looked at Arsenal W.F.C.'s road to the final while Chloe Leadbeater wrote about Chelsea L.F.C. journey.
Hello everyone and welcome to our live coverage of today's SSE Women's FA Cup final! We're just over an hour away from kick-off and starting line ups should be announced shortly.
Arsenal W.F.C 1-2 Chelsea L.F.C.
Prediction: Both teams have been in great form this season in the FA Cup and it could be a close game to call. Chelsea have seemingly come in as the stronger team and will look to put their continental woes behind them by winning this cup and I am leaning towards them doing so.
The officiating crew for this match will be Lindsey Robinson as the centre official, Stacey Pearson and Kirsty Dowle as the assistant referees, and Helen Byrne as the fourth official.
Projected lineup for Chelsea: Lindahl; Bright, Mjelde, Eriksson, Blundell; Chapman, Thorisdottir, Andersson, Spence; Kirby; Cuthbert.
Projected lineup for Arsenal: van Veenendaal; Evans, Williamson, Quinn, Mitchell; Janssen; O'Reilly, Little, Nobbs, Mead; Carter.
The match will be played at Wembley Stadium on May 5, 2018. The game will kick off at 5:30PM BST and will be broadcast on BBC 1.
There are not many areas that Chelsea are weak in and they only lost out in the Champions League recently purely because Wolfsburg have better quality players in almost every area of the pitch. Against Arsenal, Chelsea should feel as though they have the superiority in key positions to get the job done. All they have to do is remain focused through out the game and not fall into the trap of being over-confident due to their result against Manchester City.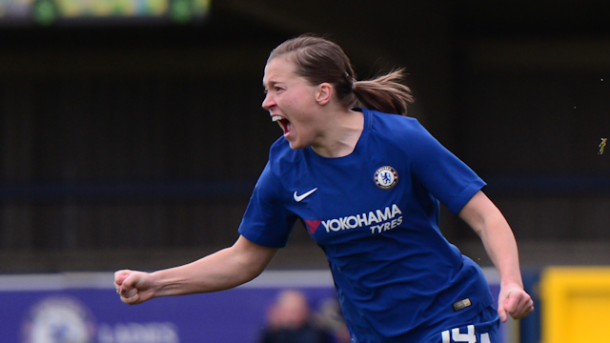 Chelsea succumbed to defeat in the UEFA Women's Champions League semi-final against VfL Wolfsburg but they have more than enough in their ranks to pose any team problems on their day. They showed this in their semi-final match against current league leaders, Manchester City, and will look to shine again against Arsenal tomorrow. Fran Kirby, who has been in excellent form for her club and country this year, earned the Women's Footballer of the Year award this year for her exploits. She was also on song when Chelsea put away Manchester City in the semi-final as she scored a brace to put the south-west London side through to the final. Expect Kirby to try and be just as influential in the final as she was in the semi-final.
?Where Arsenal have shown the most vulnerability is in their backline. Against Everton L.F.C., Arsenal showed they are susceptible to being caught out in transition and it took a late goal for Arsenal to make their way past what proved to be a resilient Everton side. Against Chelsea, Arsenal cannot afford too many lapses in the back as Chelsea's forwards have been in great form in all competitions this season and will punish any mistakes by their opponents.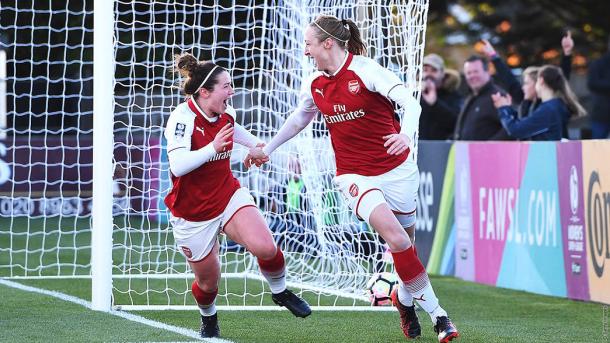 Arsenal's league form has not been replicated in the FA Cup so far this season. The north London side have performed much better in the cup than they have in the league especially recently and will hope that that trend continues on Saturday evening. Danielle Carter has been in great form during Arsenal's cup run and has been ably assisted by the likes of former US international Heather O'Reilly, Scottish international Kim Little and Dutch international Vivienne Miedema. Carter will hope that the likes of Little and O'Reilly will be able to find her inside the opposition area as often as possible so she can capitalise on those chances.
If picks had been made at the beginning of the FA Cup over which two teams would make the final, Arsenal W.F.C. and Chelsea L.F.C. would definitely have been near if not at the very top of most people's choices. Arsenal has drifted away from the top of the table in the FA Women's Super League but Chelsea are still neck-and-neck with Manchester City W.F.C. and will look to assert their dominance in the English game by winning the FA Cup tomorrow and the league later on this season.
Welcome everyone to the SSE Women's FA Cup Final! This is Kudzi Musarurwa, your host for this big occasion featuring Arsenal W.F.C. and Chelsea L.F.C. at Wembley Stadium. Stay with us at VAVEL UK for live updates on what should be a great game.