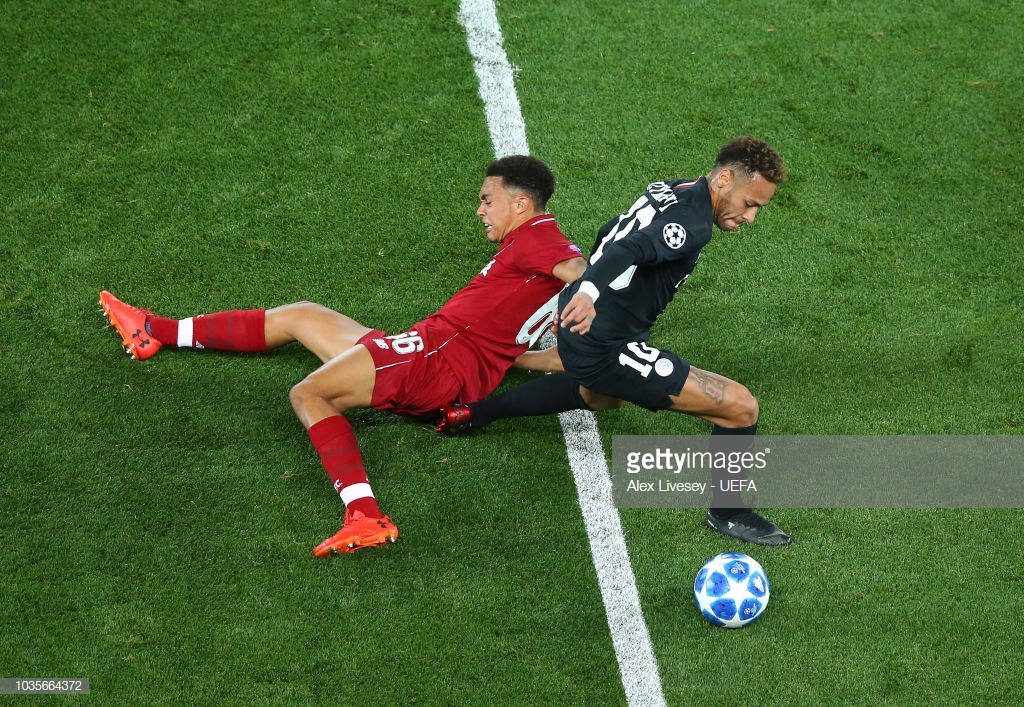 As incredible as Liverpool's start to their Premier League campaign has been, their record in the Champions League has been far less encouraging.
Liverpool slipped to a 2-1 defeat against Paris Saint-Germain in the French capital, recording their fifth successive European defeat away from Anfield and for the first time losing all three of their away matches in the Champions League group stages.
Away form missing in Europe
Throw in the defeats to Roma and Real Madrid at the end of last season, and Liverpool are struggling to impose themselves as they do at Anfield – and did away from home, prior to the trip to Rome.
Beating elite opposition on their own turf is never easy, but whilst Liverpool's defence has drastically improved, their attacking verve has stalled and become increasingly ponderous and predictable.
Liverpool have truly missed Alex Oxlade-Chamberlain's connection between midfield and attack in these European clashes, and the Englishman is not returning anytime soon from injury.
Therefore, Klopp has to solve Liverpool's midfield dilemma in order to move their attacking momentum forward again. Five shots on target in three away matches – with Liverpool's only goal arriving via James Milner's penalty against PSG – is just not acceptable.
Moreover, Liverpool are starting too slowly in these away fixtures, with even Red Star Belgrade able to punish a lacklustre Liverpool to score two goals, win the game and create the tricky predicament that the Reds now find themselves in, ahead of their final group stage clash against Napoli at Anfield.
Premier League first, then Napoli
Aside from that, Liverpool need to rediscover their attacking formula in the Merseyside Derby this weekend, with Everton making the trip across Stanley Park to the red half of Merseyside.
Incredibly, Everton have not beaten Liverpool for eight years but they have frustrated their neighbours to a number of draws at Anfield and Goodison Park, including both fixtures last season. Claiming bragging rights is always good but everything for Liverpool is about maintaining their challenge to the imperious Manchester City, as they seek to end a near three-decade wait for the Premier League title.
Ancelotti to spoil Reds hopes again?
Two weeks after Liverpool's loss in Paris, Napoli will arrive on Merseyside and be encouraged by their result against the Reds in Italy, where Napoli scored a late winner to emerge with a fully deserved 1-0 victory, their manager Carlo Ancelotti's record against the Reds since the unparalleled Champions League final of 2005, and Liverpool's recent chequered history in their final group stage match at Anfield.
In 2009, when Liverpool were ranked with Barcelona as the best team in Europe, Rafael Benítez could only watch as his already eliminated side slumped to defeat against Fiorentina, another Italian outfit.
In 2014, Liverpool needed to beat the plucky Swiss underdogs FC Basel to progress but fell a goal down and Lazar Marković was sent off. Steven Gerrard tried to stir another comeback with a brilliant free kick but it was too late, with the damage already done and Liverpool heading back into the Europa League (Besiktas knocked them out immediately).
Goals goals goals
Yet in 2017, Liverpool needed a result against Spartak Moscow to be assured of progressing for the first time in eight years, and they achieved this with aplomb.
Barcelona-bound (but captain on the night) Philippe Coutinho scored a hattrick, with Sadio Mané, Daniel Sturridge, Mohamed Salah and Roberto Firmino all getting in on the act in a 7-0 destruction. The victory confirmed Liverpool's presence in the knockout stages, but the performance set the standard for Liverpool's extraordinary run to the final, led by their previously devastating attack.
Liverpool will need their attack firing on all cylinders to have any chance of breaking down Ancelotti's tactically shrewd and formidable Napoli side, led by Kalidou Koulibaly and co.
The spirit of Olympiacos will need to be called on again.
Liverpool's wonderfully dramatic 3-1 victory in 2005 meant the Reds scraped their way out of the group stages and towards the most unlikely of trophy triumphs. Liverpool needed a two-goal victory to progress and got it thanks to the inspirational Gerrard.
The strategy may not have worked against Basel, but whilst Napoli are a stronger side than both Basel and Olympiacos, Liverpool have a more rounded side in terms of quality to get the win they need.
Attack, defence and Anfield all required for qualification
Once again, the stakes could not be higher – Liverpool need a 1-0 victory to progress, or beat Napoli by two clear goals should the Italians score.
Liverpool certainly do not want Europa League football. Champions League elimination would be awful, but Europa League qualification would be even worse as the Thursday to Sunday schedule would disrupt their Premier League campaign and possible title chances.
When the sides met seven years ago in Europe's second cup competition, they played out a dull draw in Italy before Liverpool's captain inevitably was the difference at Anfield. Liverpool would love to have Gerrard at his peak again in this team.
Away form side, Anfield has delivered on Champions League nights so far this season. If Liverpool want to maintain their hopes of a sixth Champions League crown, they will need their legendary ground to help summon a night the club's rich European history has seen so many times before – none more so than against Olympiacos.