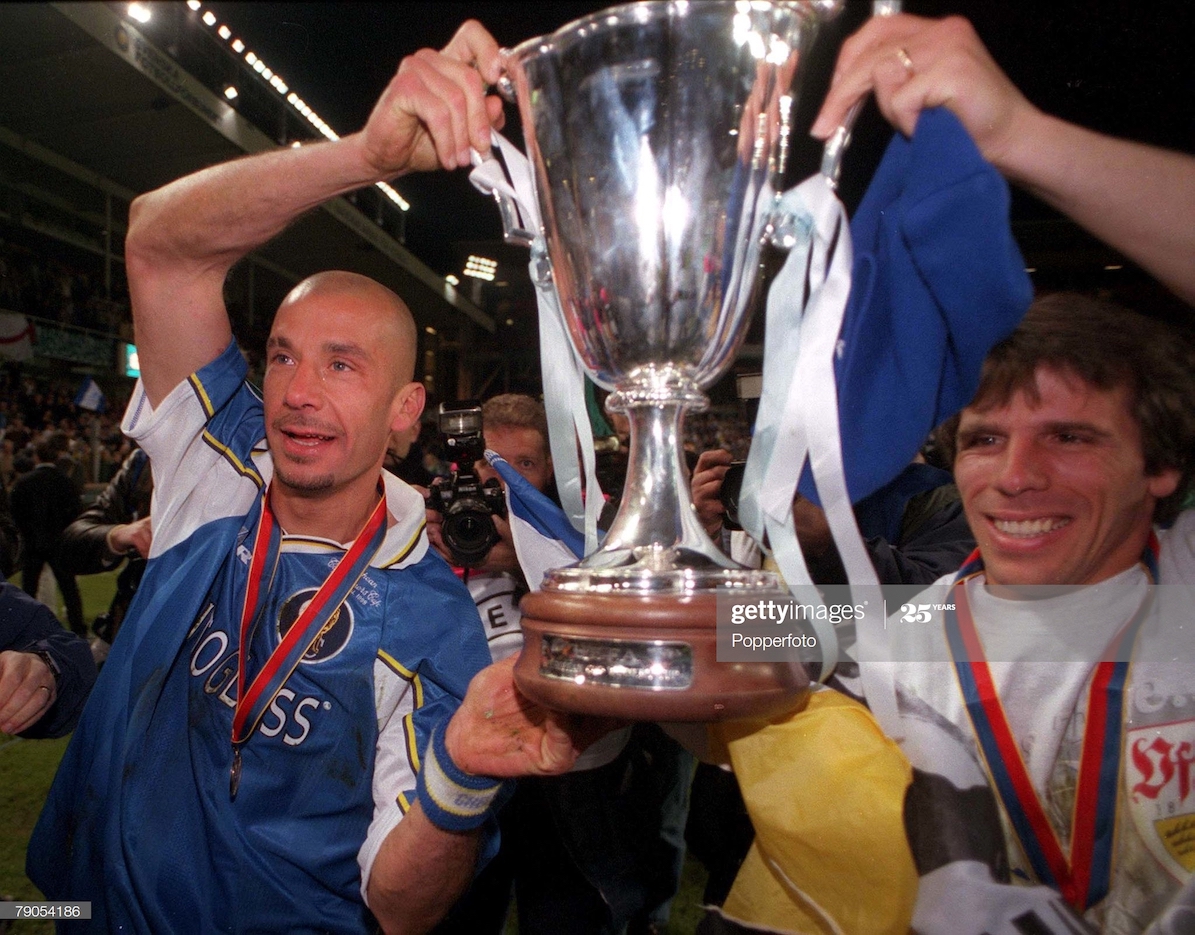 Gus Poyet says that Gianfranco Zola's late on in the European Cup Winners' Cup final 22 years ago was 'fire!'
Speaking to Chelsea's official website, Poyet remembers the road that led to glory that night in Stockholm.
Following a brilliant comeback in the semi-final against Vicenza, Chelsea faced Stuttgart in the final, looking to win their first European trophy since 1971.
Poyet and Zola "incredible recovery"
Poyet was in his first season at Chelsea, and it had been a season of frustration.
He was sidelined for six months with a cruciate injury, thus placing his season in turmoil after a promising start.
The Uruguayan was not the only player to be injured that season, with Zola also having injury troubles.
Poyet says that the promise of a European final at the end of the season helped them both complete remarkable recoveries:
"We can talk about me coming on time from my cruciate ligament, knowing that maybe there is something to play for at the end of the 1997/98 season. Not just taking your time and coming back next year – no. I'm coming back as soon as I can, on time, and who knows, maybe there is something to play for. And then there was the semi-final and final of the Cup Winners' Cup.

"Gianfranco Zola was injured just a few weeks before the final and did an incredible, absolutely top-class recovery – we're talking 24/7, probably not even sleeping – to be able to be fit and play. And making the manager have to make a decision – and then coming on the pitch as a substitute and scoring the winning goal.

"That commitment of so many players, at the same time, at that level, there's only one thing that's going to come – a winning team, a proper team enjoying playing football together.
"Nowadays, you get a hamstring injury like that, people will tell you four to six weeks. Back then, there was maybe a different mentality in terms of taking certain risks, which slowly changed and people try to be more careful nowadays.

"You can't imagine how much he had to work for that. He went back to Italy for the recovery and it was probably like madness for him. But he was there when it counted."

Despite the result and the remarkable storyline of Zola coming back to score the winning goal in the final, the game wasn't the most entertaining watch.
Poyet says the pitch was partly to blame for that:
"The pitch was bad and we didn't know too much what we were coming into, because it was like a new, bigger situation – with respect to the FA Cup or the Coca-Cola Cup. This was Europe and we had a very good team to play against, that was very difficult. There were people missing too. But at the end of the day, the aim of the game is to win.

"I remember at the end seeing these massive fences around the pitch and there are Chelsea fans trying to get over them and onto the pitch to celebrate with us. I was thinking, "What is going on! These crazy people!"

"There was such a special connection with the supporters. Something unique."

Zola's goal in the final is one that is etched in Chelsea history.
The comeback from injury, the occasion, and the fact it was only his second touch since coming off the bench makes his goal extra special.
Poyet says that the Italian was very excitable afterwards:
"Normally he was smiling and enjoying the moment. That one was fire! In the changing room he was so fired up he looked like he wanted to kill someone! We always joke about those pictures of Gianfranco after he scored the goal."