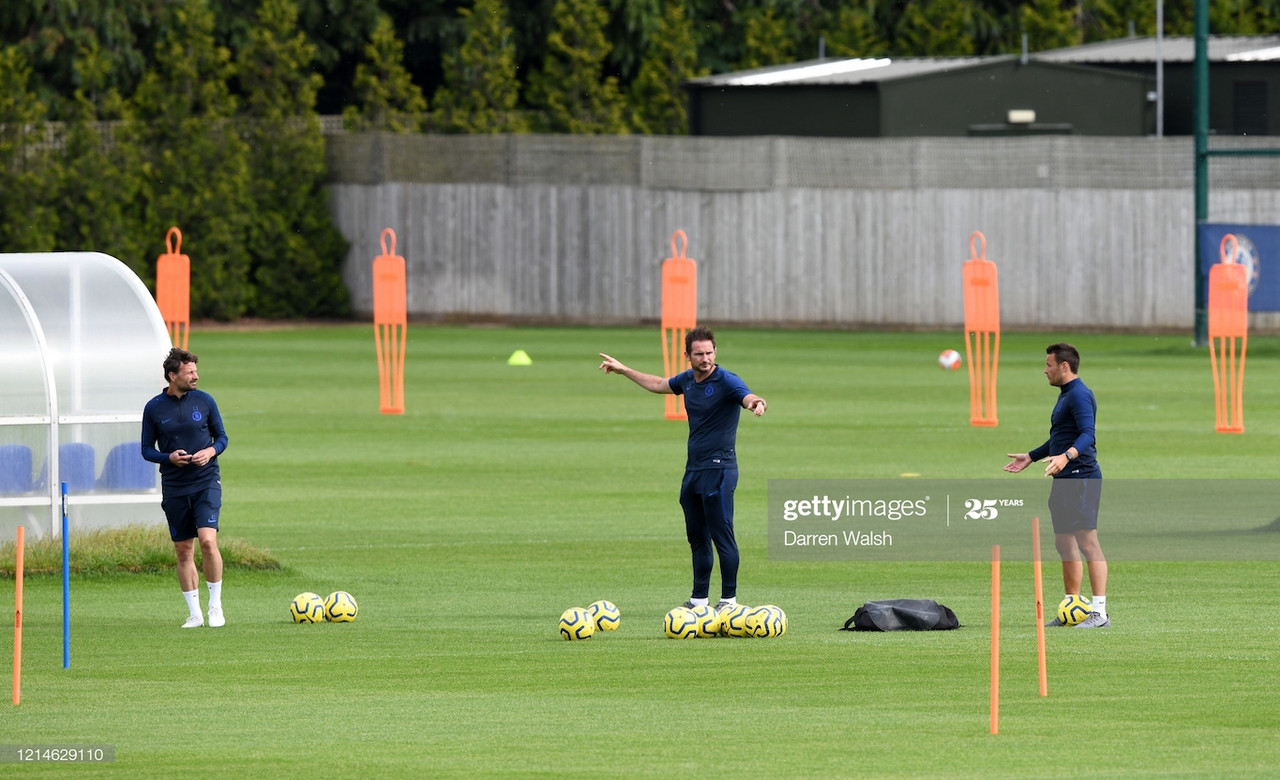 Frank Lampard is keen for football to return, but admits that the process may be a difficult one.
The Chelsea head coach began the first phase of the return to training on Tuesday, following the decision by Premier League shareholders on Monday in favour of a return to socially-distanced training.
"Safety has to come first"
"It's been okay, it's been great to see the players," he said in an interview for BBC's Football Focus programme via the Chelsea website.
"I've seen them on many Zoom calls and WhatsApp chats so it's been nice to keep to working.
"It [training] is very restricted and we have to abide by the restrictions because they're there for a reason because of the time that we're in.

"It's been good to get some work into the players, it's individual work.
"This might be a difficult process or a slow process, safety has to come first.
"Once we get over phase one and see what phase two might look like and beyond that then we can think about getting games back, albeit behind closed doors."
"We'll respect everyone and how they feel"
France international N'golo Kante has been absent from training at Cobham since Tuesday after the club gave him permission to train at home amid Coronavirus fears.
Lampard confirmed he has had conversations with his players regarding their concerns throughout the isolation period.
"One of the things for me as a manager that I've learnt in this two-month period is that communication is so key," he explained.
"When we went into isolation we all felt like we went into this crazy bubble that we're not used to.
"Me sending messages to the players and asking how they felt was so important.

"I didn't want to bombard them so they were bored of me but I did want them to know that I'm here.
"As the talk of restarting came it was an important conversation that we had collectively.
"Everybody is different and we've seen that with the reaction of players and that has to be respected in all ways.
"We work every day as a family and a team and we'll respect everyone and how they feel about the restart and coming back to work."
"Been a bit of a reset for all of us"
At a meeting between the Premier League managers last week, Lampard could sense the desire to get back to playing and coaching football.
"All of us here want to work,' he said. 'It's our job and we're very fortunate to have this job, to play football and we want to finish it.

"When we see so many things in the country and the world, much more important things than football happening, I think that's been a bit of a reset for all of us but what remains is we want to play football.
"We want to finish this season but the most important thing is when it's safe and healthy for players and staff.
"Fans won't be coming but will it change things in society, the policing, the NHS, all these things need to come together and hopefully we can get our game back."
"It's certainly proper football"
The German Bundesliga is the first major European league to resume and while Lampard is happy to see the sport return, even in behind-closed-doors format, he believes the lack of a crowd certainly has an impact on the game.
"It's certainly proper football," he continued.
"There are clear things that are going to be affected, you may not get to the level of what we get with crowds because that's why the Premier League is for me the best in the world, because our home fans drive us on and that's why home advantage is so important but when you go away, that hostility and tribalism sometimes drives you on as well.
"It's a beautiful thing.
"Of course it's football [the behind-closed-door games].
"There will be things that are different and I'll have to speak to the players about that but when there's three points and when you're playing for your team and you want to get somewhere in the league, then of course the focus is there."