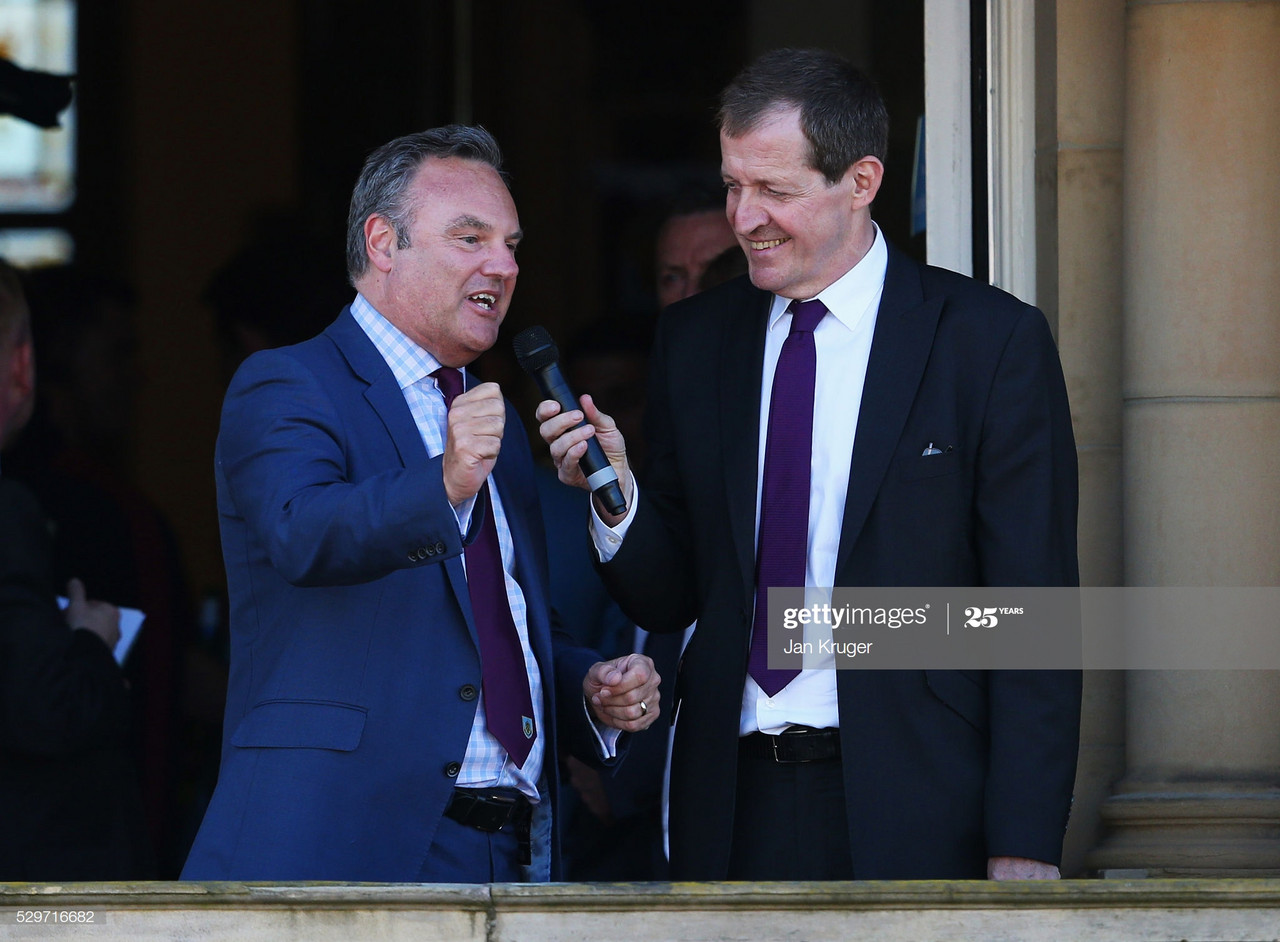 With the farcical plane incident complimented with a drubbing at the hands of Manchester City, the past 24 hours haven't been too kind to Burnley. And, due to decisions made by their own hierarchy, the overwhelming negativity might well be around to stay.
Phil Bardsley and Jeff Hendrick will join Joe Hart and Aaron Lennon in leaving the club at the end of the month after the Clarets failed to come to an agreement with their out-of-contract stars. It is a bizarre situation in unprecedented times but chairman Mike Garlick isn't going to come out of this with many flying colours.
Bardsley bowing out
Bardsley turns 35 before the end of the month and it's clear that he's in the twilight of his career. Irrespective of his age, the former Stoke City man has become a real cult hero at Turf Moor, leading the fight for Burnley when the going has become tough.
According to Spotrac numbers, Bardsley earned a very modest £25,000-a-week, making him one of the lowest earners at the club. If he wanted a two-year deal on the same terms, the veteran would still rake in less money at the end of that hypothetical contract than Ben Mee would in a single year.
In truth, the club should be looking at a long-term option at right-back. Bardsley is old and Matt Lowton remains unconvincing. However, this decision makes them in desperate need for a replacement and weakens any negotiating position that they may have had. It also negates the opportunity of having Bardsley around as a worthwhile squad option.
He could have been the back-up for a younger right-back, possibly acting as a mentor with his top-flight experience. Lowton, a higher earner at the club, could have been moved on at a more appropriate time. This situation is messy and very poorly thought through. But it isn't just Bardsley who will be missed. Hendrick will be a huge loss.
All the best, Jeff
The Irishman has been has been an integral part of the team for some time and probably knows his worth to Sean Dyche. The Burnley manager has always been a big fan of Hendrick, seeing him as a tactically versatile individual who plays a selfless role for the good of the team.
Hendrick was on a modest wage of £35,000-per-week and it is possible that the player would have wanted a more lucrative deal. Alternatively, the chairman may have wanted the player to take a pay-cut in-line with the global recession that is forcing businesses to cut their costs.
It's also worth noting that a number of Burnley fans haven't been too kind to the midfielder on social media. He has often been the target of needless abuse from idiots who have nothing better to do than spread their hatred. Combine this with a chairman who wasn't too bothered either way and you get a player who fancies a fresh challenge elsewhere. Small things forge together to force a big change.
The Burnley camp has always been a notoriously happy one. Dyche has created an atmosphere that is friendly but firm; the players are grounded and know their place but most people involved have a good relationship with one another. The actions, or lack of them, over the past few days are going to put strain on that ambiance.
Rocking the boat
Dyche is Burnley Football Club. Everything flows around him. A dissatisfied Dyche could have some serious ramifications for the club on the pitch. A team that prides themselves on a collective, hard-working mentality needs a focus point. That focus point has always been Dyche; a figure of consistency and order. It is harder to maintain that leadership responsibility when it feels like the rug is being tugged from under your feet.
Bardsley and Hendrick would have massively helped Burnley in this run-in. It's a lot of fixtures in a short amount of time and it's possibly the worst time to have a depleted unit.
Burnley's bench at the Etihad featured two goalkeepers and only four recognised first-team squad members. Two of those in the first-team, Bailey Peacock-Farrell and Jimmy Dunne, are yet to make a single appearance in the Premier League.
Burnley's good before the season halted is a real blessing, although, it may have been a contributing factor to the slack organisation from above. On 39 points, the Clarets are all but assured of another season in the Premier League and that is the most important thing to Garlick. That means another season of fantasy money for the club.
To be fair to Garlick, he doesn't come across a money-hungry tyrant who is trying to fleece the club; he is an honest and diligent businessman with a very pragmatic way of thinking.
Recession
In April, when asked about the possibility of not finishing the season, Garlick didn't mince his words: "The fact of the matter is, if we don't finish the season and there isn't a clear start date for next season, we, as a club, will run out of money by August. That is a fact."
The chairman will know the club's financial state better than anybody. Finishing the campaign will help to replenish football clubs with some of their expected revenue but they will be raking in less money than usual. Garlick will be looking at his doom-mongering forecasts and will be acting prudently. Too prudently.
Figures show that the combined annual wages of Bardsley and Hendrick would equate to about £3.1-million. The rough combined annual wage of the two aforementioned players, Lennon, Hart and Adam Legzdins would be £7.5-million. That's the equivalent of a transfer fee for Burnley.
It is very possible that Garlick and company will be taking this stance when looking at this state of affairs. But it isn't a good look. The club should have been looking to give normal-sized contracts to Bardsley and Hendrick. The short-term contract was probably a waste of time for the duo.
Naturally, players would want at least a year-long deal as it would show that the club actually value them. Signing a short-term deal feels a little bit dirty. Thank you for your efforts but we don't want you a minute longer than we have to.
These cut-throat decisions make short-term financial sense but could have lasting impacts. Obviously, the club are now a right-back and versatile midfielder short which means they should be ready to enter the transfer market. It puts pressure on the club to make some statement signings because, if they look for some cheap solutions, it will not go down well.
Not for Mee
Already, The Athletic have reported of low morale in the squad as well-liked team-mates have been tossed to the side. Ben Mee has now voiced his frustrations at the skeletal looking squad.
"It is a lot of games to play in a short space of time and the lads need to keep themselves fit and we don't have a big squad at all," Mee said, as noted by Lancs Live.
"We are missing a few players and have let a few players go and I don't know what to say about it to be honest.
"We have just got to work hard and grind it out and that is what we will do as a group of players."
It is a very inoffensive way of saying that the contracted squad members have been hung out to dry. These aren't just colleagues that are being released. They are good characters with positive personalities. Recent actions have compromised the management, the current players and some of those who are being shown the door. Frustration and anger is seeping in from the top down and it could get ugly.
Mutiny
Garlick really doesn't want civil war with Dyche or his other employees. The battle between Dyche and Garlick seems like a tussle two honest and decent men who have different visions of what is acceptable. Dyche has always bought into the club's strict financial model but that lack of flexibility is now starting to take its toll.
Financial caution and care is at the heart of all that Burnley have done but it needs a balance. Garlick will always be on top of his spreadsheets and his forecasts but he may have taken his eye off the ball with the morale of his current employees. That could be his biggest mistake of all.