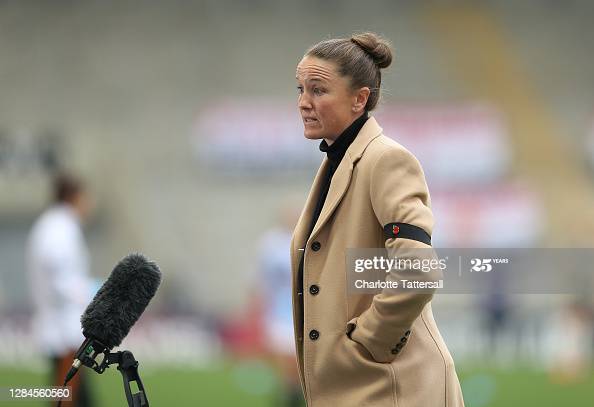 For the first time in the club's three year history, Manchester United sit at the top of the FA Women's Super League over Arsenal, Manchester City and Chelsea. A dominant win over Joe Montemurro's Arsenal gives Casey Stoney's side momentum ahead of the Manchester derby in a week's time.
A lone Ella Toone goal sealed an important victory for United after notably outplaying and outsmarting the Arsenal side who have scored 29 goals this season.
Montemurro only had to say that United deservingly won the match and troubled his team who couldn't find solutions when their opposition took away their biggest strength: possession. A situation we've seen before when the Gunners are unable to recover after going a goal down or being out-possessed.
While, Stoney has only applause for her players who executed the game plan as expected and managed to get a dominant win over a team where the league's all-time top goal scorer features.
Manchester United sit at the top of the WSL for the first time ever, but Stoney won't give her team much time to relish the moment as she's looking to prepare for Manchester City, another big challenge to keep consistent performances against direct title and Champions League spot rivals.
"I thought we were the worthy winners on the balance of the game today. It's one game and now it's about recovering again for next weekend, I don't let them enjoy it for too long to be honest.
"It's nice to be there [at the top of the league], but I don't look at it at the moment because being there in November doesn't mean a lot.
"It's not about looking back now, it's about how we can improve, how we can be better and how we consistently win more often.
"We have to keep our performances high because we've just put a target on out back so we'll have to keep improving now and step up even more."
Just a year ago, Arsenal stole all three points from Leigh Sports Village after a late Danielle van de Donk winner, this time Toone stole the match in the dying moments of the match. What's changed?
"We took our chance and we created quite a lot of chances today. Our mentality has shifted, we went after arsenal today, out possessed them, we pressed them, tried to get them at a high press and tried to stop their game.
"The way we pressed and the chances we created from our pressing, I thought was excellent. I think we exploited wide areas really well at times we got the ball in the box though sometimes we just couldn't get to the end of it. But I thought when we used the ball well, we were quick and we were slick.
"Yes we dropped a little bit deeper in the second half when we needed to get up a little bit more, but when you press the way we did in the first half a little bit of fatigue sets in but I thought the players that came on were outstanding and really adding to the team.
"My players were outstanding today they executed the game plan brilliantly defensively, I thought at times our centre backs were really good and Mary comes out with a big save at a big moment. It's great to get that win because I think it just adds to that belief now that they can compete at the top level."
Ella Toone wasn't a regular starter for Manchester United last season, but so far she's featured in all five league games for Stoney.
"We've given here certain areas to improve on. Physically she struggled sometimes in games and what she's got is intelligence, she picks up spaces she knows how to pick out games just physically she was a little bit short. She used lockdown really well and she's comeback and given me no choice but to put her in week in and week out and her performances are keeping her there, its testament to her."
Joe Montemurro's thoughts
Though coming into today's fixture with a five match winning streak, outside of the league the Gunners have fallen to both Manchester City and Chelsea. Two occasions where Montemurro's side have failed to find solutions, composure and creativity to see themselves back to win against their biggest direct rivals.
"We have another challenge next week and this challenge is gone and forgotten. We're at fault for it and it's as simple as that. We were beaten by a better side tonight.
"She [Stoney] outsmarted us. The reality is that when you are a well-positioned team it's not just one solution you have to find, it's three or four solutions and we continued to do solution one when there was solution two and three available. We weren't smart enough, it's simple as that.
"I can look at the tactics, organisation and I can look at what we didn't do but at the end we weren't able to cope with what Man United threw at us."
Arsenal have struggled with injuries as Noelle Maritz, Steph Catley and Lisa Evans stay sidelined, all who would arguably be starting players.
Kim Little and Jill Roord impacted the match in the midfield after coming off the bench, still not match fit for a full 90 minutes after just returning from injuries themselves.
"I've never complained about the players that have been unavailable and so on so what it does is that it gives you the extra option that if things aren't doing well like tonight, we can inject some other options and ideas and I felt that happened for a period of the game, but it wasn't enough.
"The reality is that we rely on each player to be the best in each situation. Steph Catley and Jen have still to come back in so we're talking about some players that maybe in a different situation would have made things a lot easier for us tonight, but we have to work with the players that we have."