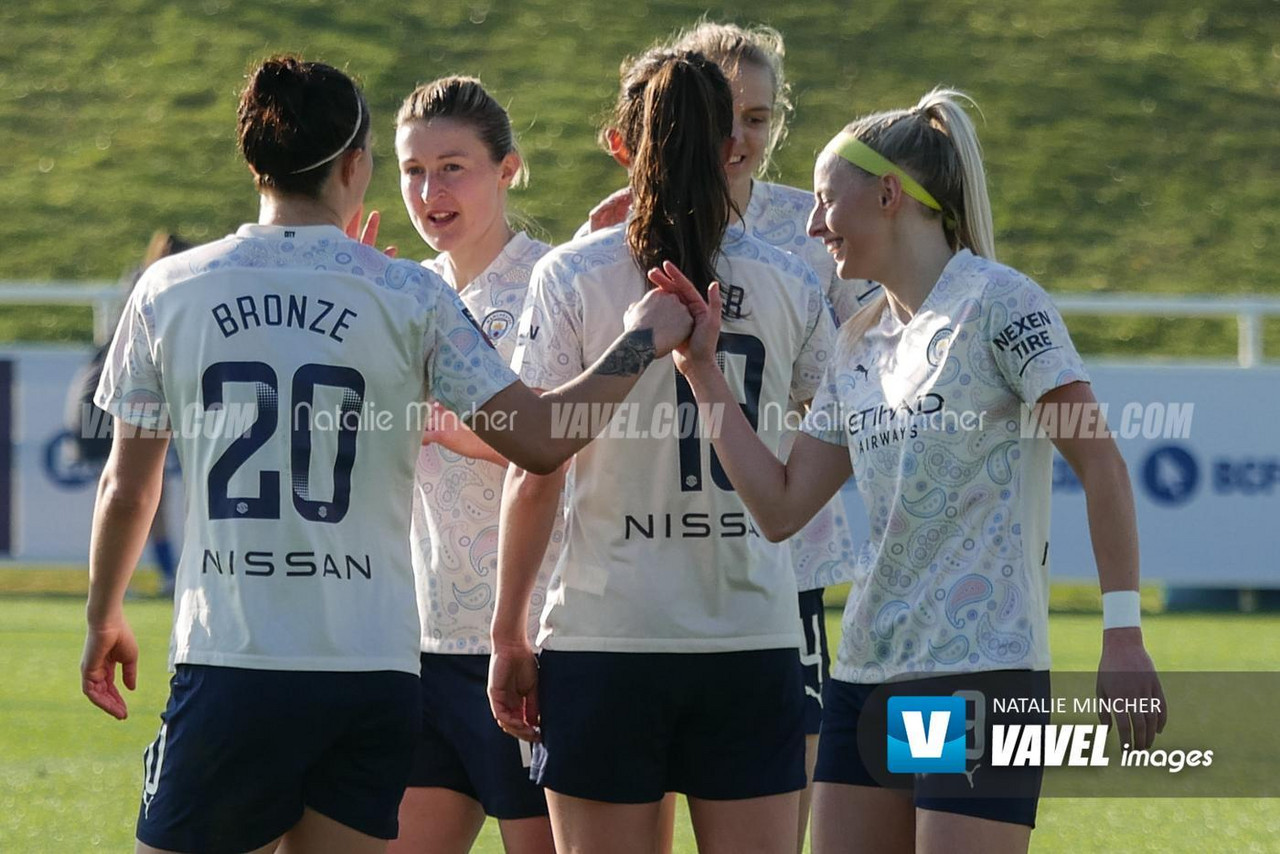 The Academy Stadium was the set for a hard fought victory for Manchester City. A tense game against Reading that remained goalless for much of the 90 minutes, City were able to edge themselves ahead thanks to a goal from Chloe Kelly.
Manchester City began the game in a dominant fashion, but Reading were able to assert themselves with phenomenal saves from Grace Moloney. The quality of the young keeper made for a truly excitable first half.
There were worrying moments for both sides early on as Molly Bartrip and Lucy Bronze suffered brief head injuries. The latter of which meant Bronze played the remainder of the game sporting a visible bump to the head.
Reading began the match with a strong backline, committing five players to defensive duties. The decision to sit back so early on meant Reading struggled to get into the game initially, but a tenth minute change in formation from coach Kelly Chambers unleashed Jess Fishlock who was then able to connect with Amalie Eikeland for a confidence boosting counter.
This turned out to be the sole chance on target for Reading in the first half. With Fishlock lofting a technically brilliant pass through to Eikeland. The Welsh international slipped through City lines to get the cross away, picking out holes between Alex Greenwood and Abby Dahlkemper.
Rose Lavelle and Chloe Kelly's first half connective play sparked real joy for Manchester City and presented them with early opportunities. The talented feet of Lavelle and speed of Kelly got the better of the Reading backline on more than one occasion.
Despite an intense first half, Grace Moloney kept the scoreline closed down at 0-0 thanks to a number of nail-biting saves to keep her team in the running.
The second half saw yellow cards aplenty awarded to Lily Woodham, Eikeland and Bartrip for challenges on City as the frustration of the game continued to build.
Reading were able to capitalise on this in the second half; and to their credit, looked more confident on the ball despite sitting deeper in an attempt to limit the chances being levelled at a no doubt fatigued Moloney.
The bringing on of both Ellen White and Samantha Mewis in quick succession indicated a growing urgency from City. But despite entering the game, neither could shepherd their chances into the back of the Reading goal.
It was not until the 86th minute that Lauren Hemp was able to cut a run through three Reading players and get a last ditch cross to Chloe Kelly before the deadlock was broken. Kelly's tap in was greeted with relief from coach Gareth Taylor, securing the win at home to keep City's title hopes alive.
A hard fought win for Manchester City will bolster team confidence ahead of a second-leg Champions League fixture on Wednesday. They currently trail 3-0 to Barcelona on aggregate, but the sheer grit and determination shown by Gareth Taylor's squad means there is still a lot that can happen to better their Champions League fortunes. The win over Reading is their eleventh Women's Super League victory in a row and the pressure is now on Chelsea to keep up with City's relentless form.
Reading looked more confident and determined than they have done for much of the season. Whilst they did not manage to secure a win, coach Kelly Chambers will be pleased with how committed her players are and the challenge they presented to undoubtedly one of the toughest opponents in the WSL. Consistency remains a big issue for Reading and they appear to only just be finding their stride as the season comes to a close. Reading will face West Ham at the Madejski Stadium next, hoping to clinch another win over the Londoners who are facing an uphill relegation battle.