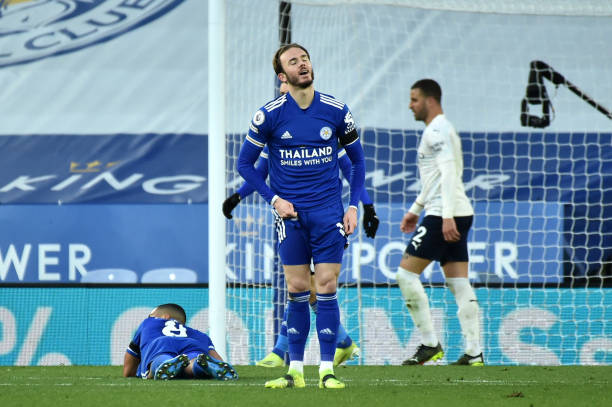 Leicester City's commendable season was halted as they were unable to combat the enigmatic approach from Manchester City and succumbed to a 2-0 home defeat ahead of a pivotal period of football.
Kevin De Bruyne was the focal point for Pep Guardiola's runaway leaders once again and continued to demonstrate his ability to full effect against a simply astounding team – regarded by many as the best in world football.
Last September, Leicester completed a monumental victory at The Etihad Stadium – winning by five goals to two – to top the Premier League table and condemn Man City to an a distressing early start to the campaign, but they were unable to replicate one of their finest performances in recent years.
Man City have responded with emphatic vigour after their mediocre start, and now need just 11 points from their remaining seven games to win their fifth Premier League title, and their third under Guardiola.
For Leicester, the loss and the performance will require a constructive turnaround with a wealth of lurking clubs eager to eradicate their Champions League aspirations.
A dazzling day in the midlands for the league leaders
With club-record scorer Sergio Aguero confirmed to be departing the club at the end of the season after ten captivating seasons that have brought 13 trophies and 257 goals, Man City dispatched Leicester with relative ease, despite facing a first half of frustration as they probed for an opener.
Second half goals from Ben Mendy and Gabriel Jesus moved Man City onto 74 points with seven fixtures till to take place, and the gap of 17 points to second-placed city rivals Manchester United has all but confirmed the title barring an extraordinary capitulation, a rather unlikely proposition.
One of the most remarkable factors about Man City is their innate collective understanding, their succinct and flawless ability to combine with each other seamlessly, when the cogs have clicked to full extent it is difficult to imagine any team would conquer them on the pitch.
There is an abundance of individual brilliance in this team, but few sides are capable of orchestrating such regular, fluent success in the manner that Guardiola has instilled, creating an environment that demands excellence as the players work tirelessly for each other and their revered manager.
Liverpool may have comfortably won the division last campaign, preventing Guardiola from winning a third successive title in England, but the stains of an underwhelming season have been swiftly eliminated.
The victory was Man City's 15th in a row on the road across all competitions and extended an unbeaten away run to 18 games in total – they last suffered an away defeat last November, losing 2-0 to Tottenham Hotspur.
A hindering performance hardly detrimental
Leicester boss Brendan Rodgers will undoubtedly be disappointed after watching his side be brushed aside so helplessly as they were outclassed on the day; the visitors prevented Leicester from mustering a single shot in the first half of a Premier League game for the first time since December 2019 against Liverpool.
Candidly, the exemplary talent and sagacious nature of Guardiola's crop of players has been the undoing of nearly every team they have faced this season, and with the prospect of a historic quadruple very much within reach showings of such quality bode well indeed.
Feelings of despondency are unlikely, and certainly unwarranted, with Leicester demonstrating their capabilities in overcoming obstacles and setbacks on a number of occasions this season.
The Foxes prepare for a challenging trip to West Ham United next Sunday in a pivotal encounter regarding the pursuit of Champions League football next season, before travelling to Wembley to take on Southampton in the FA Cup and earn their place in the final of the esteemed competition.
A crucial period as the latter stage commences
Prevailing in the FA Cup would be a fitting tribute to the work that Rodgers has done since making his return to English football in 2019 and revitalising a squad that had somewhat slumped after historically winning the Premier League in 2016.
Taking a loyal fanbase from resignation to rapture in the space of two fascinating campaigns; Rodgers has galvanised his side into cementing their position as one of the countries elite.
A second major trophy in Leicester's recent history would be cherished with great esteem and support, but equally, a return to the world's most prominent continental competition would no doubt be an accomplishment valued just as highly.
Luckily for the Foxes, they are indeed fighting on both fronts, and defeat to the runaway leaders should be met with self-reproach, but used as a basis to bounce back and maintain what can only be described as a season of real class and intent.
Jamie Vardy, Leicester's iconic talismanic forward, made his 300th league appearance for the club in the defeat, and although the veteran approaches the latter stages of his marvellous professional career, his unique ability and attributes remain vital to the positivity of the club.
Kelechi Iheanacho has stepped up and then some in recent months, with nine goals for the club since the turn of the year and James Maddison has thrived in emerging as a dominating figure in English football – excelling as one of the countries brightest attacking outlets before a bothersome recent injury disrupted his progress.
The surging rise of young prospects such as Wesley Fofana and Harvey Barnes only further strengthens the claim that Rodgers has surpassed expectations in meticulously crafting a team worthy of challenging the pinnacle of Europes elite.
Leicester will face a mighty challenge to achieve the goals in front of them before the season culminates and will need to channel their ability and resolve on the pitch if they are to bounce back from defeat against Man City. The coming weeks will prove decisive, but Leicester will be ready.