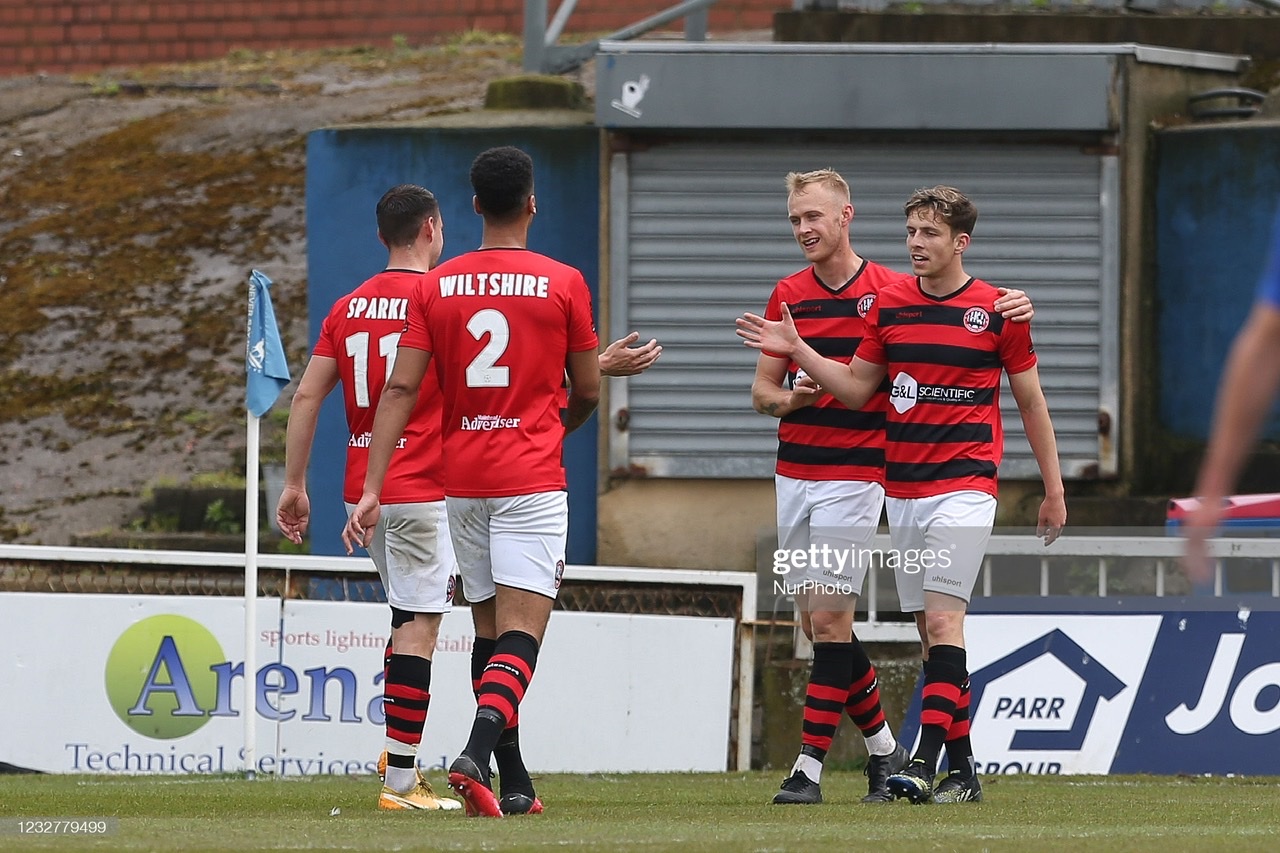 As the EFL season draws to a close, all eyes turn to the only remaining active league in England, as the Vanarama National League edges nearer to the end of its 2020/21 season.
One man who has had his breakthrough season in England's fifth tier is Maidenhead United forward Danilo Orsi-Dadomo, who has defied expectations to so far to clinch 17 league goals. The former Hampton & Richmond Borough attacker has helped drive the Magpies up the table, with pundits predicting Maidenhead to battle against relegation, but instead have risen to an accomplished mid-table position.
Despite currently ripping it up in England, Orsi-Dadomo spent five years out in America studying business management at Eastern Florida State college, but also played at Under-19 football at Chivas and with Fort Lauderdale's Under-23's side.
"I got offered the opportunity to move to America right after I finished my A-Levels, and I was kind of at a point where I was going into work and playing football part-time, and the opportunity was something I didn't take lightly, but I felt it was the right decision," he said.
"The family kept saying 'You're so young, go explore, go travel' whilst also carrying on with my education out there as well. It was something at the time that I thought was the right decision and looking back, it was the best decision I've made so far.
"I studied business management at Eastern Florida State College, which was a good course whilst playing football alongside it was good aswell. If any boys out there are thinking about what is next for them, that is definitely a pathway I'd recommend. I played at Under-19 football for Chivas, who are no longer in existence and from there to Fort Lauderdale strikers, and the owner at the time was the legendary Ronaldo nine, and I played alongside Kleberson which was one of the highlights of my career so far."
"It was definitely the best period of my life so far and a time I don't look back on with regret. Everything that happened out there, so many great memories and possibly in the future, it'd be something I'd look at getting back into again. Whether that's coaching or playing."
Upon returning to England, Orsi-Dadomo had no struggle finding a club, as his owner helped earn the London-born forward a trial with East Thurrock United in the National League South, before John Coventry signed him ahead of the 2018/19 season. However, due to limited opportunities at the Rocks, he made the switch to Hungerford United after less than 15 appearances for Coventry's experienced side.
"I wasn't getting the minutes I needed at that point of my career. And the club were honest and needed experience and older players in, so a few of us ended up leaving at that time. Ian Herring approached me and said 'Come play for us' and at that point they were one point above East Thurrock in the league. I thought to stay in this league and play wasn't an opportunity I could turn down.
"I was really happy with my first year playing mens football back in England and in the National League South, obviously going into it I heard a lot of people saying how tough it was going to be and the different level. But I set out at the start of the season to get double digits at the two clubs, which I did so for me it was a very successful season, and even more so keeping Hungerford in the league."
Switch to Hampton & Richmond
However, Orsi-Dadomo's stay at Hungerford came to an end due to the distance from home, along with the uncertainty surrounding the club. The striker's next move was much closer to home, as he dedicated himself to Hampton & Richmond for the covid-19 infested 2019/20 campaign.
"Hampton came in and I played under the assistant manager at the time at Cockfosters in the Spartan Prem, when I was about 15 or 16, so I knew him from that. He said he'd help me develop and how they had a great squad, and that confidence and belief from him made me feel this was the next step in my career."
Hungerford would lock horns with Orsi-Dadomo once again however, as the 25-year-old netted twice in an emphatic 7-1 drilling over the Crusaders.
"It was a big of a strange game to be honest! I'm pretty sure Ian Herring got sent off from the sidelines too and a lot of the boys were still there from before."
"They were fighting to stay up and luckily they did, we all had a joke about it after the game and we still joke about it to this day. I think I celebrated too to be honest, but I can't remember! That's the thing, not celebrating against your old teams but for me, scoring a goal there is no better feeling for me and I can't help it. I don't do big extravagant celebrations anyways, for me it's the Alan Shearer hand in the air."
Hampton & Richmond missed out by one place from the National League South play-offs, despite the fact the season was ended early and decided by the points-per-game system.
"The main problem with it all was with covid kicking in, we ended up missing out by a point. But we had ten games left, we were on a good run of form, and we felt that come the end of the season we would've been in there. So to have it cut short and taken away from us was a disappointment, obviously again this year looking at how well Hampton did, I'm sure they would've made the play-offs."
Following a successful first and only season with Gary McCann's Beevers, Orsi-Dadomo opted to take the step up to the National League, as he made the switch to Maidenhead, challenging some big non-league names such as Sam Barratt and Nathan Blissett for the striker position.
"Lee Devonshire gave my agent a call about my availability for the upcoming season, and it was very much done within the space of four days. It was a time with covid, with uncertainty going about it was nice to know I was still making that step up to the National League after the season I'd had. I think it's different because there are a lot more full time teams, there more drilled, more coached, you find you can't afford to turn off for a split second or you'll get punished. The step from going from part-time to full-time was the biggest challenge.
"Devs [Manager Alan Devonshire] is great, he's a real character on and off of the pitch. The stories he has to tell from his career and what happened to him growing up and all the clubs he's played for, just to have his experience has really helped me grow this year and one of the things he said to me when we had our first phone call was 'Come here, I'll help you develop and I'll help you kick on, just work hard for me' and I think I've done that.
"I definitely think it's a credit to Maidenhead if you look at the amount of boys they've pushed through, Harry [Pritchard] was one, Max Kilman went from Wolves to Maidenhead as well, Dave Tarpey a few years prior, it's a club that gives players the opportunity to push on. They're not holding players back, they're trying to help them develop and are doing what's best for the player."
Orsi-Dadomo had a brilliant April with the club, winning the Off the Line Blog Player of the Month accolade, and netting six goals, including a seven minute hattrick in a 6-0 demolishing against Wealdstone.
"Nothing's changed too much in what I've been doing. I've just been working hard and when opportunities are falling my way, I'm there and putting them into the back of the net, which this month has obviously been a good month! I'm just hoping it continues and we have a good end to the season. It was a great moment [the hattrick], my grandad's been saying it to me now for the last year or so now and he's got a ball stand waiting, scoring two and him polishing it, so the second I got my third I thought to myself that that is where the match ball is going. A great moment and a night to remember."
On transfer speculation to the EFL
As a reward for his applaudable performances on the pitch and his goal distribution rate, Orsi-Dadomo has been a subject of reported interest from a number of EFL clubs, with the likes of Burton Albion, Bradford City and Colchester United all reportedly monitoring his progress.
"To play in the football league is any young boys dream, again if it is something that comes about then great but at the moment I'm just focusing on getting to the play-offs and finishing the season as well as we can with Maidenhead. I'm not really looking into what people are tweeting or what's going out on social media at the moment, it's more just about scoring a few more goals and seeing how well of a club we can do come May 29th."
With five games remaining of Maidenhead's season, the Magpies are ten points adrift of the play-offs and need an upturn in their fortunes if they are to do the unthinkable and challenge for the football league. With 17 goals so far this season, Orsi-Dadomo will have his own personal challenge- to break into the 20 goal bracket in his first year at England's fifth tier.