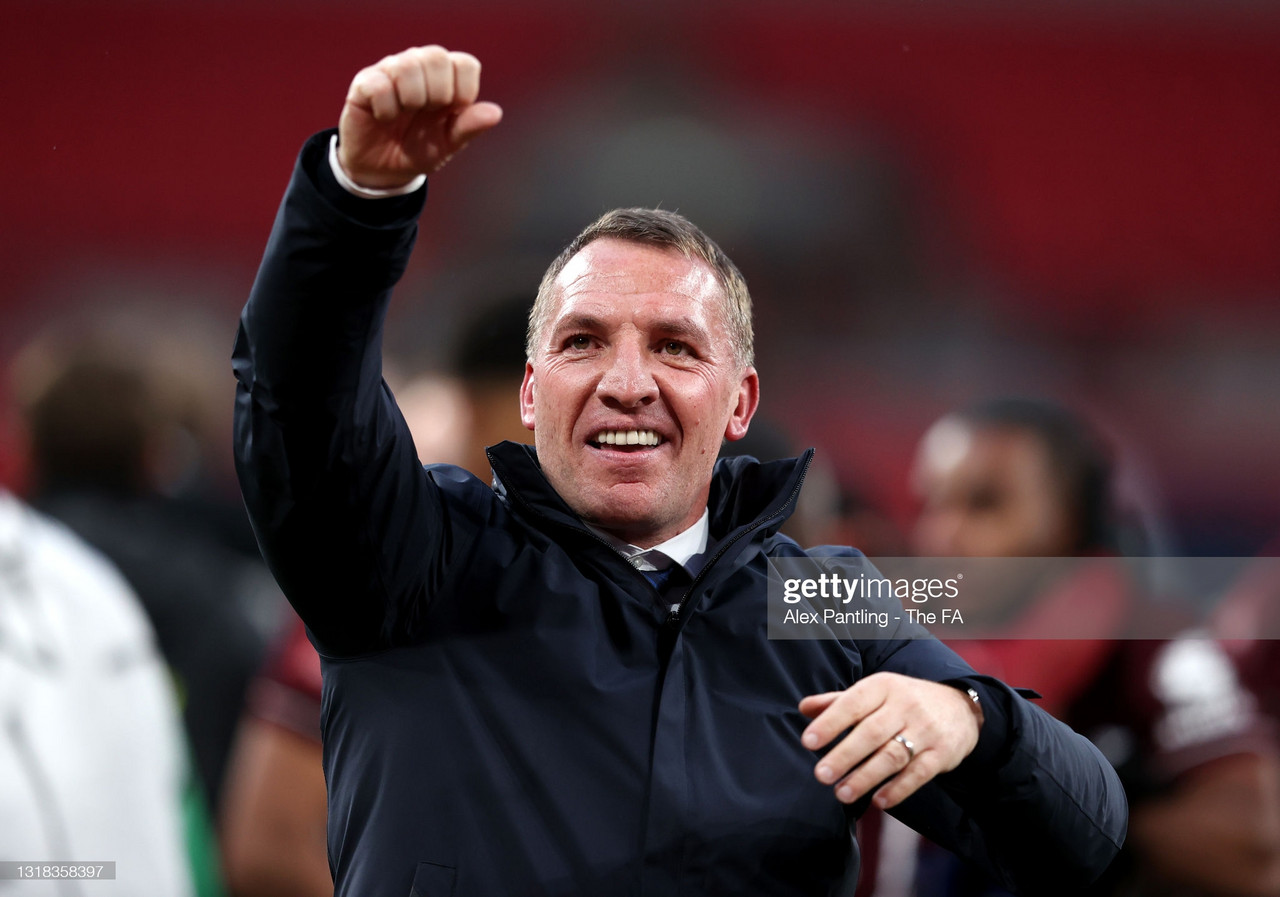 Leicester City manager Brendan Rodgers wants his side to focus on themselves and try to create another piece of history as they travel to Stamford Bridge this evening.
After beating Chelsea in the FA Cup final on Saturday, Leicester will be hoping to secure their third win against the Blues in 2021, which would seal a top-four place and entry into next season's Champions League.
Youri Tielemans' wonderstrike ensured the Foxes would leave Wembley Stadium with their first-ever FA Cup, and it's expected to be another tight affair with just a place and two points separating the sides in the Premier League.
Rodgers spoke to the media on Monday morning to give his thoughts ahead of what is a crucial game in west London.
Preparation after FA Cup final
It's a quick turnaround for the Foxes who have only had a day to prepare for the game, which has huge ramifications in the race for Champions League football.
Rodgers believes that the fixture schedule could've been nicer to his team after a short turnaround from the weekend's win, but claims he's now fully focused on the task in hand.
He said: "We knew that we didn't have any favours with the fixtures. We could've played on the Wednesday, having not being scheduled to play until the Sunday.
"But we're playing on the Tuesday so ultimately you have to be ready and prepared and it's another extremely tough game. We recovered yesterday (Sunday), we finished our preparations today and we'll look forward the game tomorrow evening."
On Injuries
After limping off in the 21st-minute of the cup final, Rodgers says that Jonny Evans will be unavailable the clash but hopes the defender will be fit for his team's final day encounter with Tottenham Hotspur.
He also confirms that Cengiz Under won't feature at the Bridge, whilst there are no new injuries to report from the City squad.
"He [Jonny Evans] won't play in the game – he will struggle for that," the 46-year-old added. We'll see what he's like for next weekend but he'll be ruled out for tomorrow.
"There's no new injuries to report. Like I said, it's only the second day after the game so we'll see once we get them moving today how they all are.
"Otherwise, the only other one would've been Cengiz Under who has struggled with his hip so he may not be available."
Focused on themselves
The Foxes currently sit in third in the league with two matches to play and victory against Chelsea will secure a top-four place, having just missed out last season.
Although City come into the game off the back of a historic win, Rodgers refused to admit which game is the bigger of the two and claims his side will want to create their own history by becoming just the second Leicester side to reach the highest European competition.
"I don't really think about the financial implications. It was a really important game for us at the weekend to create this legacy of being the first team to win the FA Cup for the club was a huge game for us," he continued.
"Now we've enjoyed the moment and now we go onto another huge match for us. We want to get into the Champions League and we've worked so hard throughout the season to do that. We want to take that opportunity to be in there and it's down to ourselves.
"There's always going to be opinions, but for us, we write our own story and our story now is to go into this next game to try and get a result. If we get the win, brilliant we're there. If not, it will go to the last game of the season."