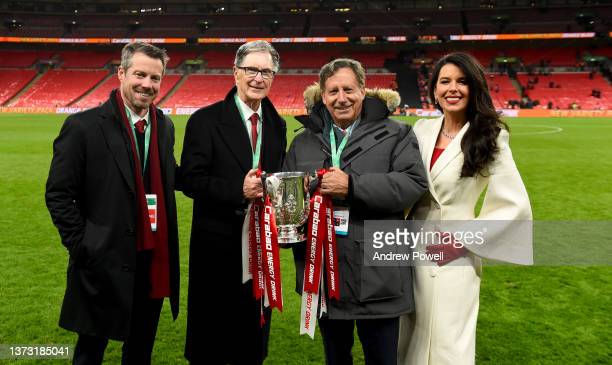 Liverpool are a club famously associated with unwavering beliefs and that must be taken into account in the event of any takeover after Fenway Sports Group announced their intention to sell the club.
FSG have had controversial moments in their ownership; the ill-fated European Super League, attempts to trademark the word 'Liverpool' and the £77 ticket fiasco. However, they are considered to be amongst the more morally correct owners in world football.
Their approach to the transfer market has divided the fanbase, the sell-to-buy model has frustrated many but has ultimately led to the Reds winning every major honour available in 12 years of ownership, including a maiden Premier League title.
However, it is a case of being careful what you wish for in two senses; any potential new owner would have to fit in with the identity of the club and therefore may not have the capital to keep up with the demands of running one of the world's biggest football clubs.
A portion of the fanbase argue that FSG have taken the club as far as they can with the resources at their disposal, and with a global two-year recession rumoured to be around the corner, maybe the Boston-based group agree.
A sign of how serious the organisation are about a potential deal is the fact that US investment banks Goldman Sachs and Morgan Stanley have been brought into to assist, with a full sales presentation readied.
Previous rumours of a sale/investment have been swiftly rebuffed with a statement claiming that FSG are not interested; and it is rather telling that this has not.
Football finance expert Kieran Maguire estimates a 'ballpark figure' between £3.5-4bn for a sale due to the Anfield Road expansion and the recent sale of Chelsea.
That would represent a substantial profit on the circa £300m the Americans bought the Anfield outfit for in 2010.
Another reason for a sale is the way that the modern game is developing, Financial Fair Play is on its deathbed, clubs like Manchester City, Paris Saint-Germain and Newcastle United have changed the game when it comes to spending power.
Just last month, Liverpool manager Jurgen Klopp said that the club could not compete with those entities.
"We cannot act like them. It's not possible, not possible," Klopp told reporters ahead of the 1-0 victory over City.
"It's just clear: there are three clubs in world football who can do what they want financially. It's legal, everything is fine, but they can do whatever they want. Competing with them? It's not possible to do that," he added.
Any potential new owners may put Liverpool back on a level footing to compete with the aforementioned clubs; however, it brings a moral dilemma.
The grass is not always greener
Hadrien Agnew-Francois, the founder of French Kopites, says that whilst it is exciting to see a change coming, FSG leaving is not a guarantee that the club will have better owners.
"Besides the fear that some might have around being owned by oil money (I don't think any billionaires can actually be ethical), we have no certainty that any future owners will spend more and better than FSG did," he said.
The astronomical amount required to purchase elite football clubs in the modern game means that the majority of investors are representatives of nation states, most accused of using the beautiful game to distract from human right abuses and polish their reputations on the global stage; a process referred to as 'sportswashing'.
SB Nation contributor Mari Lewis admits that she would struggle to support the club if such a regime took the reins at Anfield.
"I would struggle to support a club that is a sportswashing project, as my support would forward those aims. I am myself a queer female fan; aiding in sportswashing for a repressive country of any kind would remove my enjoyment of the sport," she said.
"The unease around this World Cup gives me a sense of how such a takeover would feel, albeit in a context that hurts less: I like watching the World Cup, but don't have the same attachment to a national team as I do to Liverpool."
To find new owners with morals that combine well with those of the club whilst having the financial power to keep Liverpool competitive will be a big ask, but it is absolutely imperative.