It's been an extremely satisfying few months for Bayer Leverkusen, an exceptional end of season run of form rocketed the Werkself to third in the table. With everything in place for the start of the Bundesliga season, Leverkusen look as hungry as ever to finally make a breakthrough in the League.
Wendell and Bellarabi extend
With new signing's sealing the gaps in an almost complete team, new players have not been the only things bringing delight to the fans in a summer away from their club. It was announced this morning that Leverkusen duo, Karim Bellarabi and Wendell had signed new contracts with Leverkusen, extending their stay in North Rhine Westphalia until 2021.
This will come as a huge delight for the club, considering the terrific form of the two wide-men last season. In truth, they have both taken the long road into establishing themselves as regular starters for Leverkusen, Bellarabi previously completing a loan spell at Eintracht Braunschweig before taking off at Bayer.
Things were similar for Brazilian left back, Wendell. The versatile youngster moved to Leverkusen in 2014 from Brazilian club Gremio. At just 23-years-old, Wendell has made his mark in Germany, earning the trust of Roger Schmidt with a regular starting spot.
Crucial players for Leverkusen
The two players were crucial to Leverkusen's Champions League securing form towards the end of the season, performing to their highest potential on many occasions in early 2016. Bellarabi in particular had a fantastic season, emerging as one of Bayer's best players of the 2015/16 campaign thanks to his contribution in attack. His performances heated up transfer speculation regarding his availability, rumours have well and truly been put to bed now, as the German has committed his future to Leverkusen.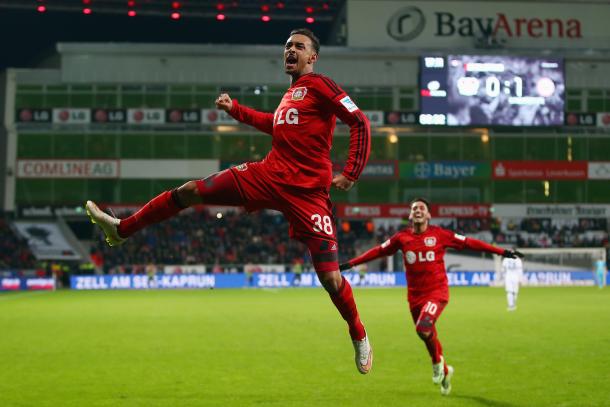 Bellarabi excited with Leverkusen's future
Speaking after the announcement this morning, Bellarabi declared his joy with extending at Leverkusen: "I feel the best is still to come for us as a team."
As a club, Leverkusen have been kicking around the top four for some time, their admirable form last season has raised their status in the league as they look to be a force to be reckoned with ahead of the commencement of the season. With Champions League football confirmed, and a squad full of quality and depth, the stage is set for Leverkusen to make a mark on European football.
Karim Bellarabi and Wendell will be looking to show fans just what they're in for, for the next five years, as Bayer Leverkusen's season opens tomorrow with a derby trip to Borussia Monchengladbach.