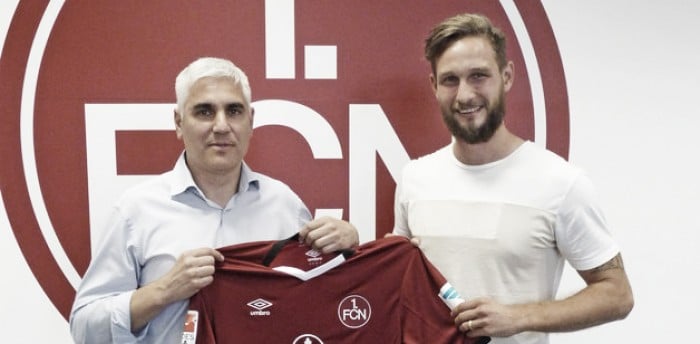 On Tuesday, 1. FC Nürnberg confirmed the arrival of Tim Matavz on loan from FC Augsburg.
The Slovenian international has joined on a one-year loan deal, with no mention of any option to purchase Matavz at the end of the season.
Matavz could make his debut at the Frankenstadion for der Club against 1860 Munich on Monday 12th September, after the international break.
An interesting arrival
Matavz will be hoping this is the move to get his career back on track, having not scored for either Augsburg or on loan at Genoa for the duration of the 2015-16 campaign.
The 27-year-old has scored just three goals since joining the WWK arena outfit, following his impressive spell with PSV Eindhoven.
During his time with PSV and FC Groningen, he played 203 times for the Dutch clubs and scored 90 times while racking up 30 assists.
Despite a tough run of form in recent years, Matavz should fair well with the drop down in division and in a team with plenty of ambition.
Bornemann and Matavz have their say
Andreas Bornemann, sporting director at the club, was pleased at the deal, "We have been in agreement with Tim for a long time and are happy that it has now gone through."
"We have filled our last vacant position with him, and signed our deserved player for attack."
Matavz also spoke to the club website on the deal, "I would first like to thank FC Augsburg that they have made it possible for me to get game time in Nürnberg."
He added, "Andreas Bornemann and Alois Schwartz worked very hard to bring me in, which was impressive."
The Slovenian striker concluded, "I know that FCN is a traditional club with great fans and I am excited to be able to play for this club in the future."