1. FC Kaiserslautern haven't had the best of starts to the 2. Bundesliga season and on Tuesday it was confirmed by the club they would be without striker Kacper Przybylko.
Poor start to the new term
The Red Devils have started the new campaign poorly and with three games played in the league, they've failed to pick up an early win.
After a shock 4-0 defeat in the opening game of the season to Hannover 96, they've struggled to get going as a 1-1 draw to newly promoted Würzburger Kickers followed.
A short break from league football came when they travelled away to face 3. Liga strugglers, Hallescher FC and it wasn't the confidence boost people expected as Halle defeated Kaiserslautern in extra time. The disappointing result was then followed up by a goalless draw at home to Fortuna Düsseldorf.
Another body blow
With the club in need of goals and victories, Tuesday brought the annoucement of some disappointing news as the club's top scorer last season, Przybylko was confirmed to miss the several weeks due to a previous injury.
The young forward suffered a broken metatarsal at the end of last season in Kaiserslautern's 4-1 victory away to FSV Frankfurt. With pre-season to recover, the forward managed to play in the club's first two matches of the season.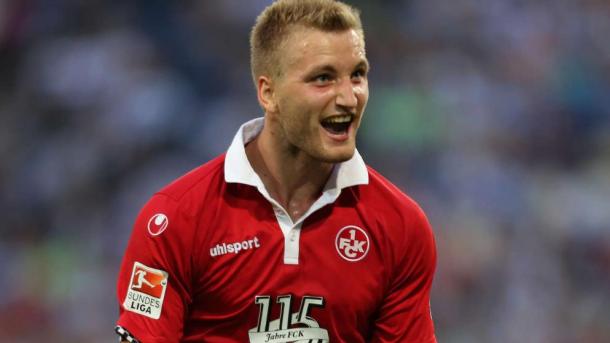 Despite coming off the bench, Przybylko wasn't in the squad for the last two matches and the fans now have the reason why, after the club announced the forward has suffered setback due to his foot not healing as well as first thought. Over the coming weeks, he will need conservative treatment before stepping out onto the pitch once more.
There is no set date for when Przybylko will return to action and with the lack of experienced forward's at the club his presence will be missed.
Far from ideal timing
The timing couldn't be much worse for Kaiserslautern with a run of tricky fixtures approaching. Up next is a visit to fellow strugglers SV Sandhausen and then they play host as VfB Stuttgart come to town before the visit of Dynamo Dresden.
English forward Osayamen Osawe has been picked for the last couple of matches to fill the void left by Przybylko, and has done well in his quest for a more regular starting spot; in the game against his former club Halle, the youngster scored twice. Nevertheless FCK will still be hoping Przybylko makes a swift recovery and return to scoring ways.