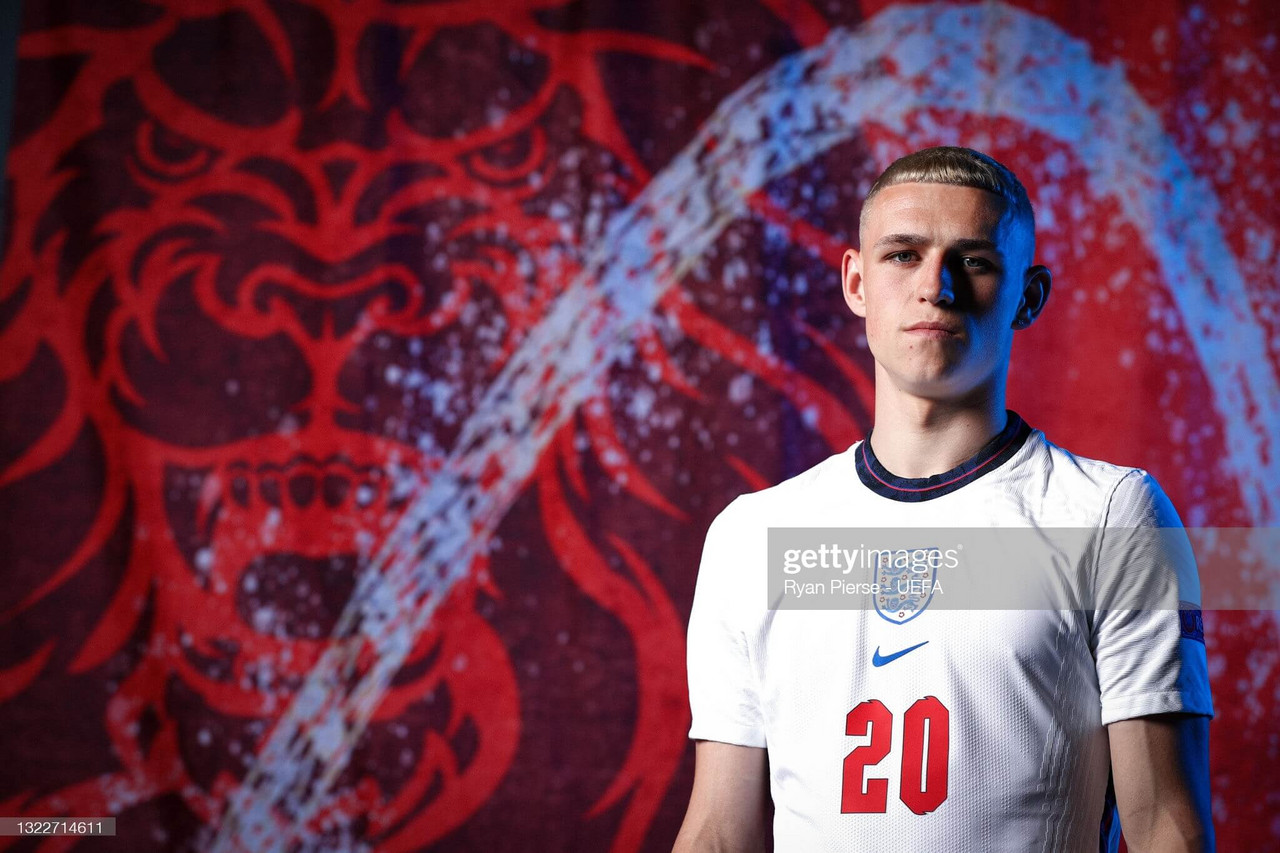 It may have been a slow news day on Tuesday if the main headline from the England camp was the haircut of Phil Foden resembling Paul Gascoigne's 1996 cut, but this summer's European Championship will require the Three Lions to perform in a similar manner to that of Terry Venables' side.
Gascoigne, on his day, was unplayable for defenders – his finish against Scotland in the 1996 tournament proved his talent. His playmaking ability ensured that England always had the 'ace in the deck': the player that could turn defeats or draws into victories; when the chips are down and tensions are high. Foden, after a magical season at Manchester City, could have a similar effect for Gareth Southgate's side.
Foden's ability within an England side
Foden is unquestionably a special player. There is little doubt still to be had over the ability of the twenty-one-year-old, whose ascent to the City first team has been slow yet calculated. His skill on the ball is sublime, with the ability to bypass defenders even at the highest levels; he shone in the Champions League final when most of his side faded away.
However, competition for his role is fierce. England have taken eight forwards to this summer's tournament, six of whom are expected to start in wide positions, such as Raheem Sterling and Marcus Rashford. One of Foden's benefits for England is undoubtedly his versatility. Having played across the front-line for Manchester City this year and excelling – even in a false nine role in the absence of Gabriel Jesus – Southgate will struggle to excuse leaving him out of the side.
🗣 "It wouldn't be too bad if I tried to bring a bit of Gazza on the pitch."

Phil Foden says he's surprised about the positive reaction to his new hairstyle #ENG pic.twitter.com/ZcbGmvzJhj

— Football Daily (@footballdaily) June 8, 2021
His inclusion for Sunday's opener with Croatia will depend on how Southgate wants to set his England side up. Should the manager prefer to start with quickness and dynamic wingers, then you might expect the Stockport-born attacker to start on the bench, with a cameo towards the end of the match, depending on England's situation.
Or, Southgate could opt to start with ball-players like Foden and Jack Grealish, leaving pace on the bench for the latter stages of the match when the Croatia defence begins to tire.
Foden's ability alongside Grealish would ensure England's retention of the ball as well as dynamic playmaking; England's successes from set-pieces may also continue with both men effective at winning free-kicks.
Should he start, however, it may be wise for Southgate to give Foden complete control over his own position on the field, as his ability to find space, roaming between the midfield and defence will inevitably draw centre-backs away from their positions, allowing different players to find gaps in the defence.
Is he the first name on the teamsheet?
Foden is brilliant, but sadly, no. He isn't the first name on the teamsheet for England this summer, primarily because this is a player that likely will grow into the tournament as it develops.
Is the City forward going to set Wembley alight this Sunday? It's quite possible, but it should be expected that Southgate selects a more tried-and-tested eleven, with higher-capped players against the strongest side in the group.
With games against Scotland and Czech Republic to come, Foden has plenty of opportunities to mark his place in the side for the knockout rounds; his ability will thrive under those sorts of conditions. Knockout football is where the top players are made; Foden achieved this in the Champions League for his club this season, and that experience can only help him as Euro 2020 develops. Indeed, it was against Scotland where Paul Gascoigne scored that goal, etching his name in England folklore forever.
However, it would be negative to suggest England should rely more on their defence than their attack this summer, as the endless talent going forward overwhelms the squad that has been selected for the tournament. Southgate, while usually unbent by media pressure, will be under immense strain from pundits and fans alike to select the likes of Foden and Grealish, but supporters must be patient.
It will be in one-off games that these 'ace in the decks' will be used. The whole hand of cards isn't shown at the start of the game, and England's full capabilities won't be either. The likes of Foden should be encouraged from home, but there should also be knowledge that his talent will see him through in the end.
Gascoigne was unable to see England through to the end in 1996, and heartbreak repeated itself in the semi-finals, as it had in Italy six years prior. But England now have their most talented side in many years – since probably Euro 2004 – and the leadership from Southgate and talent from the likes of Foden could see England take the next step that they couldn't quite achieve in Russia three years ago.
It is in the nature of England at international tournaments to be pessimistic – but there are certain players, like Gazza, and now, like Foden, who will be certain to excite.