Marc Wilmots is expecting an improved performance from Belgium when they take on Hungary in Euro 2016's Round of 16 on Sunday evening, but says their first priority must simply be winning.
The Red Devils have thus far disappointed since being backed as one of the favourites to finish this summer's tournament in France as champions due to the pool of talent within their ranks.
Although they responded to an opening defeat to Italy with successive victories against Republic of Ireland and Sweden, their performances have been far from convincing - bar a comprehensive outclassing of the Irish in a fine second-half display.
Otherwise, the Belgians have appeared as an uncoordinated array of individuals, as opposed to the capable collective they could and arguably should be under the tutelage of Wilmots.
But ahead of their first Euros knockout round fixture since Euro 1980, the manager is expecting to see improvements from his side, as well as progression to the quarter-finals, as they seek to overcome Bernd Storck's resilient and determined Hungary.
Wilmots hoping to see better performances across the board from his team
Wilmots revealed that the squad have "talked together" since the conclusion of the group stages and says that he expects "better performances from everyone individually" despite coming to their defence in saying they have "come through the tournament pretty well so far."
Speaking to journalists in Toulouse on Saturday, Wilmots explained that their "ball distribution has to be better" and that his squad must "capitalise when they win back possession and go back on the offensive."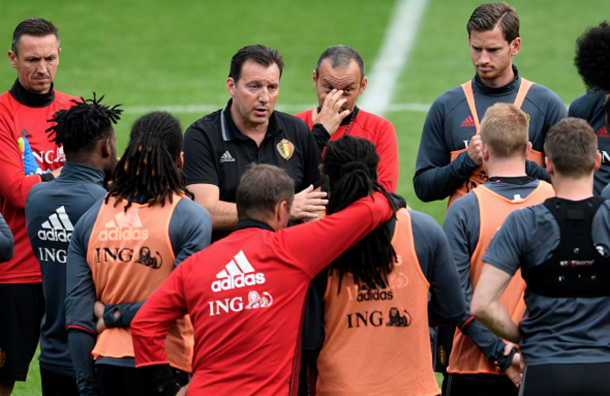 Declaring that they have "shown an improvement to some extent", Wilmots - who scored 20 goals in 70 international appearances for Belgium as a player - said they "need to also focus on keeping possession" in order to "try and tire them [Hungary] out as much as possible and try to create chances."
He also called upon the best-stocked Belgium side of a generation, boasting Eden Hazard, Romelu Lukaku and Kevin De Bruyne just for starters, to be "patient, play quickly and keep the ball on the ground" as well as to "be present in the duels" as he hailed Hungary for battling "like they're fighting for their lives."
Belgium boss: My team's first priority has to be reaching the next round
Having spoken of his nation's need to be "more efficient" now they are in the knockout phase, with defeat now guaranteeing elimination from the competition, Wilmots opened up about the pressure that faces his heavily-fancied side.
The 49-year-old had already told the press that he would rather face a heavyweight team like Spain or England in the next round, with the result against Hungary already having been written off as a comfortable victory for Belgium.
But Wilmots is aware that it won't be that simple, something he said his players also know going into the game.
"We've got more pressure [on us] because we have big expectations back home," he said, explaining that the players know if they lose then they will "lose everything."
According to the Belgium boss, they are "among the top five or six footballing nations in Europe" and that therefore makes it "normal" that they "have some ambition" but warned that "sometimes things happen in a match that upset your predictions."
Despite the dangers of an upset, Wilmots says his players will not approach the game with any complacency, explaining that there will be no need for him to "motivate the players" because "they'll be going out to play as if they are playing against a prestigious side" or "a footballing superpower" and they "know their mission."
"You can always do better," he continued on the analysis of their performances, before insisting: "But you can't say we're playing badly."
Wilmots also explained that despite their "varied game" and the "quite liberal roles" of his three attacking midfielders behind a lone frontman, all the players "have responsibilities" when they "lose possession."
Nevertheless, he said that being "realistic and honest" then their first and foremost "priority" is simply "qualification" to the last eight, where they would meet Group B victors Wales after their victory over Northern Ireland on Saturday.
De Bruyne is slowly improving but can still get better and better, says Wilmots
Euro 2016 was touted as a tournament in which Kevin De Bruyne could make his mark on the global stage, after an impressive first 2015-16 season with Manchester City followed a £55 million switch from Wolfsburg.
But so far, De Bruyne has only demonstrated his incredible ability in flashes at the tournament - though Belgium have generally been at their best when the attacking midfielder is in full flow.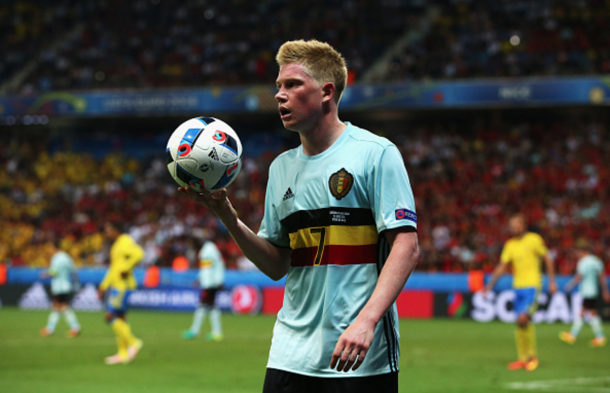 Wilmots acknowledged that there "are a lot of things going on in his [De Bruyne's] life" and that the effects of being "transferred for a lot of money" and "family emotions" took their toll mentally on the 24-year-old - who turns 25 on June 28.
But the boss is confident that his No.7 can showcase his ability in the key stages, insisting that they now have a De Bruyne "who plays with a smile on his face" and that having been "good in the last 20-25 metres of the pitch" he can "still improve" and "play better."
Wilmots suggested that De Bruyne can "clearly" prove to be "a key player" against the Hungarians, insisting that he has "getting better in the tournament" after a "very average" performance against Italy in their first game and that it is a positive that he's "asking for the ball again" and "taking the initiative" in matches.