 After capturing his second Undécima of his career at the Barcelona Open, Rafael Nadal has completed two of his three Undécimas for the season. He started his run at the Monte-Carlo Masters putting on a clinical display of clay court tennis during the first major clay court event of the season.
The Spaniard hit number 11 once again at Barcelona but suffered a few minor blips along the way, including saving set points against Martin Klizan and going down early to David Goffin.
Now with a week off before the Mutua Madrid Open and then the Italian Open before the French Open, Nadal is looking to sweep the clay season for the first-time in his career. It's amazing to think that the "King of Clay" has never actually swept the spring clay season but at 31-years-old, he could undoubtedly add that accomplishment to his list.​​​
Close Calls
The world number one has experienced some near sweeps but some withdrawals and losses along the way have prevented him from doing so. In 2005, the year of Nadal's first Masters and French Open title, he withdrew from the Hamburg Masters. He also withdrew from the event in 2006 before losing to Roger Federer in 2007, leaving him one victory short of the clean sweep.
In 2010, Nadal withdrew from Barcelona. However, he did win all three clay Masters titles before the French Open as well as French itself, marking the only time he's won all three Masters and the French in the same year. In 2012, he lost in Madrid on the infamous blue clay in the third round to Fernando Verdasco and lost in the Monte Carlo final in 2013 to Novak Djokovic.
2017 was most recent close call. Nadal won Monte Carlo, Barcelona, and Madrid but fell to Dominic Thiem in the quarterfinals.
Main Threats Not Challenging
When you think of the opponents who would really trouble Nadal on clay, you think of the likes of Federer, Thiem, Djokovic, Kei Nishikori, and David Goffin. Federer has wisely chosen to skip the clay court season to keep his body healthy for the grass and hard court seasons after the French Open. Djokovic has struggled to get it going since his return from elbow surgery, suffering losses to both Thiem and Martin Klizan.
Thiem, who was Nadal's main challenger on the clay last year, has looked extremely vulnerable this year. He was crushed on clay this year by Fernando Verdasco in Rio after winning in Buenos Aires, then Nadal and Stefanos Tsitsipas crushed in him in Monte Carlo and Barcelona respectively.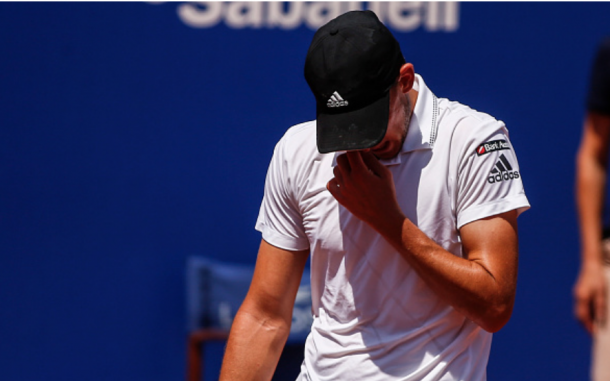 Both Nishikori and Goffin have looked good on clay so far as well but still could not handle the dominance of Nadal. Both players took early leads against Nadal in Monte Carlo and Barcelona respectively, only for the world number one to up his level to defeat them with ease.
Nishikori and Goffin are still both recovering from injuries to an extent. The Japanese number one has picked up his level since his return from his wrist injury but still hasn't hit his peak. Goffin is returning from his scary eye injury he suffered in Rotterdam.
Only Injuries Can Derail The Inevitable
The only thing that's really standing in Nadal's way right now is his own body. Injuries have damaged the world number one at the wrong times, especially at Grand Slams. The most recent example is Nadal's hip getting injured during his Australian Open quarterfinal meeting with Marin Cilic this year. In the 2014 Australian Open final, his back flared up against Stan Wawrinka.
His most recent and only French Open injury came in 2016. The Spaniard withdrew to a wrist injury, shocking the world as he withdrew from the tournament for the first time in his illustrious career.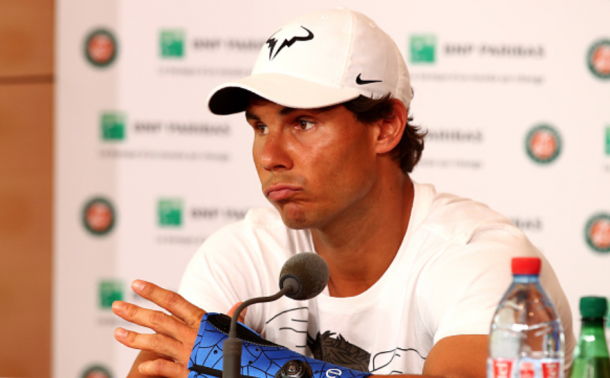 As it stands, Nadal is healthy and raring to go for more clay court titles. His decision to withdraw from Acapulco (due to his hip injury), as well as Indian Wells and Miami proved frutiful to remain healthy for the clay court season, just like Federer's choice to skip clay last year proved beneficial for the rest of his season.
Nadal might have a few minor struggles along the way. He could drop a set here or there or even lose a match before the French Open, it's quite possible that the Spaniard has an off day while someone just plays some excellent tennis.
As it stands though, the King of Clay has won 46 straight sets and 19 straight matches on red clay. It's going to take some kind of effort to down Nadal this year on clay, especially when we reach the Parisian clay of the French Open. Last year was the year of the three La Décimas, this year is looking more and more likely the year of three Undécimas.