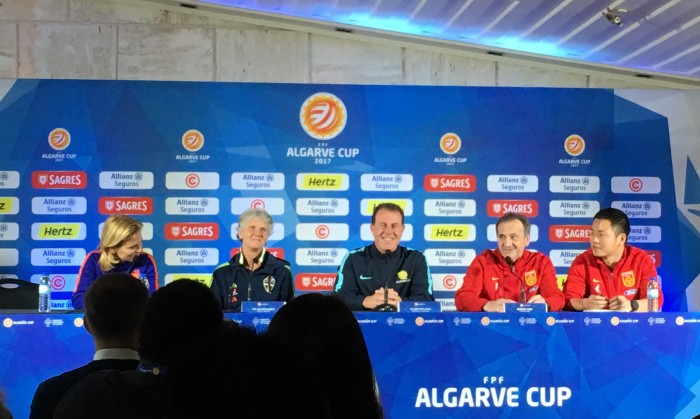 In her opening gambit, Sweden coach Pia Sundhage expressed her desire to show a more attacking team at the Algarve Cup, hopeful the forward drive would be mirrored at Euro 2017. When pressed about how she planned to go about changing a team, well known for its' defensive strengths, to an attacking force Sundhage was resolute with her use of the word "speed", the attack would be pacey, the attackers available, quick ones.
Loss of Jakobsson
The coach who most recently can boast bringing Sweden's first ever Olympic medal [in football] home, again spoke about the loss of Sofia Jakobsson and was firm that although both Mimmi Larsson and Lina Hurtig had been called up to strengthen the attack, no one could replace Jakobsson. A multi-faceted attacker who's rekindled her love of football and zest in front of goal, Sweden (and Montpellier) have lost more than just Sofia's speed and yet that was the focus.
Even taking Hurtig and Larsson away from the team, Sweden still have Lotta Schelin, Fridolina Rolfö, Stina Blackstenius, Kosovare Asllani, Olivia Schough and Pauline Hammarlund as attacking options. The attack a tall one, strong and wily with enough guile to carve teams apart but the "attacking football" Sundhage spoke of was a misnomer, for what she meant, driving the idea of pace forward; was counter-attack. Quick players key, no talk of a better finish or more attacking thrust in midfield or even just creating more, not pressure or possession but pace.
No shame
There is nothing wrong with defensive football, the whole team working as one, for and with each other. How Sweden played in Rio was admirable, the focus and discipline required game after game, minute after minute in the sweltering Brazilian sun through two rounds of extra time and penalties astounding. There would be no shame in utilising that defensive core and working towards a team that offers more in the transition to find more proficiency on the counter but that is still the heart of a defensive team.
Attacking football conjures images of open, free-flowing football, a feast for the eyes and on that score it's hard to see Blågult delivering. With the options and creativity in attack it's hard to imagine the Sweden attack not wheeling away in celebration with the net still rippling but counter-attacking and attacking football are too different things.
The semantics of "attacking football" more a pacifier for Sundhage's critics.