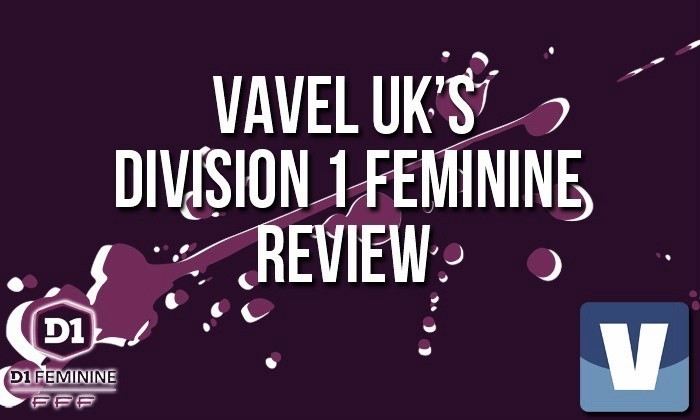 For the first half of the season in Division 1 Féminine, Montpellier HSC kept pace with heavyweights Olympique Lyonnais and Paris Saint-Germain. However, a season-ending injury to Swede Sofia Jakobsson seemed to derail La Paillade and they went through a concerning lack of form. They found a way to bounce back as spring arrived and now find themselves finishing second in the league, and looking towards a UEFA Women's Champions League campaign for the first time in about a decade.
At the other end of the table, FC Metz find themselves heading back to the second division after only picking up three wins all season long. It as been a tough season for the newcomers and they were unable to overcome their poor run that saw them not win in 15 consecutive matches. The team joining them in the second division is yet to be decided and will come down to the final round of matches.
Montpellier pull out a stylish display against Soyaux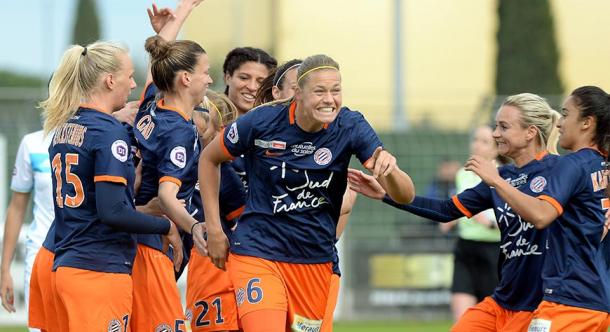 With other European hopefuls, PSG, going up against OL at the same time on Saturday afternoon, Montpellier knew that win for them and defeat for PSG would guarantee them a place in Europe next season. They took to the task well and ended scoring 10 goals against visitors ASJ Soyaux.
New signing Stina Blackstenius, who has found her footing in France, was the pick of the players as she scored four goals in a rampant performance by both she and the team overall. Lindsey Thomas also picked up a hat-trick, Valérie Gauvin scored a brace in the match and Clarisse Le Bihan rounded out the goal scorers on the day.
From the first whistle to the last, Montpellier were irrepressible and Soyaux could not cope with the explosive play that was exemplified by Blackstenius on the day. Soyaux now sit in seventh after their heavy defeat but will be happy with a mid table finish when all is said and done.
Metz lose heavily away at Guingamp
It was a 'do or die' situation for Metz as they traveled to face EA Guingamp this weekend and unfortunately for their fans, they went down to a 6-2 humbling defeat by the home side. Guingamp raced out to a 3-0 lead in the first 45 minutes thanks top goals by Margaux Bueno, Léa Le Garrec and Faustine Robert but Metz managed to pull one back in the 60th minute through Julie Wojdyla.
Six minutes later Agathe Ollivier stretched Guingamp's lead further and then Maevane Drozo and Ugochi Oparanozie piled on the misery for Metz. Ophélie Cordier grabbed a consoltaion goal in stoppage time for Metz but by then it was too little too late for the newcomers to the league.
Metz drop right back down to the second division after gaining promotion last season while Guingamp have pushed into sixth and are now three points away from a fifth place finish at the end of the season. They will hope to achieve that in the final round of matches should things go their way.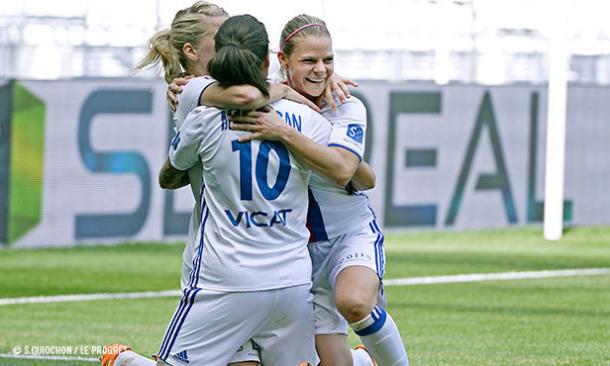 A deflated PSG provide no fight against OL
Earlier on this season, many had thought that this match would be a title-decider but by the time Saturday afternoon rolled around, OL were already champions of France and PSG were struggling to maintain their chase for a European place. PSG held out for all of 13 minutes before a superb move by OL allowed Eugénie Le Sommer to score her 20th goal of the season.
A counter-attack in the 27th minute produced OL's second of the day as Ada Hegerberg​ kept her personal chase with Le Sommer going to finish top of the goal scoring charts at the end of the season once again. One minute later and OL's third striker in their fearsome three-front, Alex Morgan, grabbed her fifth goal of the season.
Unfortunately for Morgan, she then picked up a hamstring injury not too long afterward that has ruled her out of the final league match, the Coupe de France Féminine final against PSG and potentially the Champions League final against the same opposition. It would be a shame if Morgan misses out on all three matches as she had finally begun to prove her worth in an OL shirt and seemingly justifying her price tag.
PSG, in the face of a rampant OL, were dreadful. They barely put OL goalkeeper Sarah Bouhaddi under any pressure for most of the match and allowed OL's midfield to dictate things as their strikers profited from the amount of freedom an untried 3-5-2 formation by PSG afforded them. They will need to be much, much better if they want to still find a way into Europe next season with a Champions League trophy or they will be looking at potentially three embarrassing defeats against their fiercest rivals.
Bordeaux nudge themselves closer to safety
With barely anything separating the bottom three sides, FC Girondins de Bordeaux knew that at this stage of the season, every point counts and although they were up against a seemingly rejuvenated FCF Juvisy team, Bordeaux managed to pull off an unlikely 1-1 draw against the away side. Inés Jauréna opened the scoring in the game and gave Juvisy the lead in the 33rd minute. Bordeaux did not falter and continued to try and find an equalizer throughout the match. In the 75th minute, they got their reward as Emelyne Laurent found the back of the net to level up the score.
It was an important goal by Laurent because it gave Bordeaux the point needed to stay level with Saint-Étienne as both teams fight to stay in the top division for another season. Bordeaux is also level on goal difference with Saint-Étienne and are only lower than them in the table due to their inferior head-to-head record. With one last match left away at PSG, it seems a tall ask of Bordeaux but considering how low the self-belief is at PSG right now, Bordeaux could create the surprise of the season right at the death.
Marseille put their best foot forward against Saint-Étienne
After losing to Bordeaux at home last weekend, Olympique de Marseille did not underestimate their opponents this time around and came away with a 3-1 win at home in their last match in front of their fans this season. Charlotte Lozé started things off in the second minute for her fourth of the season and Viviane Asseyi made it two three minutes later. The home fans had to wait a long time for more goals but Asseyi was on hand to grab her ninth goal of the season in the first minute of stoppage time and Audrey Chamuette got Saint-Étienne's only goal of the game two minutes later.
The victory leaves Marseille in fourth place and consolidates them there in what has been a remarkable season for them. When all is said and done, they will be the story of the season undoubtedly. Saint-Étienne will now go into the final match of the season knowing that they will have to at least draw their game and hope that PSG stop Bordeaux for them to stay in the top flight for another season.
Rodez overpower Albi
In the final match of Matchday 21, Rodez AF traveled to ASPTT Albi and picked up an impressive 3-1 win. Audrey Cugat put Rodez ahead in the tenth minute but Laurie Saulnier drew Albi level again in the 18th minute. Claire Noiran then edged Rodez ahead again in the 48th minute and Chloé Barnes sealed all three points with her goal in the 58th minute, her second of the season. Both teams are not in any danger of being relegated and will look forward to finishing the season in the relative safety of eighth and ninth place in the table.