In Women's World Cup qualification, both England and Wales kept their unbeaten records with a win a piece over both Kazakhstan and Bosnia & Herzegovina.
Wales 1-0 Kazakhstan
Top of the tree, with four points from two matches, coming into the match, Wales did well to hang on to the top spot in Cardiff. Dominant throughout the match, the Dragons threw all but the kitchen sink at their Kazakhstani opposition, registering a total of 28 shots at Oksana Zheleznyak's goal, Hayley Ladd's 83rd minute swinging free kick the difference.
England 4-0 Bosnia and Herzegovina
After a resounding 6-0 win over Russia, England were looking to keep the momentum going when they took to the pitch in Walsall against a Bosnia and Herzegovina team who had previously proven to be a tricky opponent.
Coming out to attack more than they had in the previous 180 against England, the Bosnia's found themselves leaving gaps for the Lionesses, Steph Houghton's early header enough to give the hosts an extra yard of confidence. Still trying to attack, the visitors were hit for a second just moments into the second half, Nikita Parris' near post header enough to leave Almina Hodžić looking deflated before Houghton grabbed her second of the night with a low free kick.
With the game wearing on and the Bosnians wearing out, the defence became more ragged, surrendering a penalty eight minutes from time, Fran Kirby calm from the spot to make it a thumping fourth.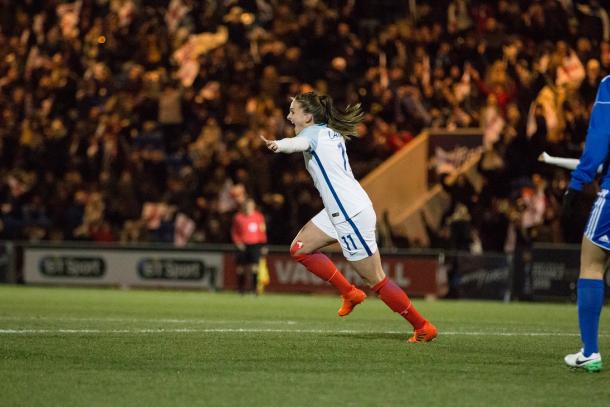 Bosnia and Herzegovina 0-1 Wales
Another close-run match ensued for Wales when they took to the pitch again, this time in Zenica against a Bosnia side looking to bounce back. The match far more even and open than the last either had played as both went for full marks, Kayleigh Green the one to break the deadlock just before the hour, before Laura O'Sullivan came up trumps to deny Milena Nikolić from the spot late in the day. The win sees Wales stay top of the qualifying group, still unbeaten.
England 5-0 Kazakhstan
Up against a side ranked #66 in the world, the Lionesses made light work of their lowly opposition. On the hunt for goals from the get-go, it only took fifteen minutes for the hosts to break their opponents down, Mel Lawley's first goal for the senior team the one to break the parity.
Hitting them with a barrage of shots, Fran Kirby was the super-sub and her converted penalty seconds after coming on spelled the end for a Kazakhstani team who'd been valiantly holding on to just the one-goal deficit. Nikita Parris' six-minute brace had the visitors reeling before Izzy Christiansen capped the scoring off moments after Parris' second.
With three from three, England are hot on Wales' heels with a game in hand with Kazakhstan, the veritable underdog in the group, yet to pick up a point.