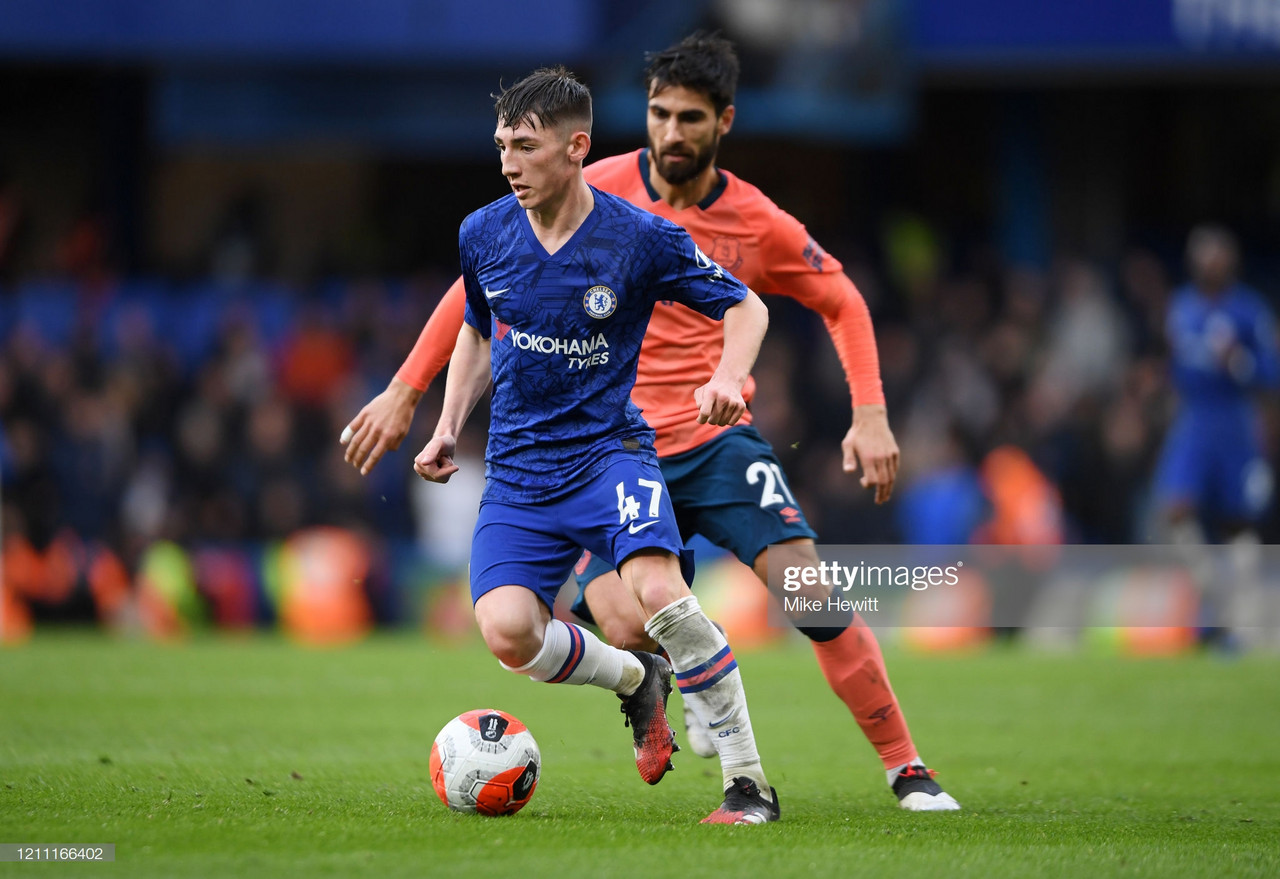 Chelsea manager Frank Lampard has praised Billy Gilmour's ability to make the game look simple.
The 18-year-old midfielder won back-to-back Man of the Match awards in successive victories over Liverpool in the FA Cup and Everton in the Premier League.
While his inclusion in the starting XI against the league leaders may have been seen as a risk, Lampard explained that Gilmour's performances in training warranted a start even sooner.
"He probably deserved to play a little bit earlier"
"When you look at Billy he's quite slight in terms of his size," Lampard said earlier this week via the Chelsea website.
"he's young, he's quiet, he's polite, but Billy moved over to the first team building a while ago because he had to.
"He trained at such a level.
"If you have possession in training or a game or a simple passing drill, you're talking about attitude and doing the basics right.
"In the modern day it can get lost a little bit.
"Can you do the real basics right?
"Billy does them day in, day out.
"Some people think I threw him in against Liverpool but he probably deserved to play a little bit earlier in how he was training​​​​​​​.
"That was me being a bit conservative with him.
"Then the minute he got in there, he showed the replication of doing the passing drills right, being the brightest player in training, and he went and did it against Liverpool, the best team in the country."
Gilmour touched the ball 62 times against Liverpool, second only to Marcos Alonso for the Blues, and almost half of his 49 attempted passes were in the Reds half of the pitch.
What impressed Lampard most was the youngster's decision making and ability to do the basics.
"It was a real pleasure to see someone come in the right way, doing the real midfield basics," he continued.
"I don't want it to sound like he's not a talented player, but I think sometimes the basics of receiving the ball, turning it around the corner, joining up, and making all the right decisions in a game are not easy.
"The simple things are actually sometimes the hardest, and Billy has those.
"He's set a benchmark, he's now got to come back after this break and go on and have the career he's started to show he can have.
"I am pretty sure he will because of his attitude, his family, his surroundings are really good, and he has the talent."
"They will be a huge part of how the club moves forward"
This campaign has been a very successful one for Chelsea's academy products and Gilmour may be the latest to prove himself at Premier League level, but he's unlikely to be the last according to Lampard himself.
"Tino Anjorin came on against Everton and played in the Carabao Cup earlier in the season.
"Ian Maatsen played some minutes.
"I don't want to leave out too many others because there are some other younger players who have the potential to come through.
"We know the ones that are there.
"One of the first things we tried to do at Chelsea when we got the job was bring them in, get them training and get an idea that if you train well enough in the Academy, you're not forgotten.
"It will get flagged and you will have the opportunity to come and train with us.
"There are a few more that have shown themselves when they've come and trained with us.
"We have got quite a lot of numbers who have played with us this season, and even the Masons and the Tammys who have played for their country as well, but they still have so far to go, and it's a huge plus for the club who are now coming through and showing it.
"They also have a long way to go but they will be a huge part of how the club moves forward."