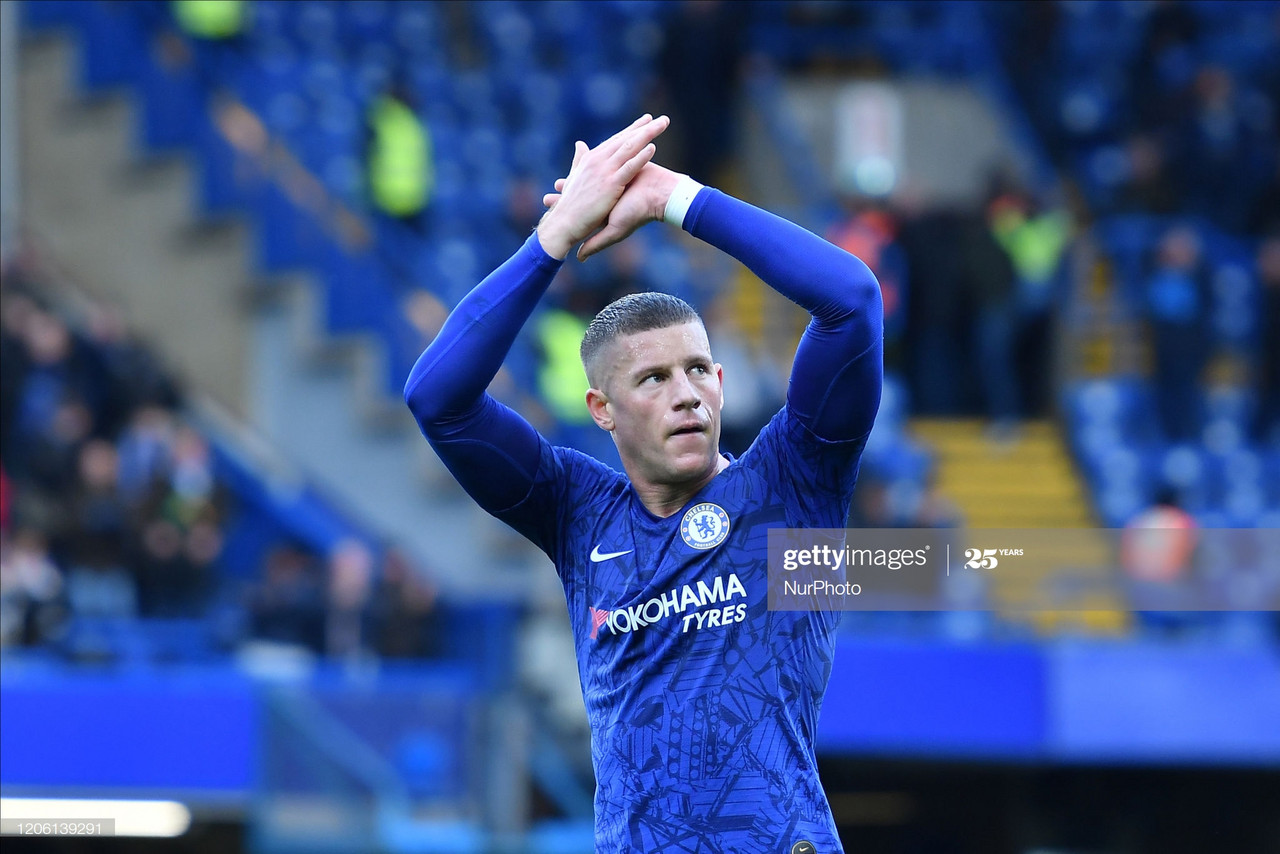 For Chelsea, the break in the football season came at the wrong time.
Arguably two of their best performances of the season came in the last two games before the suspension of the football season due to the coronavirus outbreak.
A 2-0 victory against Liverpool to dump the league leaders out of the FA Cup was followed by an impressive dismantling of Carlo Ancelotti's Everton.
That 4-0 win against the Toffees was Frank Lampard's biggest margin of victory in the Premier League since he took over as manager of Chelsea last July.
It was also only the second time Ross Barkley has recorded back-to-back 90 minutes since joining Chelsea in January 2018.
The midfielder, who used to be an Evertonian himself, has struggled with injuries and consistency in his time at Chelsea but his brilliant solo goal against Liverpool and a monumental performance against his old club before the suspension had suggested he had turn a corner.
Indeed, the break in the season also came at the wrong time for Barkley.
He spoke to Chelsea's official website as he, and his teammates, prepare to face Aston Villa on Sunday.
Barkley knows that the restart is going to be crucial for his Chelsea future.
With the likes of Billy Gilmour and Ruben Loftus-Cheek also trying to break into the Blues' midfield, these nine games could potentially make or break his Chelsea career.
He was in great form before the suspension but the 26-year-old is in no mood to dwell on what might have been and instead is looking forward to the resumption with renewed belief:
"It was frustrating because I was in good form," he says of the season being suspended.
"I was getting a decent run in the side and things were going well, for the team as well because we were getting the results that we needed and we were kicking on.
"Since we've been back in training it seems we're back to where we were before. We're all looking forward to our first game on Sunday and hopefully we can continue where we left off."
"Made up that we're back"
Since the 14-day self-isolation period that followed Callum Hudson-Odoi's positive test for coronavirus, Barkley has spent lockdown back home with his family.
The family time was welcome for Barkley, who lives on his own when he's in London, but he was also working hard to maintain his fitness:
"It was strange but since I moved to Chelsea I've never really been able to spend much time back home so to be able to do that and be with my family was actually good.
"In London, I would have been on my own for the whole period and I wouldn't have been able to do much fitness work where I live so it made sense for me to go home and stay on top of my fitness there."
"I was doing training related to the way I play in games so it was a lot of strength work, fitness, plenty of ball work. When we came back, I felt good and fit. I'm made up that we're back now and returning to a bit of normality."
"Very tight" for top four
Chelsea go into the resumption of the Premier League with a three point gap over 5th placed Manchester United.
With tough games to come, getting off to a good start will be crucial for the Blues as they look to not only fend off United, but Wolves and Sheffield United too who are both knocking on the door of the top four.
Barkley has spent his time without football to psychologically distance himself from a sport he has always loved.
But now he realises that now is the time for fight and focus as the Blues look to cement a Champions League spot, starting at Villa on Sunday.
"It's been a weird period because there's always usually games on the TV so not being able to watch any sport at all was a killer really.
"Now that football is back, it's a great feeling inside because it's what we love to do.
"I've been reflecting on things every couple of days and watching clips back, finding little details to improve on, what I was doing well and what the team was doing well.
"Obviously it's going to be difficult because it's been such a long period and you don't even get this long away from football even in the summer but it's also been good to switch off a bit in a way.
"It's very tight because everyone is fighting to get into the top four," he adds.
"We're in there right now but we know that we have to put in performances and win games because we've got teams chasing us.
"When every game comes, we've got to be fighting for the three points. It's a big challenge. We have loads of games coming thick and fast but we know what we need to do."