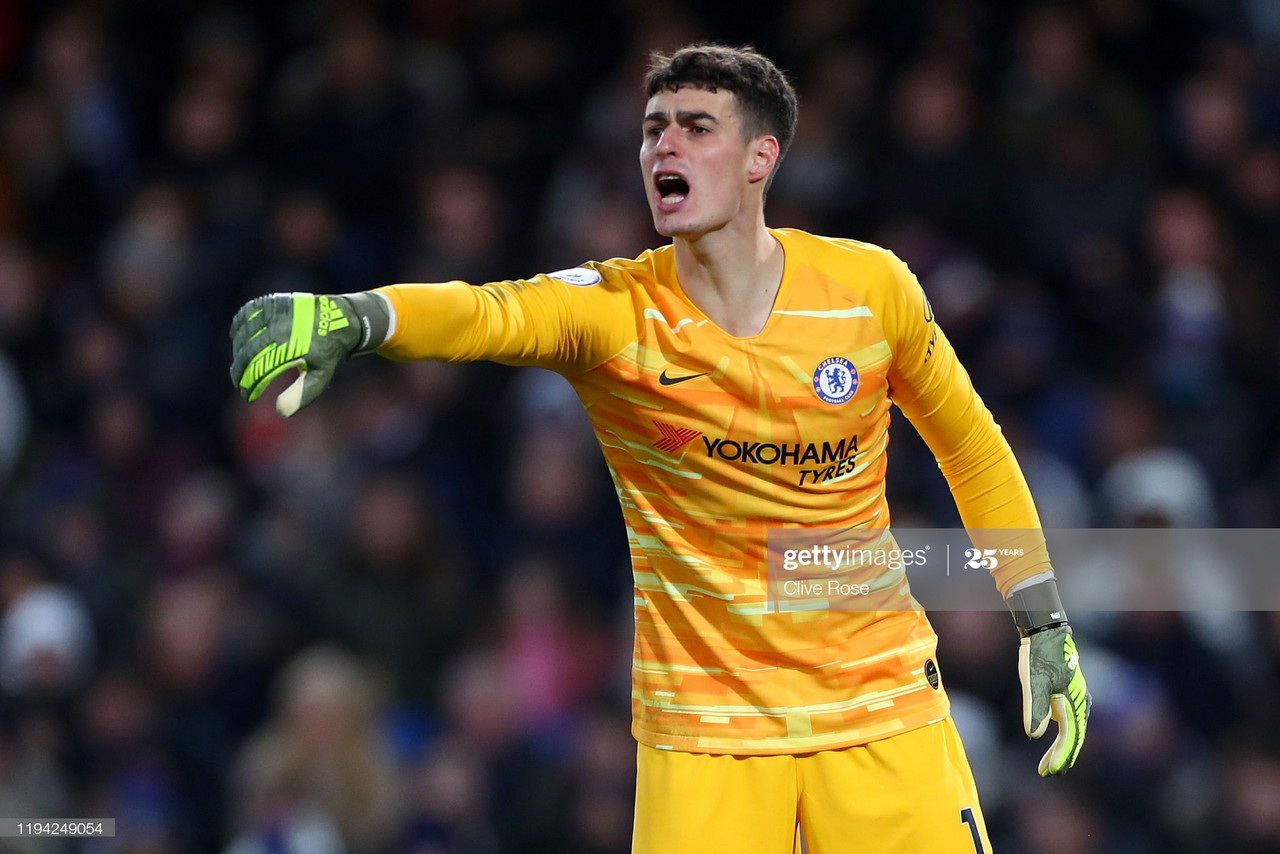 The Premier League finally resumed and there was a sense of joy and relief among fans from all over the world as the season was no longer in danger of getting declared null and void.
Chelsea played their first game last Sunday and secured a narrow 2-1 win over Aston Villa at the Villa Park. The Blues looked rusty, which was expected but managed to come back with three points, thanks to two quick goals from Christian Pulisic and Oliver Giroud.
They then hosted Manchester City last Thursday and while the odds were against the West Londoners, Frank Lampard and his young brigade just proved why they were special by defeating Pep Guardiola's side 2-1.
Kepa's form - Still a concern?
While the excitement surrounding the club and their players were high, there were a couple of talking points that brought back the fans to reality. And one that concerned the fans the most was - Kepa Arrizabalaga's form. Now it's no secret that Kepa has had a below-average season so far. He's not been anywhere close to the top tier list of European goalkeepers, something that the player simply cannot afford to given the fact that he plays for one of the best clubs in the continent. The manager, Lampard was seemingly frustrated with the Spaniard's form so much so that he benched the world's most expensive keeper for a handful of games before the unfortunate break. While his deputy Willy Caballero's introduction made a little difference, it was obvious that the issue was greater than just Kepa. Having said that, the young shot-stopper was partly to be blamed as well.
Kepa's reintroduction came against the FA Cup win over Liverpool where he received plaudits for not just keeping a clean sheet but for pulling off some incredible saves as well. There were signs of work being put behind the doors as the goalkeeper often came out to punch/collect the ball, cut down on his risky passes and even was found to be vocal enough and organising his defence. He continued with another clean sheet in the very next match against Everton and that is when fans started to believe in his progress.
His form post the break
The break came at an unfortunate time but one would believe it was much needed for Kepa as it would have given him some additional time for further assessment. Against Villa, he did not have much to do though as Chelsea dominated the possession and looked the better side for the majority of the game. The lone Villa goal was a result of lack of awareness from Chelsea defenders as they failed to clear the ball that came off a brilliant save from Kepa - a story that's not the first this season. He was decent against City as well, making some spectacular saves while the lone City goal was a Kevin De Bruyne masterpiece.
In the last four games that Kepa has started, he has seemingly looked to have improved but there are still shades of him being nervy and constantly under pressure. Now, that's something he will eventually get over with, the big question is, will the fans remain patient?
The Spaniard has often been subject to criticisms this season, while only a minor portion accounted for being fair, a lot of it was just blatant hate. Now, Kepa is just in his second season with this club and whether one likes it or not, it's highly unlikely that a club like Chelsea will look to offload him after just one average season, especially when he is the most expensive signing of the club. Not to forget that he is relatively young as well so there is plenty of time for improvement and not to forget the rebuild phase that is in progress at Chelsea.
Stern test ahead
Having said all this, the restart is probably the phase where the stakes are high for Kepa. He will have to be at his best week in and week out, not just for him to have a future at Chelsea but for the team to finish in the top four as well. With Caballero putting in average performances in the limited chances he has got, the onus is now on Kepa to deliver. With seven games to go, he will be hoping that he puts in performances that are not just satisfactory but win over the fans and critiques as well.
It is going to be a decisive period for him as a slight dip in form would mean Lampard and the board would not hesitate to hit the market for his replacement. With a couple of names already being linked with the club, Kepa has his fate in his own hands.
Fortunately for Kepa though, Chelsea's next stern test in the league will be against Liverpool and then against Wolverhampton Wanderers while the rest of their matches should be dominated by them (with due respect to opponents) and that should give him some confidence in the build-up to the big games and also for the next season.
Kepa just cannot afford to have lapses in concentration from here on. He will probably be playing for his Chelsea career and if anything that should really push him even more. It is under such tough and horrid circumstances that great players are born from and if Kepa can somehow come out victorious it would be mean he gets another chance of being part of Lampard's rebuild project.
He has got 7 more matches to prove that he is a worthy candidate for donning that number one jersey and Frank and his staff would hope that he can pull off a string of convincing performances as there aren't many young promising goalkeepers available in today's market who would instantly prove to be an upgrade over the Spaniard. The fact that he had a pretty good first season must brew a lot of belief among the fans that the young keeper is capable of stepping up his game and get back to his absolute best.