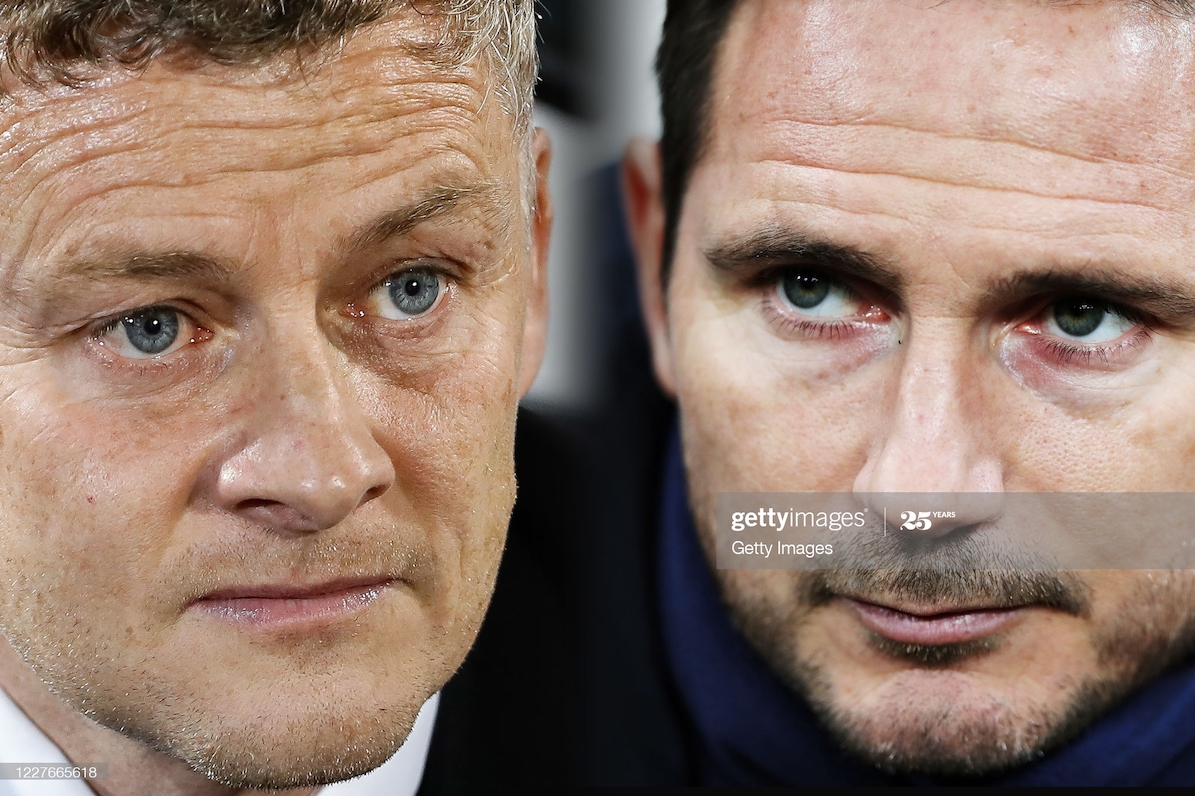 Frank Lampard must finally get the better of Ole Gunnar Solskjaer if Chelsea are to win the F.A. Cup. The semi-final clash will be the fourth time the two sides have faced each other this season, Ole has beaten Lampard every time.
This is something that Lampard will want to erase. The Chelsea head coach won the domestic cup four times as a player, he is now looking to win it for the first time as a manager in his debut season at Stamford Bridge.
Solskjaer has tactically outdone Lampard on all three occasions this season. You could argue that for all three defeats, Chelsea could have done three things better if they were to avoid defeat.
Make the possession count
Manchester United have had less possession than Chelsea in all three games this season. The first game, which was Lampard's first game in charge, United had 43% compared to Chelsea's 57%.
The second game saw even more of the ball for Chelsea. The blues had 62% compared to United's 38%.
The third game at Stamford Bridge was like the second cup game. Chelsea finished with 61% with United's 39%.
These statistics show how both sides play. Lampard likes to keep more of the ball, his opposing manager on Sunday is the opposite against the 'top six.'
Solskjaer will let his side sit back against Chelsea, this tactic has worked three times this season. If Lampard wants to overcome United this season, then he will have to make the possession count. Moving the ball in the final third will have to be crisp. The possession must lead to shots on goal, which leads to the next point in this article.
Clinical edge
Just like the possession stats, Chelsea have had more shots than United on every occasion this season. Lampard's side have mustered 40 shots. This averages out at around 13 shots per game. Despite this stat, Chelsea have managed one goal against the Manchester side.
This highlights where Chelsea are going wrong against United. More shots on goal means a better chance of scoring. United have nullified Chelsea in this area, but this must change if Chelsea are going to progress into the final.
Solskjaer's side have had 27 shots against Chelsea this season. United have scored eight goals across the three games, including the magnificent freekick from Marcus Rashford in the Carabao Cup.
The combination of the front men
Chelsea have earned 15 points from 21 since the restart. Olivier Giroud and Christain Pulisic have been key members of Lampard's squad. The two have 10 goal contributions to Chelsea since the restart.
Giroud was not intentionally part of Lampard's plans after only playing 16 Premier League games this season. The French forward has earned his stripes after playing in every game since the last time Chelsea played Manchester United, which was in February.
Giroud has scored six goals in 11 games since. His presence against United on Sunday could be huge if he is utilised correctly.
Pulisic assisted his goal against Norwich City during midweek. 'Captain America' has been on fire since the restart and he will be looking to impress at the national stadium on Sunday.
He will occupy the left-hand side but often finds himself centrally with his inverted runs. If he can replicate his performance against Manchester City, then Chelsea's odds of winning will rise. His impact on his side has been pivotal since the Aston Villa game in June.
Arsenal and Man City will match up against each other in the other semi-final tie. Chelsea finally take a break from league action this weekend, but Liverpool are on the Horizon. A potential top four finish is still on the cards thus far. Securing Champions League qualification and winning the F.A. Cup would go down as a superb debut campaign for the Chelsea legend.