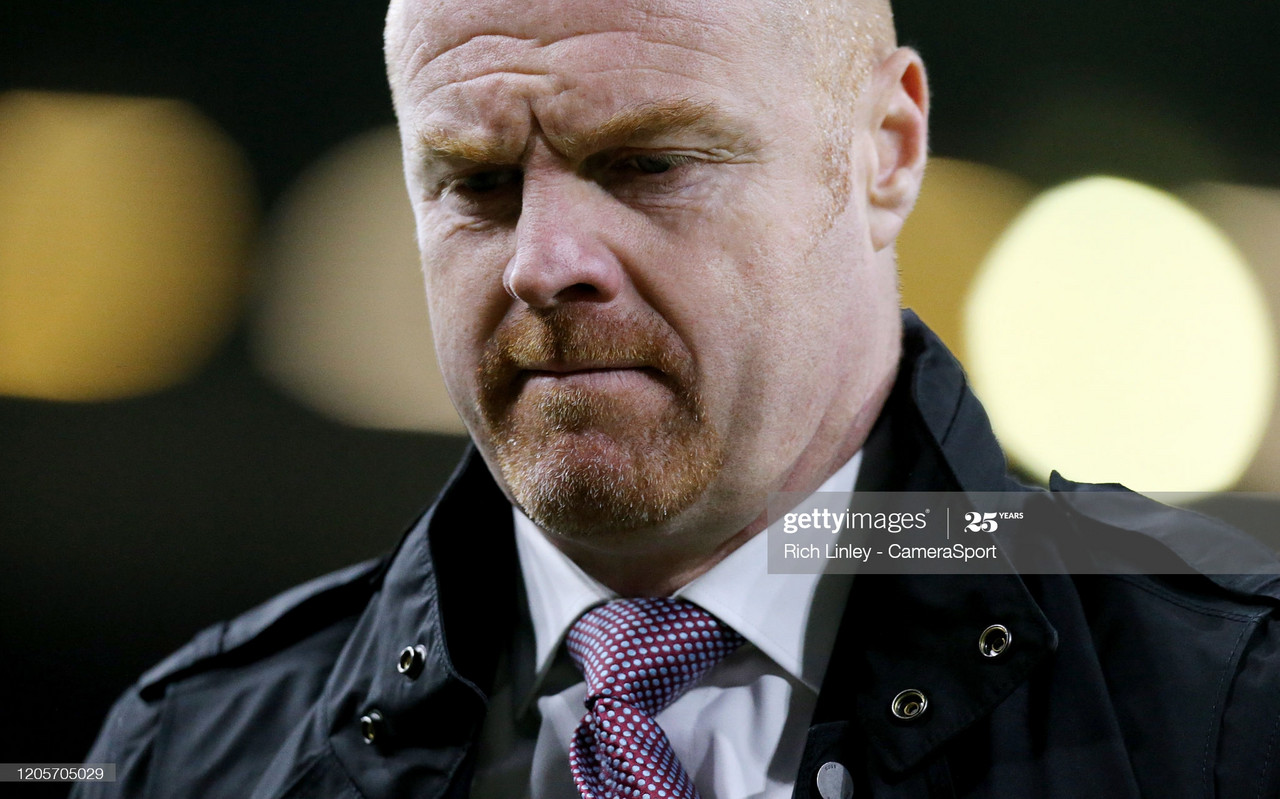 Burnley haven't started the season particularly well and some people, such as Alex James with LancsLive, have suggested that they are too predictable. The Clarets are certainly predictable but that predictability shouldn't be viewed in a negative capacity.
When Burnley fall behind, they very rarely come back to win. They have fought back to grab a share of the spoils but, quite often, Burnley fans have become accustomed to lowering expectations when their opponents go ahead by more than a goal. It comes down to the mentality of the team.
Strong foundations
Sean Dyche sets his team up to be defensively resilient first and foremost. Attacks are built with minimal risks and usually involve a lot of direct balls up to the attackers. If the team go a goal or two behind, such an approach to matches is not very effective.
However, this approach has proven itself to be effective. When the collective grind is on form, opponents can find it very difficult to beat. This rigid structure that rarely tries to play through the lines requires opponents to be very precise with their build-up.
In attack, the likes of Chris Wood, Ashley Barnes and Jay Rodriguez do a good job of holding the ball up. From that position, Burnley can recycle the ball out wide or look to win a set-piece. If they get the ball onto the flanks, the strikers then look to get on the end of any crosses into the box. It's quite a basic form of attacking but the evidence shows that it is effective.
Wood, Barnes and Rodriguez have all recorded double-figure returns over the course of a Premier League campaign.
The problem with Dyche's style is that when it doesn't work, it just looks rather ugly.
Tough viewing
The Clarets were struggling at the start of 2020 and a 2-1 home defeat to Aston Villa, their first away victory of last season, left a sour taste in the mouth. Villa passed the ball around with confidence, pressed well, and scored some lovely goals. By contrast, Burnley looked devoid of an attacking plan and very passive in their pressing. As a result, the shape and structure looked very feeble.
Go back to the Christmas period in 2018 and there were similar struggles. A humiliating 5-1 Boxing Day defeat to Everton left many supporters fearing that relegation was nigh. In that match, the intensity off-the-ball was non-existent and the Toffees took full advantage.
There have been many periods of poor form over the years and those spells have yielded a lot of disappointing results and performances.
James Tarkowski and Ben Mee were very sluggish during the first half of the 2017-18 season. Joe Hart became the scapegoat for those poor results but, in truth, the central defenders in-front of him left a lot to be desired. As it was, Dyche stuck with the duo despite having Ben Gibson and Kevin Long waiting in reserve. That loyalty eventually paid off.
Burnley turned their poor form around and stormed clear of the drop zone long before the end of the season. That was the second successive season in which the Clarets secured their top-flight status; Dyche is now anchoring Burnley's fifth successive season in the Premier League.
A good analogy would be playing Fantasy Football. You can pick your squad and get frustrated because it's not working out as you had hoped. A few weeks in, you could rip up the team and play a wildcard, swapping your struggling stars with the in-form talents.
However, the performances of those in-form players that you have brought in start to decline; the people that you replaced suddenly start to find their feet again and you are made to pay for not keeping the faith!
The point is not to go chasing points. You can analyse why Burnley haven't won a series of matches until the cows come home but trying to change a style of play will not just lead to a sudden change in fortune. Remember just what pragmatism has done for Burnley in the past and have faith that it will reward the team in the future.
Pulling the plug on Pulis
West Bromwich Albion went down in the 2017-18 season after sacking Tony Pulis in December 2017. His replacement, Alan Pardew, tried to play a more open style of play and he only made their plight worse.
Albion supporters hated Pulis but his style does not take teams down. Yes, they were struggling, but those struggles will usually even themselves out. When it's bad, it's horrible, but when it's good, it gets points. In hindsight, people should have put more precedence on Pulis' record of never being relegated before relieving him of his duties.
The fundamental difference between Dyche and Pulis is that Dyche is a hero at Turf Moor. He is much more than a manager; he is a club legend. There is much more acceptance for Dyche's negative tactics at Burnley because he has nothing left to prove at the football club.
To repeat: when the brand of football is bad, it's really bad, but when it's good, it picks up points. Dyche's style will never be aesthetically pleasing but people shouldn't doubt the credibility of this highly effective sh*thousery (there isn't another appropriate word for it).