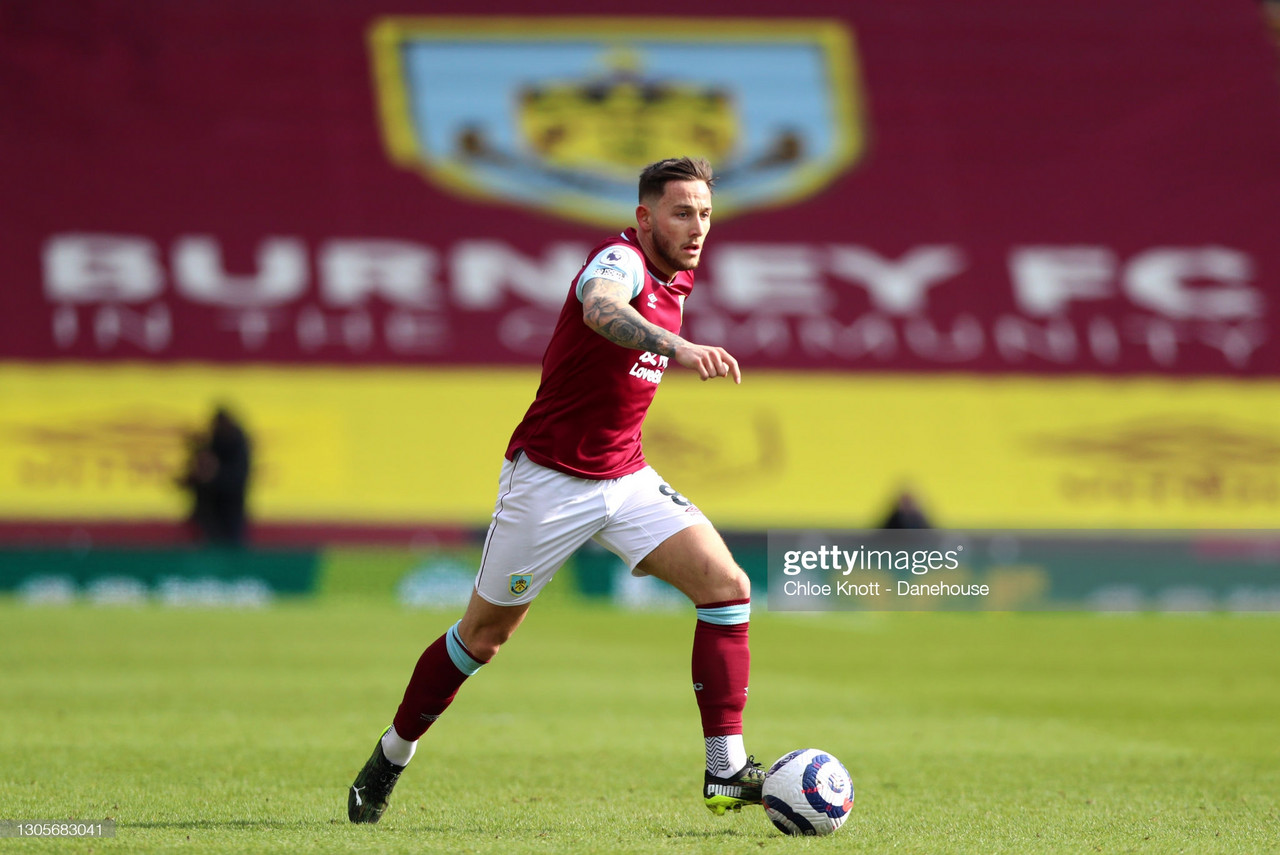 For much of his time at Burnley, Jeff Hendrick deputised as a makeshift right midfielder to fill a seemingly ever-present void due to injury.
History has seemed to be repeating itself in recent weeks, as Josh Brownhill was moved out to the right to cover the injuries to Johann Berg Gudmundsson and Robbie Brady.
Now, as reported interest from West Ham United and Aston Villa comes to the surface, it is time Sean Dyche stops playing arguably his best central midfielder out of position.
Keep Brownhill in the middle
Injuries happen in football and, when you have as thin of a squad as Burnley do, you are going to struggle to plug the gaps.
There are three senior wide midfielders at Turf Moor: Gudmundsson, Robbie Brady and Dwight McNeil while Erik Pieters has also been used as a left midfield option this campaign.
An injury to two of the first three names mentioned leaves Dyche with no option but to put Brownhill out wide and play Jack Cork or Dale Stephens in the middle of the park.
But what if there was a way to keep Brownhill in the centre? By moving away from his beloved 4-4-2 system, Dyche could keep Brownhill in the middle.
A midfield three followed by someone behind the striker would be an ideal way to switch up the system. It allows The Clarets to keep hold of the ball in middle of the park and also frees someone like McNeil who can play behind the top two.
Brownhill is ineffective on the wing, but McNeil has the ability to play through the middle.
He has got fast feet, a good passing range and, within his range, a good eye for a shot at goal, so just by keeping Brownhill in the middle would not only add a purpose to his performance, it could allow others to shine.
Make some smart purchases this summer
For years, Burnley's efforts, and Dyche's efforts in particular, have been lauded because of the work done with such a small squad. This has to be the season that the small squad increases in depth, a lot.
Adding depth to the wide positions so Brownhill doesn't get moved to the wing to be almost unnoticeable for 90 minutes week in out is the simplest solution
John Lundstram is a name that is linked with Turf Moor, he knows the Premier League and can provide cover across a range of positions.
Go all out for this type of player. It will make you a better side, as Brownhill won't be shoved out of the way to cover an injured winger. Brownhill is being linked with sides around the level you would expect Burnley to be around - the mid-table mark.
Obviously, The Hammers have had an unbelievable season this time around, but you would usually expect them to be a few places further back. Villa and West Ham have deep squads as it is, and that is what sets these two apart from the East Lancashire outfit.
They have a desire – and the money - to get better each season in the windows, and yes Burnley haven't always had a budget to do as such, but this is the season they can.
Show some intent, make a statement, sign a stand-out player. That's what the new owners are for, no?
So instead of losing your best players to your rivals, why not make some smart purchases that improves your own squad instead.
Look at players in the Villa side or West Ham side, or other players around that level, or even take a punt on some lower division players, which Burnley have done successfully in the past.
The youth team are not producing quality players at a rate of knots so, for the time being at least, the transfer market is where you are going to get better.
That is not just an issue that will solve the Brownhill dilemma, but an aging core of players such as Ben Mee, James Tarkowski, Ashley Westwood and Chris Wood can slowly start to be replaced by younger talent that can keep Burnley in the Premier League for many seasons to come.