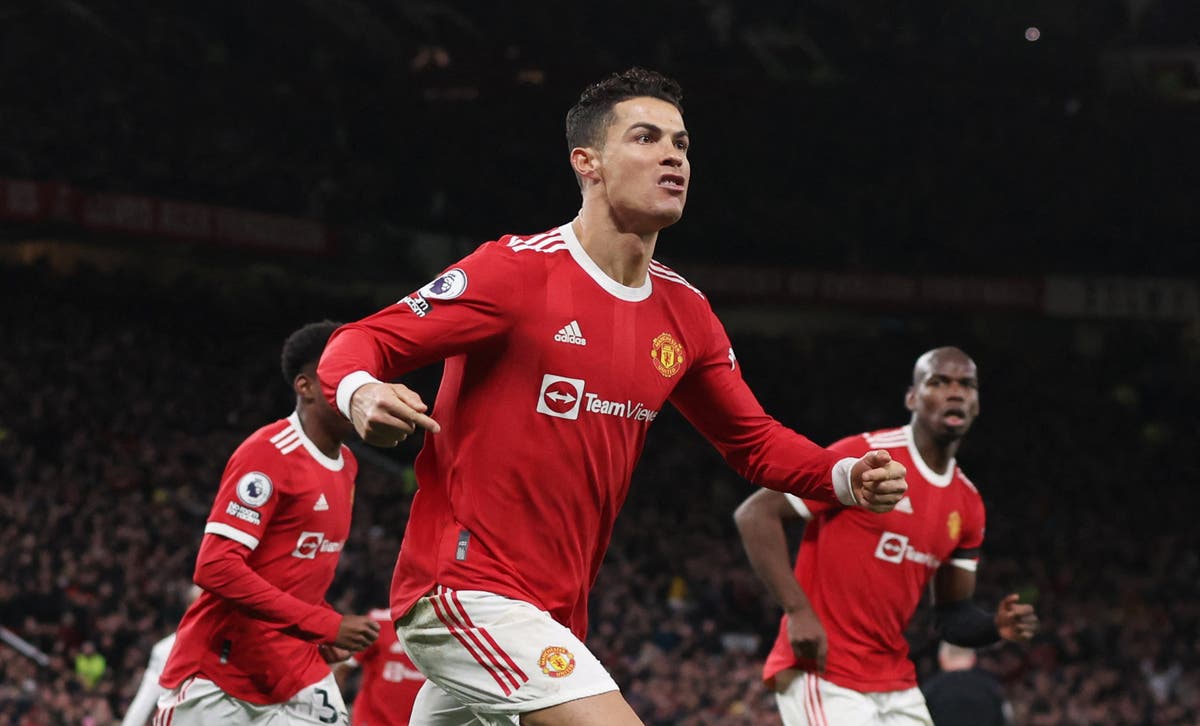 After a thrilling five-goal contest at Old Trafford on Saturday, a Cristiano Ronaldo hat-trick took Manchester United back into the top four as they beat Antonio Conte's Tottenham Hotspur 3-2.
Ronaldo opened the scoring with a thumping effort from range, before Alex Telles' handball resulted in a penalty, allowing Harry Kane for Premier League goal number 177.
Just seven minutes before the break though, Jadon Sancho provided the Portuguese international for his second as United went ahead into the break.
After the interval, Conte's men knocked on the door, and their sustained pressure was met with a Harry Maguire own goal, but the goals didn't stop there.
At the ripe old age of 37, Ronaldo leaped highest with his powering header giving him just his second Manchester United treble, but more importantly, a potential lifeline in United's hopes of Champions League football next season.
Momentum for Rangnick's men ahead of Atletico Madrid clash
With the Reds hosting Diego Simeone's men on Tuesday night in the last 16 second-leg tie, Saturday's win may prove vital heading into the game.
Ahead of the clash, United were winless in their previous three outings, losing to Manchester City and drawing against Watford and the Spanish champions.
In contrasting fashion, Atleti have come out victorious in all three games since the Champions League fixture at the Wanda Metropolitano.
Post-match, interim boss Ralf Rangnick spoke of Cristiano Ronaldo's importance, as the Champions League record goal scorer gears up for another busy night ahead.
He said: "Today, it was really important he showed that he is in the physical shape for that kind of level and this is what we need for the next nine games in the Premier League but also on Tuesday against Atletico."
If anyone can decide a crucial knockout game, it is the newly FIFA recognised top scorer in football.
Fred's usefulness
Fred is a player that divides the Manchester United fanbase like no other, but it's hard to argue that the Brazilian has been of high importance since Rangnick came in.
The 29-year-old's performance was described as "one of the best since I was here" by the interim manager.
It was Fred's clever flick that assisted Ronaldo's opener, but there was much more to his game than just that.
The number-17 boasted a 100 percent dribble success rate, winning eight ball recoveries, five duels, and even creating three chances, providing an incredibly calm and well-balanced midfield alongside Nemanja Matic and Paul Pogba.
A huge boost for a fourth placed finish
Although United have played an astonishing extra four games than fifth-placed Arsenal, the win took the Reds back into fourth.
With the Gunners' still favourites to finishing in the Champions League spots, the win may prove as a catalyst in mentality, with Spurs' hopes of finishing fourth looking very slim.