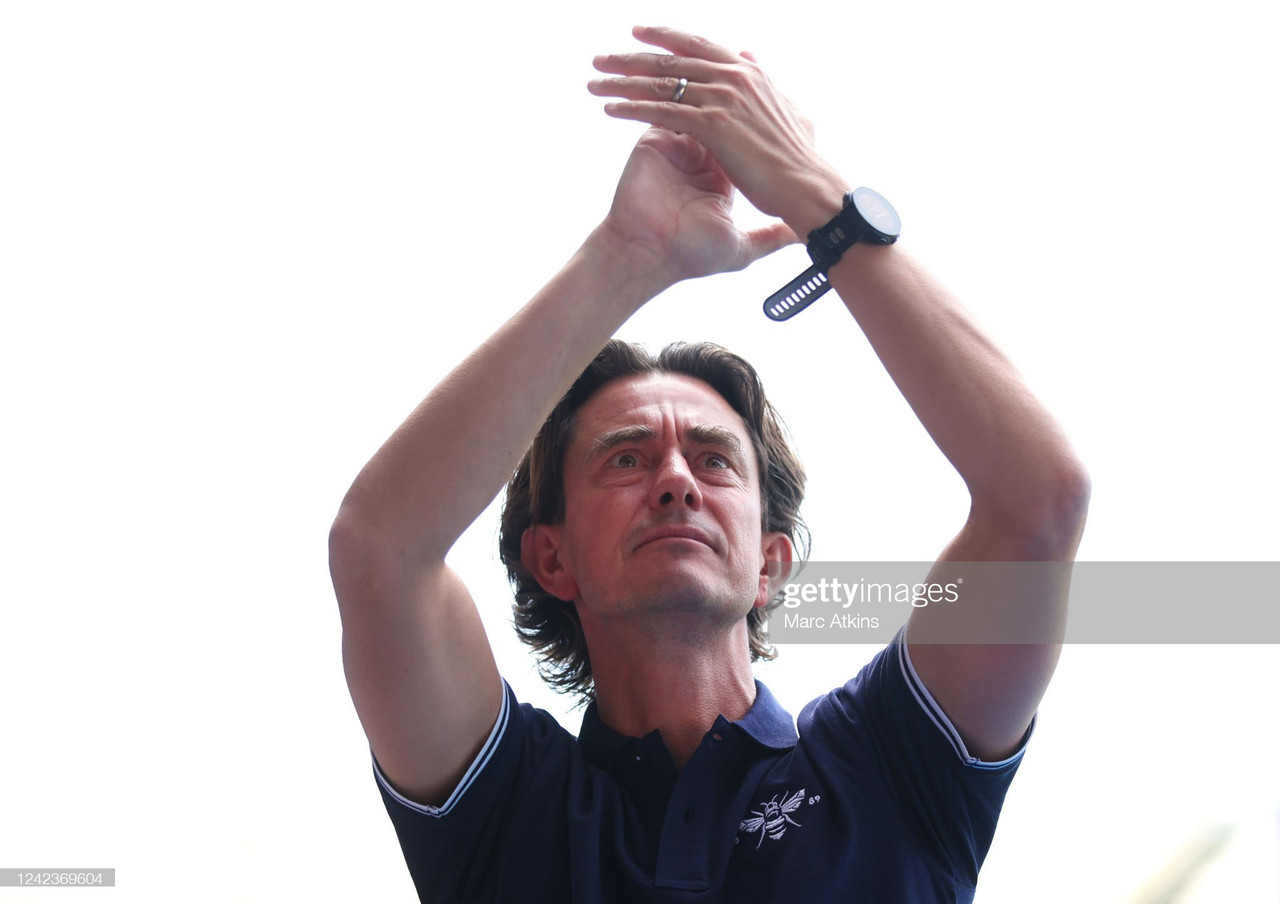 On Saturday evening, Brentford host Manchester United at the Brentford Community Stadium for their first home game of the season.
Thomas Frank is 'aware of their quality', but believes his side can beat Man Utd by doing 'everything we can'.
The Bees will be looking to earn their first win of the season after a 2-2 draw away to Leicester City last Sunday. Similarly, Man Utd will be aiming to bounce back from a humiliating 2-1 defeat to Brighton & Hove Albion.
Brentford fans will be hoping to see new signings Aaron Hickey, Keane Lewis-Potter, and Ben Mee at home for the first time. However, it is likely that the latest signing Mikkel Damsgaard will not feature after the manager stated he is 'not ready'.
The Red Devils trip to West London sees Christian Eriksen return to his former side.
The Denmark international joined Brentford in January, earning 5 goal contributions during his stay. However, the former Tottenham Hotspur midfielder did not extend his contract, allowing him to move to Manchester for free this Summer.
Thomas Frank is hoping the home fans will give a warm welcome to the Dane, despite him leaving.
He said: "I try my very best to show respect and integrity. I really, really hope when Christian steps on the pitch that we applaud him. He helped us, we helped him."
"I'm looking forward to seeing him again. I'm looking forward to saying hello, asking how him and his family is and giving him a hug."
"Then I'm looking forward to competing against him on the pitch. I'll give him a hug after when hopefully we've got three points and he gets 0, but let's see."
Despite a lacklustre performance against Brighton, Thomas Frank still believes the Premier League giants are the clear favourites.
Manchester United won both matches against Brentford last season, adding to the expectation surrounding the Red Devils.
"I don't believe too much in it being a perfect situation or a bad situation to play them. They have a brilliant manager who did a fantastic job at Ajax. It is going to be extremely difficult tomorrow"
"There is no doubt they are favourites; they can't afford not to win against us tomorrow. We believe and will do everything we can to beat them."
"This is Manchester United with the same players as last year plus a very good player in Christian Eriksen."
Brentford earnt some sensational results last season, including a 4-1 win away to Chelsea. Therefore, the big six teams have begun to fear the Bees due to Thomas Frank's tactics.
Throughout his era at Brentford, the Danish coach has adopted an aggressive approach full of passion and desire. Thomas Frank hinted this approach would be used once again this weekend.
He said: "If we are brave and aggressive, pressing high, we will create chances but we also have to be aware of their quality."
"We need to remember that any manager would be happy with Ronaldo, Fernandes, Eriksen, Rashford, and Sancho"
A New arrival in West London
Earlier this week, Thomas Frank's side signed Mikkel Damsgaard from Sampdoria for £13.5m (transfermarkt).
The Denmark international, who is famous for a sensational goal against England last Summer, is an ideal signing according to Thomas Frank.
He said: "We are pleased we have got a talent like Damsgaard into the building; it is not that easy."
"I am very excited to work with him and develop him. I have big expectations for him, but I also know he will need type to adapt and adjust."
There had been concern amongst fans due to the midfielder's arthritis diagnosis, but Frank believes there is no reason to be concerned.
The manager added: "An absolutely perfect medical, nothing to be concerned about."
"We did all sorts of tests and they came out extremely positive."
Thomas Frank will be hoping his new signings can gel together as Brentford welcome Manchester United to west London at 5:30pm on Saturday.
Both sides will be looking to earn their first win of the season and if the players follow the tactics the manager believes in, then the home side have every chance of success.