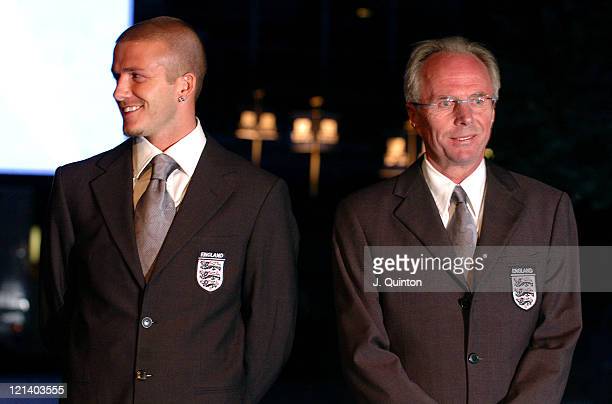 On October 7th, 2000 the curtain fell on the old Wembley Stadium as England fell to a solitary Dietmar Hammann goal in their first 2002 World Cup qualifier versus Germany.
Over 76,000 squeezed into Wembley as light rain fell, with a Hamann goal after fourteen minutes the only spark on a drab afternoon. In midfield was Gareth Southgate, playing out of position in what proved to be Kevin Keegan's final game in charge of the national side.
Keegan resigned immediately after the game and, unbeknown to him, ushered in the era of Sven Göran Eriksson.
With a squad including the likes of Gary Neville, Tony Adams, David Beckham, Michael Owen and Paul Scholes, Eriksson could have bowed to the pressure. Instead, he thrived.
With a managerial career commencing in 1977 and spanning 32 years, Eriksson managed Benfica, Roma, Fiorentina, Manchester City and Mexico – to name just a few of his 17 clubs.
Eriksson won honours in Sweden, Portugal, Italy and England, including European trophies. But being England manager proved to be Eriksson's biggest test as England's golden generation failed to live up to its potential.
In an exclusive interview with VAVEL, the loveable Swedish manager opens up about his time with England, egos in football and looks ahead to the World Cup in Qatar.
A warning for Ronaldo
Eriksson has experience with egos. It is, according to him, par for the course when dealing with big names on even bigger salaries. But no-one should be above the manager and Eriksson suggests
Cristiano Ronaldo
should be careful about what he wishes for.
"The manager will try to put out the best eleven and make changes during the game in order to win as many games as possible for the club as big as Manchester United. If you don't play well, if United lose too many games, who will get the blame? Ten Hag.
"You have to play the best players you think will win the game for you even if it means dropping a big name player like Ronaldo.
"We are talking about one of the best players in the world for many, many, years, scoring goals for fun. I think personally, it's very important that you sell Ronaldo because he cannot stay. I don't think he should stay at Manchester United if he doesn't play. He's too big of a name and it will always create these discussions."
One to watch for the world cup:
Reflecting on the current England squad, Eriksson smiles ruefully, thinking of the riches at the disposal of current manager,
Gareth Southgate.
With three goals in his last six appearances, lifting
Manchester United
to five wins in six, Eriksson suggests that
Marcus Rashford
could be the one to watch for England.
"In recent games for Man United, Rashford has played very well and is starting to look like the player he was a couple of years ago. I'm not sure what happened to him in the last few seasons. He was down for a while. That happens to players, but he looks very confident and he looks very good.
"His recent form has a good chance of starting. It's good for England and it's good for Southgate."
Bench Sterling
In contrast, Raheem Sterling's form has been a cause for concern. With goals hard to come by and Chelsea toothless in attack, Eriksson suggests that England may be best served by Sterling from the bench.
"It's a very difficult World Cup because there are no friendly games prior to the tournament. Normally you have the players several weeks before the World Cup starts. You have training and play one or two friendly games. Now, there are no friendly games.
I think it's very much dependent on the form the players are in currently which might not help him. Raheem Sterling has incredible pace and one against one he can dribble and win games for England but he can also do this from the bench."
"We should have won in 2006"
Discussing his time at the helm of England, Eriksson says it was a missed opportunity.
With English clubs dominating Europe and players like Beckham, Owen and Scholes capturing the World's imagination for club and country, Eriksson expressed his regrets about what could have been.
"We weren't ready to win in 2002, but we were in 2006 and should have gone all the way
"It was always nice to inherit young, talented players, but the balance of a team is extremely important. In 2002, we were not ready to win the World Cup. Brazil went on to deservedly win the World Cup. In 2006, I thought at the time and still today, we had a squad which was not worse than any other team at that World Cup. So yes, I'm sure the experience players gained in 2002 made the team better in 2006.
"I knew that this was a golden opportunity to win the World Cup but we didn't and we should have done it."
On Beckham and the 2002 World Cup
David Beckham had the sporting world at his feet coming into the 2002 World Cup.
Having won the BBC Sports Personality of the Year for 2001 and runner-up to Luis Figo for FIFA World Player of the Year, Beckham may have felt invincible, but his body suggested otherwise.
It proved to be his and England's ultimate downfall, having carried England to a quarter-final through dehydration and injury. In the end, Beckham's body won out and was substituted at half-time as England were knocked out on penalties but Eriksson said there was never a choice with Beckham.
"I had no choice but to pick David Beckham at the 2002 World Cup, I couldn't afford to lose him just like Southgate cannot lose Kane.
"When David Beckham got injured prior to the 2002 World Cup, he was a key player and my captain. It was my responsibility on whether he should or shouldn't go to the World Cup.
"There were a lot of talks with the manager of the club, doctors of the club, doctors of the national team and with the player. If there is a small chance that they can play at any stage in the World Cup, then you have to pick them. You cannot do otherwise.
"This is the same with current England manager Gareth Southgate, he has a lot of players that he can't afford to lose. If Harry Kane got injured prior to the World Cup, it would be a complete disaster."
Looking ahead to the World Cup in Qatar, commencing in just a few days time, Eriksson provides his thoughts on who will stand out and light up the desert.
"I hope Harry Kane will be the stand out player of the tournament, this would be great for England. However, you also have Karim Benzema, Neymar and so many others.
"If I put money on which team is going to win the World Cup, I would say maybe England but most likely Brazil. I think they have fantastic football players out there with speed, technique and experience with several Brazilians playing in Europe. I hope England will do it but let's see."
For Eriksson, hope springs eternal but it is the experience in defeat that Eriksson thinks will set England and Southgate apart.
Having watched Southgate wander around the old Wembley, chasing shadows as England were dismantled by Germany, Eriksson thought he saw something, anything, in that disorganised side. It was that hope that led him to take England to the World Cup.
However, it is that experience of failure, that disdain for defeat that Eriksson thinks holds England is such good stead for this World Cup. As the former England manager says, "you can't afford to lose" and with Southgate at the helm, England won't be cashing out any time soon.
This interview is courtesy of Saxo.
If you or someone you care about require support with gambling, GamCare provide a confidential service.