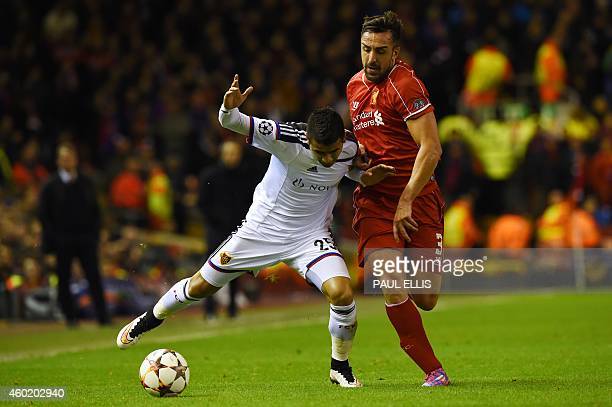 José Enrique, raised in Spain, built his reputation during his time in England. The Spanish left-back made 129 appearances for Newcastle United, winning Newcastle United's Player of the Year award in 2010, and making 99 appearances for Liverpool, winning the League Cup in the 2011-12 season.
José Enrique announced his retirement from football due to a persistent knee injury in 2017, finishing his career in Real Zaragoza. In 2019, he successfully battled chordoma, a rare brain tumour. In an exclusive interview, he talks about his former teams and his Spanish compatriots in the Premier League.
Erling Haaland's red-hot form is affecting Darwin Nunez mentally
Erling Haaland has scored 14 goals in eight matches this season, including three hat tricks, while Darwin Nunez only scored one in his four league appearances.
"It's a difficult situation for Darwin Nunez and the price tag that Liverpool paid for him and the price tag that City paid for Erling Haaland. Haaland is flying, he's not. It's definitely affecting him mentally. It's not helping him get into form.
"The team performance doesn't help, and under Jürgen Klopp, Liverpool always plays with a false nine and he's a proper number nine.
"Liverpool needs to adapt to him as well. It's a worrying thing but Liverpool want to fight for everything and the player you signed to replace Sadio Mane isn't playing. Roberto Firmino and Diogo Jota should be playing ahead of him at the moment.

"Nunez should be focusing on his displays, work on his English & forget about Haaland.
"Haaland's form shouldn't affect Nunez but players always compare themselves with other players. The two teams competing for the Premier League in the last few seasons both signed big players.
"I believe he has to put it to one side but I remember one comment in the summer on Twitter he put a silence emoji and I thought that he shouldn't reply to it.
"He should be focusing on his performance, improving his English and forget about Haaland.
"A lot of people go at Haaland but it never affects him. Darwin is lacking that right now."
Mohamed Salah is 'too strong', has lost speed, and the ability to beat players 1v1
Mohamed Salah has only scored two goals in his seven league appearances. Enrique suggests Mo Salah and Liverpool are not playing at the standards they achieved last season.
"Mo Salah hasn't been the player since January when he came back from AFCON. His scoring since then has been really poor by his usual standards.
"It would be great for a player like me but for Salah, it's not good enough. First of all, the problem is a lack of competition.
"For many games, he hasn't been good enough. At the moment, he's too strong and you can see he has lost a bit of speed
"He hasn't gotten old in one year but he should look at people like Nunez, Luis Diaz - they have the perfect body shape.
"He's too strong at the moment and he's lost the ability to beat players in a one-on-one situation."
Liverpool must go all out for Buyako Saka before he signs a new deal
Arsenal's young star Buyako Saka is solid this season, starting all eight Premier League matches for Arsenal, who sit at the top of the league table. Enrique suggests Liverpool should go all out for Saka before he signs a new deal with Arsenal.
"It's difficult to sign just one player in January because there's so many top players who are underperforming. In defence, you have Joe Gomez who could come in for Trent Alexander-Arnold. We have Arthur in midfield and we haven't seen a lot of him yet. So definitely for me it has to be a right wing.
"The most difficult thing in football is scoring goals and apart from Luis Diaz and Firmino, no one is performing.
"I love Bukayo Saka from Arsenal and he's not renewed his contract yet. So if I had to go for one unrealistic signing, Liverpool should go all out for Saka."
Klopp outers are 'delusional' - look where he has taken the club
Despite the hard start to the season, Enrique still believes in Klopp and says that the club would never achieve what they have achieved without him.
"People are delusional to think Jurgen Klopp could be in trouble. It's crazy that some people are talking like that.
"I was with Klopp in my last season and look how much the club has changed since. Look how many players have become world-class since he arrived.
"Klopp is a manager where it's his way or no way. If it wasn't for him, Liverpool wouldn't be where they are."
Miguel Almiron is one of the best wingers in the league at the moment - he reminds me of Luis Diaz
Miguel Almiron has scored three goals in his eight premier league appearances and Newcastle ranked 7th on the league table after eight rounds. Enrique shows appreciation towards the American winger.
"If I was a manager, Almiron is the exact kind of player I want. He never stops running and even if he's not performing, you know what you're going to get.
"He's always going to give his all and that's what I love about him, as well as the amazing qualities he has.
"There's not many left-footed right wingers who are doing well at the moment but he is and he's one of the most important players for Newcaslte at the moment and one of the best wingers in the league.
"Almiron is a bit like Luis Diaz, he can change the game but most importantly he gives his all.
"I love watching him. How he calls for every ball and fights. I'd love players like this in my team."
Rodri is one of the best defensive midfielders in world football - he reminds me of Sergio Busquets and allows Kevin De Bruyne to shine
Although Rodri missed the Manchester Derby due to an injury, Enrique still values the 26-year-old central defensive midfielder to be one of the best defensive midfielders in the world.
"Rodri has been one of the best defensive midfielders in the world. He gives you everything you want from a holding midfielder.
"People focus on Kevin De Bruyne and Haaland but Rodri is the kind of player who runs the games.
"He reminds me of Sergio Busquets, his profile. He gets it out so quickly and is so good at beating the press. He gives Kevin de Bruyne the time and space to thrive and is a World Class player."
David de Gea still has a lot to give Man United, but Gary Neville knows more than I do about Man United
The future of David de Gea in Manchester is in doubt after reports that Eric ten Hag does not believe de Gea's capability to fit in his system. However, Enrique believes that David de Gea still has a lot to give Manchester United.
"People forget how good De Gea has been in the last few seasons. He still has a lot to give for Man United.
"If the team is clicking he can be a great player. He's a very good shot-stopper and can still win United a lot of points.
"Gary Neville watches Man United a lot more than I do, but I think he's a very good goalkeeper and they should be cautious about letting him go."
*This interview is provided by